PRESS RELEASE: Join these lectures for free and gain a deeper awareness and appreciation for Philippine history and pre-colonial cultural heritage
This press release is from the National Research Council of the Philippines.
The National Research Council of the Philippines (NRCP) has organized a series of public lectures to deepen the Filipinos' awareness and appreciation of the country's history and pre-colonial cultural heritage as part of the national government's initiative to commemorate the First Circumnavigation of Magellan and interface between Filipinos and the Spaniards.
NRCP is an attached agency of the Department of Science and Technology (DOST) geared to contributing to the country's socio-economic development through multi-disciplinary research. It has more than 4,000 member-researchers from various academic institutions nationwide and whose interests span both the physical and social sciences. 
The event kicked off with the June 14 lecture of Prof. Maria Serena I. Diokno and Prof. Randy S. David, both are Professor Emeritus from UP Diliman. Their lectures provided a Filipino perspective and alternative viewpoints of the said commemoration.
On July 15, Dr. Armand Salvador B. Mijares of UP Diliman discussed his discovery of the Homo Luzonensis, a new hominid species while Dr. Maria Nela B. Florendo of UP Baguio tackled the resistance and struggles of various Cordilleran tribes against the Spanish invasion.
The next lecture on August 18, 9am-12pm Manila time, will feature the following talks:
Pre-Colonial Eastern Visayas in Alcina's Historiade Bisayas by Rolando O. Borrinaga, Ph.D (University of the Philippines – Palo, Leyte)
Saving the Historic Lapulapu from Myths and Misconceptions by Jose Eleazar R. Bersales, Ph.D ( University of San Carlos )
You can register through this link and watch the recordings of the previous lectures here.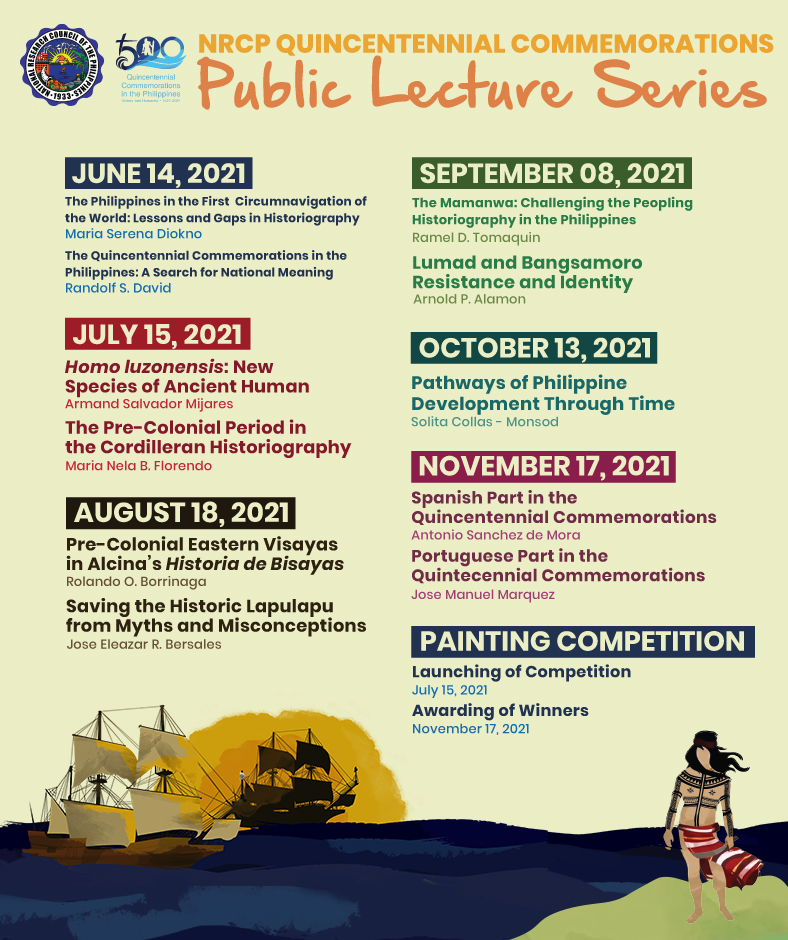 For queries and clarifications, you can contact NRCP via their official website: https://nqc.nrcpvirtual.com.