Secretary Benjamin Diokno says the P15 billion budget has been trimmed down by the budget department from the initial request of P19 billion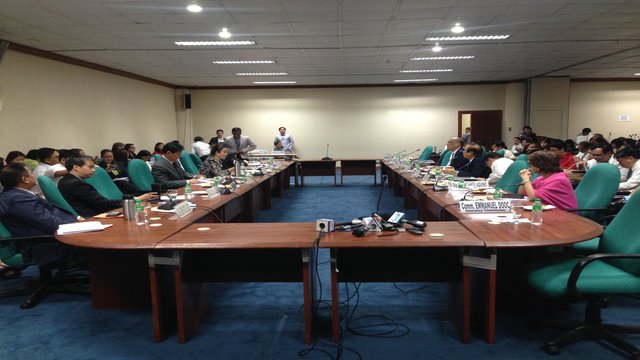 MANILA, Philippines – Bulk of the P15 billion ($321.92 million) budget for the country's hosting of the Association of Southeast Asian Nations (ASEAN) Summit in 2017 is planned to be spent on car rentals for dignitaries.
"Big chunk will be used for rental of cars for dignitaries. We might even expand the number of visitors. So there is the president of the US, [prime minister of] Canada, and others," Budget Secretary Benjamin Diokno said during a Senate hearing on Wednesday, August 31.
With some Cabinet members implementing austerity programs, it came as a surprise to the public that the current administration's proposed budget for the Office of President Rodrigo Duterte went up by about 7 times to P20.03 billion ($430.3 million) from the current year.
This is around P17 billion more than the P2.87 billion ($61.44 million) budget that the Office of the President (OP) earmarked for 2016.
According to Diokno, the increase is due to the country's hosting of the ASEAN Summit in 2017, which happens on the organization's 50th anniversary.
Trimmed down version
During the hearing, Diokno said the P15 billion budget had already been trimmed down by the Department of Budget and Management (DBM). The initial amount requested for the hosting of the ASEAN Summit 2017 was P19 billion.
"We tried to trim it down again, but they said this is going to be a big event, as it is the golden anniversary of ASEAN. Most of it will be spent domestically – in hotels, restaurants, local travel of dignitaries.
Other than the heads of the ASEAN member states, Diokno revealed that United States president and Canadian Prime Minister Trudeau will arrive.
The budget for ASEAN hosting is P5 billion higher than the P10 billion budget of former President Benigno Aquino III for Asia-Pacific Economic Cooperation (APEC) hosting.
"For ASEAN, it will be two summits. We will distribute some [of the funds] to concerned agencies, like the Philippine National Police, [Department of] Foreign Affairs, and [Department of] Tourism. It will be accounted for," Diokno said.
ASEAN members are Brunei Darussalam, Cambodia, Indonesia, Laos, Malaysia, Myanmar, the Philippines, Singapore, Thailand, and Vietnam.
In early August, the DBM submitted the proposed P3.35-trillion 2017 national budget to Congress. Among the budget priorities are infrastructure, agriculture and rural development, and peace and order. – Rappler.com
US$1=P46.59