The Volunteers Against Crime and Corruption (VACC) adds Raoul Creencia and Jose Christopher Manalo IV to its charges against ex-Pagcor officials stemming from an anomalous lease contract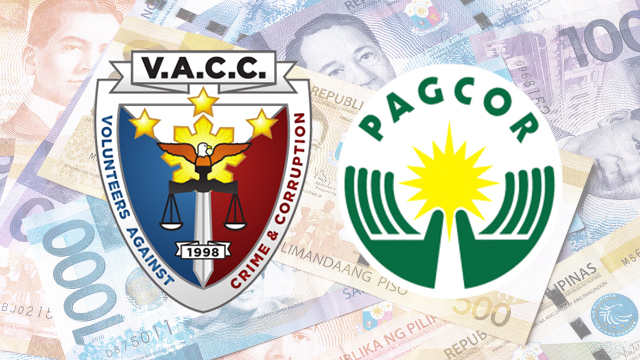 MANILA, Philippines – The Volunteers Against Crime and Corruption (VACC) added two more officials to the plunder complaint it filed in connection with an allegedly anomalous lease contract entered into by former executives of the Philippine Amusement and Gaming Corporation (Pagcor).
In its supplemental complaint-affidavit, the VACC also charged Raoul Creencia, former government corporate counsel, and Jose Christopher Manalo IV, chairman of Pagcor's technical working group, of violating Republic Act 9184 – the Government Procurement Act – and Executive Order No. 423, which explains the procedures and guidelines for government procurement
The VACC claimed it was Manalo who recommended awarding the project to Vanderwood Management Corporation (VMC) despite the non-submission of certain documents and non-compliance with some conditions indicated under the technical requirements of the bid to Pagcor's Bids and Awards Committee (BAC).
Creencia, for his part, was the one who reviewed the lease contract and held that it "may be given due course."
They join former Pagcor Chair Celestino Naguiat and 10 others in the complaint filed this October.
'Irregular and anomalous' lease contract
The case stemmed from what the VACC called an "irregular and anomalous" P3.2 billion lease contract Pagcor officials entered into with VMC for a non-existent casino gaming facility.
The complaint said the subject of the lease contract – a 6,500 square meter lot – was within the portion of the Museo Maynila Complex, formerly the Army and Navy Club, and is owned by the Manila City government. 
The property, however, was leased by the city government to Oceanville Hotel and Spa Corporation back in January 2014.
The VACC, in its complaint, said P234 million was paid to VMC for 12 months advance rental and 6 months security deposit at P13,000,000 per month in accordance with the lease contract. The premises to be leased, however, did not exist at the time of the contract's execution.
"Considering that there was no leased premises to speak of, the disbursement of P234,000,000 was irregular and, therefore, disallowable in audit pursuant to Commission on Audit Circular No. 2012-003 dated October 29, 2012," it added.
Other respondents named in the case are former Pagcor COO Jorge Sarmiento and board members Jose S. Tanjuatco, Enriguito M. Nuguid, Eugene G. Manalastas; members of the Bids and Awards Committee Milagros Pauline L. Visque , Ramon Jose E. Jones,  Romeo R. Cruz, Jr., Annalyn Zoglmann,  lawyer Kathleen G. Delantar; and VMC president Manuel B. Sy. – Rappler.com