This comes as Sweden reopens its embassy in the Philippines that was closed for 8 years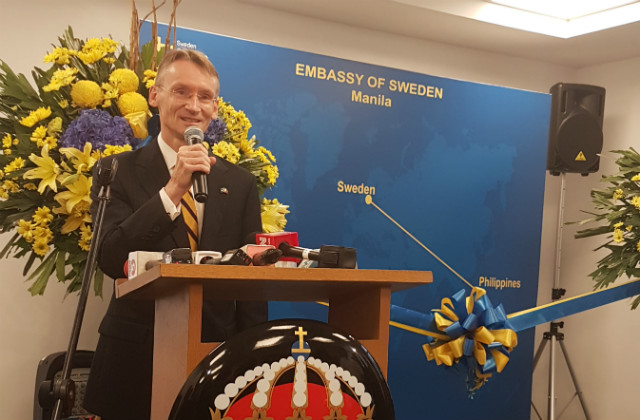 MANILA, Philippines – Swedish Ambassador-designate to Manila Harald Fries on Thursday, November 17, hailed the decision of Swedish furniture giant Ikea to open stores in the Philippines. 
Fries also praised the move of the Swedish SAAB Group, which sells defense and security products and services, to open a representative office also in the Southeast Asian country.
This comes as Sweden reopens its embassy in the Philippines that was closed for 8 years. 
"Ikea recently took a decision to open up stores here, and SAAB has just opened up a representative office here, so there are concrete steps toward increasing business in our countries," Fries said in an interview with reporters on Thursday.
The ambassador said this is a sign of the "long-term interest" of Swedish businesses to invest in the Philippines.
News of Ikea opening in the Philippines had surfaced as early as February 2013.
Fries said: "There are many positive developments and policies that we note, and I mentioned that here at this meeting today, and businesspeople that came with the Swedish delegation a week ago, they were very impressed and optimistic when they left here." 
Fries spoke to reporters on the sidelines of the Nordic Ambassadors' Luncheon on Thursday, which also included ambassadors from Finland, Norway, and Denmark.
During this luncheon, Fries also praised the Philippines' economy, saying that "the fundamentals here are right." He hailed, as well, the country's "young, talented, well-educated English-speaking population."
'Strengthened ties'
Fries is heading an embassy that just reopened in the Philippines on November 8.
The Swedish embassy in the Philippines had been closed since 2008.
In a statement, the embassy said one of its main priorities "is to enhance business relationships" between Sweden and the Philippines. 
The embassy pointed out, too, that despite its absence since 2008, "Swedish presence has never left the Philippines."
For one, Sweden had honorary consulates in Manila and Cebu, and "there are already over 40 Swedish companies established in the country." 
The Swedish Civil Contingencies Agency also helped the Philippines during Super Typhoon Yolanda (Haiyan) in 2013, the embassy said. 
"The reopening of the embassy marks a new era of strengthened Sweden-Philippines relationship," the embassy said. 
At the same time, however, Fries voiced Sweden's concern over recent killings in the Philippines.
"We trust that the Philippine government is investigating these killings," the ambassador told reporters on Thursday. – Rappler.com