The Christmas season is expected to boost consumption and set up the economy for a strong finish to the year despite market and peso worries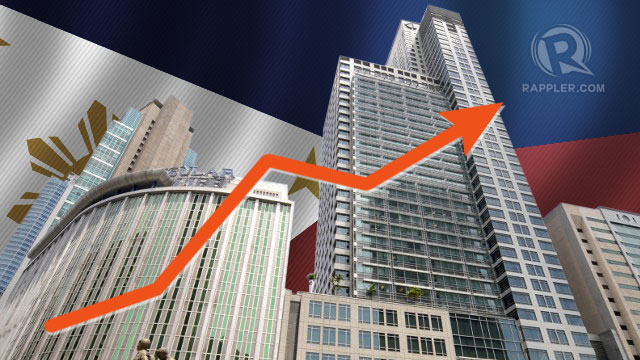 MANILA, Philippines – Economists are optimistic about the Philippine economy's full-year growth for 2016 following a strong showing in the 3rd quarter.
The country's gross domestic product (GDP) grew by 7.1% in Q3, beating market expectations and outperforming other Asian nations which have already released their data, including China and Vietnam.
The Q3 figure also means that the economy needs to grow by only 3.4% in Q4 to attain full-year growth of 6%, while a Q4 growth of 6.9% would see the country reaching the government's high-end target of 7%.
"Our full-year projection is 7.0% as Q4 usually is unaffected due to the strong seasonality factor," said Alvin Ang, an economist from the Ateneo de Manila University.
The Christmas season usually brings stronger consumption as well as higher remittances from overseas Filipino workers (OFWs).
Cid Terosa, dean of the University of Asia and the Pacific (UA&P) School of Economics, predicted full-year growth in the 6.5% to 6.7% range, based on strong domestic consumption during the holidays as well as potential investments from non-traditional trade and business partners.
Market risks
Some of this optimism, however, is tempered by risks in what is a volatile global economy.
Terosa said these risks include the continued slow global economic growth and investor sentiments at home.
Other concerns for Q4 include a looming US Federal Reserve rate hike that is expected in December, which would send foreign funds flowing back to developed markets.
The Philippine peso has dropped to an almost 8-year low after the Federal Reserve minutes pointed to a rate hike "relatively soon."
"The Fed rate hike will be a factor in molding foreign investor sentiments," said Terosa, but also noted that "it will not seriously affect trends in domestic consumption and domestic – both public and private – investments."
He added, "The peso may weaken but we have enough reserves to tide us over a currency upheaval."
Impact of Trump victory
Philippine stocks were also not immune to global sell-offs in the wake of Donald Trump's surprise victory in the US presidential election. They fell 2.58% in the immediate aftermath of the polls, although they have since recovered.
There are also concerns that Trump's policies will affect the Philippine economy through lower remittances from OFWs based in the US, plus a potential hit to the BPO sector. (READ: DICT chief: BPO contracts will be respected)
Both Ang and Terosa said they expect the effects of Trump's policies to be felt next year.
Despite this, Terosa is upbeat for the country's prospects in 2017 as "major government spending plans will be underway, tax reforms will be vigorously pushed, and world markets will perform better."
Ang, meanwhile, said that even though the country's foreign exchange and portfolio investments may be hurt by global developments, the fundamentals are in place for continued growth.
"Momentum is leading the growth as decisions have been made early on. The basic economy now is on a higher growth path," he added. – Rappler.com