The Chamber of Mines of the Philippines formally files its opposition to the confirmation of Gina Lopez as environment chief before the Commission on Appointments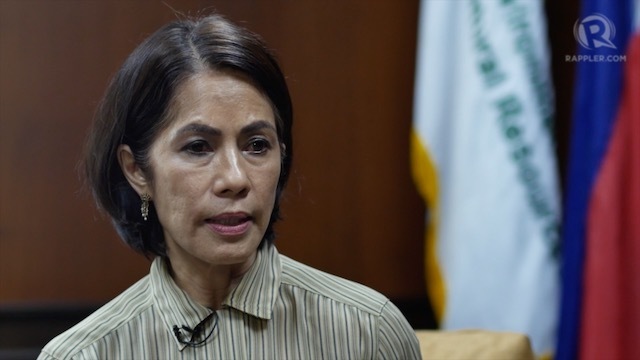 MANILA, Philippines – The country's mining firms have banded together to formally oppose Gina Lopez's confirmation as environment secretary.
Representing the mining industry, the Chamber of Mines of the Philippines (COMP) filed its two-page position paper on Lopez before the Commission on Appointments on Monday, February 13.
"It is with regret and sadness that we have filed our opposition to the confirmation of Regina Paz Lopez as Department of Environment and Natural Resources (DENR) secretary. This is the first and only time that the Chamber of Mines of the Philippines has had to resort to this action," COMP said in a statement on Tuesday, February 14.
COMP pointed out that it has "come to the conclusion that it will never ever come to a productive and rational dialogue" with Lopez, who sparked furor in the industry by ordering the closure of 23 mines and the suspension of 5 others earlier this month.
The DENR also announced on Tuesday that it was cancelling a total of 75 mineral production sharing agreements (MPSAs) in watersheds all over the country.
President Rodrigo Duterte reappointed Lopez as DENR secretary  late last year, after the CA bypassed her confirmation. She is set to face the CA in March.
COMP said that in the beginning, it respected and did not object to the decision of President Rodrigo Duterte to appoint Lopez as it "expected that she would heed the directives of the President to be fair and to follow the rule of law."
"We have repeatedly tried to work with the secretary-designate. However, it is clear that after 8 long months, the secretary-designate is unwilling to work with us. And as we have feared, her recent actions have been influenced by her prejudices," COMP said.
Ongoing saga
COMP has repeatedly tried to access the results of the mining audit – the basis of the DENR's decisions on the mining forms – and threatened to use legal action, including using the Freedom of Information (FOI) Act, and taking the DENR to court.
After a Cabinet meeting last week, Malacañang stepped in and promised to give mining firms the chance to "respond or dispute" the DENR's mining audit. Lopez herself had said that mining operations on appeal with the Office of the President may continue operations if the OP says so. 
Duterte, however, said in a speech in Surigao City over the weekend that there was nothing he could do on the mining closures as Lopez had already made her decision.
Lopez had said as much, saying that the Mining Industry Coordinating Council review of the mining sanctions she earlier imposed was meant "just to appease" the miners. (READ: Gina Lopez: MICC 'cannot tell me what to do')
In response, COMP highlighted its efforts to rehabilitate mined-out areas to comply with existing mining laws.
"Areas being cited by Gina Lopez are active mining areas. These already have comprehensive mine rehabilitation programs, including mechanisms for funding. We assure that after utilizing the minerals, these areas will be converted into lands productive for the communities even long after the mines are gone," said COMP chairman Art Disini. – Rappler.com