This is the first time since 2008, the catch for big yellow fin tuna breached the 10,000 MT mark after it bottomed up at the 6,000 MT to 7,000 MT mark in 2009 to 2011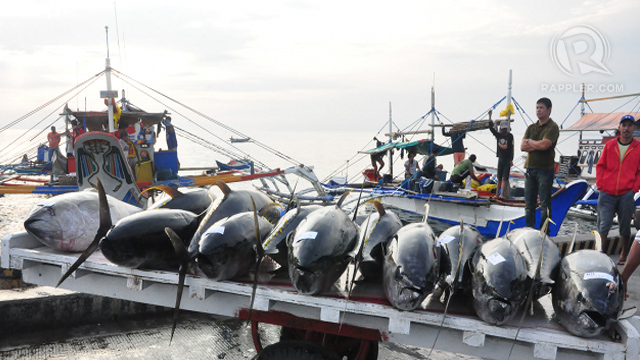 GENERAL SANTOS CITY – The 10-month catch for big yellow fin tuna was encouraging for the city, the country's "tuna capital" and one of world's biggest tuna sources. 
Data obtained from the General Santos City Fish Port complex showed that yellow fin tuna catch landing reached 10,634 metric tons (MT) in the first 10 months, up by a hefty 229.31% over the catch of 4,637.26 MT in the same period in 2011.
This is the first time since 2008 the catch for big yellow fin tuna breached the 10,000 MT mark after it bottomed up at the 6,000 MT to 7,000 MT mark in 2009 to 2011. In 2008 and 2007, the annual catch totals for big yellow fin tuna were 12,680.45 MT and 20,194.42 MT respectively.
The cumulative figure for yellow fin tuna is part of the total landed catch of 110,864 metric tons (MT) in this city from January to October, up by 2916.15 MT or by 2.6% over the same period in 2011.
The incrase in volume of fish catch comes amid an overall drop in the country's total fish production that pulled down growth in the agriculture sector in 2011.
Also registering an increase in catch figure is Market 2, which landed 42,631 MT of combined fish species for the first 10 months this year, up by 16,935.11 or by 39.77% over the same period from last year.
Biggest decliners were landings of frozen catches, mostly skipjacks, both from Manila and foreign origins.
Total landings for frozen tuna from Manila and foreign origin were only 40,169 MT and 5,395 MT respectively from January to October, both down by 18.64 and 45.7 percent from the first 10 months of the 2011 figures.
Abundant supply
An industry insider who requested anonymity said the decline in landings of frozen tuna can be attributed to increased landings of fresh catches by local tuna producers. The same source said there is also abundant supply of frozen tuna accumulated in local storage plants.
Depressed prizes of frozen tuna may also have shooed away foreign suppliers.
Tuna canneries here have resorted to importing frozen tuna during the last decade to cope up with their production targets.
Skipjack are the main raw materials for canning.
General Santos is home to 6 of the country's 7 tuna canning plants and is also the center for export of fresh chilled and process tuna products.
Philippine Fishing Port Development Authority manager for General Santos City Carlos Hagosojos said he expects better figures for this year as more fishing vessels are now deployed in international waters following the opening of Pocket 1 of international fishing ground exclusively for Filipino tuna fishers.
Fishing ban
The fish port manager, however, said they have yet to determine if the volume of local tuna landings this year can be attributed to the 2010 closure of two pockets of seas in the Western Pacific Ocean, said to lying along the migratory path of tuna and tuna-like specie.
Pocket 1, located in an area of about 590,000 square kilometers north of Papua New Guinea and east of southern Indonesia, was closed to purse seine and FAD fishing beginning 2010 following world concerns over declining tuna stocks.
The Philippines was granted exclusive exemption in a March meeting of the Western and Central Pacific Fisheries Commission (WCPFC) following strong lobby from the Philippine government.
WCPFC Glenn Hurry said only the Philippines was able to present its case when the WCPFC met in Guam in March this year.
"The Philippine (was able to) produce data of catch record," Hurry said in a press conference Friday, November 16.
Some 36 Filipino fishing vessels set sail for Pocket 1 in late September and was expected to reach the rich fishing ground by October 1.
In addition to the strong lobby made by the Philippine delegation in Guam headed by Mindanao Development Authority head Lualhati Antonino, the WCPFC executive director likewise said the country was able convince the commission "that it is [engaged in] responsible [fishing]."
Dexter Teng of TSP Marine said Philippine tuna catchers have been cooperating and complying with WCPFC regulations and noted a spike in local tuna catches in an interview during the 9th National Tuna Congress in September. – Rappler.com