The Presidential Adviser on Entrepreneurship says the biggest challenge of micro and small enterprises is growing their business beyond a certain scale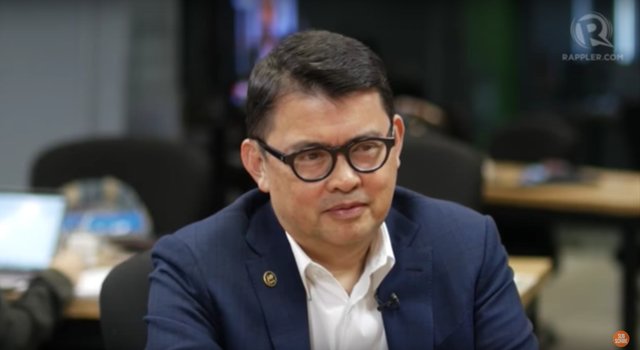 MANILA, Philippines – Presidential Adviser on Entrepreneurship Joey Concepcion's tall order is to promote inclusive growth by helping micro and small enterprises scale up, and his first action is to bring economic opportunities to the southern islands of Sulu, Basilan, and Tawi-Tawi.
Concepcion said this is part of the government's bigger plan to call for greater investments in far-flung, conflict-ridden areas, which will then help promote inclusive growth in a country where two-thirds of economic activity is concentrated in 3 regions alone.
"We want to show the people of Sulu that the Philippines has not abandoned them…It is getting 30 big businessmen coming into one area and pouring what we are good at. Not just Sulu, but also Basilan and Tawi-Tawi," Concepcion said in an interview with Rappler CEO and executive editor Maria Ressa on Friday, March 17.
A news report from Manila Bulletin showed that Metro Manila accounts for the lion's share of 36% of gross domestic product, Calabarzon with 17%, and Central Luzon with 9%. The 14 other regions split the remaining 38%. 
To promote inclusive growth, Concepcion said economic activities in areas such as Sulu, Basilan, and Tawi-Tawi should be promoted.
As a first step, President Rodrigo Duterte in early January hosted a 3-hour-long dinner with the country's top businessmen to discuss what the private sector can do to help spur development in the poorest areas in the country.
"The last time we spoke to the President with the large conglomerates, we promised to help those areas in need like Sulu. From schools to hospitals, all of these plus the help of Gawad Kalinga," Concepcion said.
The group of Manuel V. Pangilinan has vowed to rehabilitate and expand the current 16 Smart cell sites in Sulu, build at least 40 houses in the next two years, as well as provide water and power to communities there.
The tycoon, who is the chief of the largest hospital operator in the country, also promised to donate medical equipment to Sulu hospitals and train Sulu doctors in Metro Pacific-controlled hospitals.
Ramon Ang's San Miguel Corporation, meanwhile, promised to build power plants in Sulu, Basilan, and Tawi-Tawi, which are seen to reduce power rates to P3 per kilowatt per hour (kWh) from P15 per kWh.
Ayala Foundation, the social development arm of the Ayala group of companies, also said it would build a 70-bed drug rehabilitation facility in Marawi City, Lanao del Sur.
Reducing poverty
"If you look at the poverty level in this country, it is extremely high. My last count is we are at 22%-23% from the high of 27%. Poverty is going down, but we are still very far from countries like Indonesia and Malaysia," Concepcion said.
"My role as an adviser is to focus on key elements and basically on helping micro-entrepreneurs, which compose above 99.6% of the business sector," he added.
Concepcion said the biggest challenge micro and small entrepreneurs face is how they can grow to more than 20 employees.
"The question for micro and small enterprises now is how do you scale up? As we mentor them, we'll be able to provide them financing or lend them equipment, so all of these interventions have to happen. On the long term, education is still key… Now the challenge is how do you upgrade?" he said.
The Duterte administration aims to grow the economy by 6.5% to 7.5% this year and by 7% to 8% from 2018 to 2022. 
As for poverty reduction, Finance Secretary Carlos Dominguez III had said the administration targets to reduce the poverty rate to about 16% of the population by 2022, from the current figure of about 25%. – Rappler.com