(UPDATED) Washington SyCip's passing creates a void in the business relationships that directly involve or are dependent on him that will be difficult, if not impossible, to fill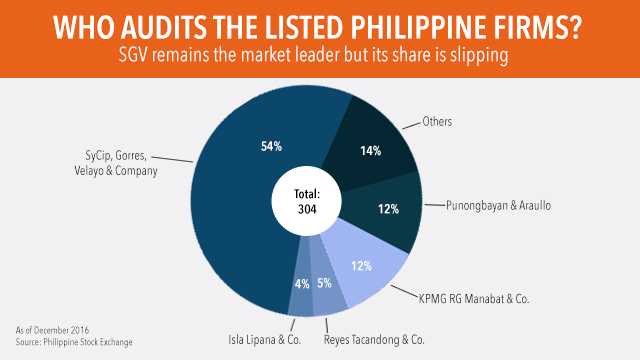 MANILA, Philippines (UPDATED) – The oldest accounting firm in the country remains the most sought after by the country's biggest corporations.
But the market share of SyCip, Gorres, Velayo & Co. (SGV), the homegrown giant founded by the recently departed business icon Washington SyCip, has been slipping. (READ: Business icon Washington SyCip dies at 96)
As of December 2016, SGV audits 54% of the 304 publicly listed firms in the Philippine Stock Exchange (PSE).
As of 2014 and among the Top 1,000 Corporations compiled by BusinessWorld and previously reported by the defunct Forbes Philippines, SGV's share was 41%.
These prove that SGV, currently a member firm of Ernst & Young, still corners a massive client base among the Philippines' largest and most influential companies.
But it's a long way down from almost 90% decades ago. For generations, it was far and away the industry leader almost instinctively thought of when businesses look for an external auditor. Founded after World War II, SGV has been virtually synonymous with Philippine auditing.
In the past 3 decades or so, competitors have been slowly eating into SGV's share. These competitors were founded by former SGV senior partners who decided to put up their own after slugging it out at SGV.
The 'next SGV'
In the normally staid accounting world, corporate drama has been a fixture when an unhappy SGV partner leaves to put up his own.
While it is inevitable, even in the best of institutions, that partners occasionally break away, in the case of SGV these have occurred in a series. In a few instances, the departure of key partners was even simultaneous.
Every time senior partners leave SGV, they bring with them other partners and major SGV clients, contributing to the decline of SGV's slice of the pie.
Ex-SGV partners founded 3 firms that are now on the heels of SGV – Punongbayan & Araullo, KPMG RG Manabat & Co., and Reyes Tacandong & Co.
Among the first to break away was Benjamin Punongbayan, a senior partner at SGV in the late 1980s who was up for the chairmanship but was passed over by Gloria Tan-Climaco, then known as SyCip's protégé (and who would later be removed in a company mutiny). Punongbayan left SGV and formed Punongbayan & Araullo in 1988 with Jose Araullo, a banker. Other SGV senior partners later joined Punongbayan in his new firm.
Punongbayan & Araullo has been able to carve for itself a solid 12% share of the listed firms as of end-2016.
Too, the local affiliate of Swiss firm KPMG has a 12% share of the listed firms.
Mario Mananghaya, the founder of original KPMG member firm Laya Mananghaya & Co., was a former SGV partner who decided to get out of the SGV shadow. In 2007, after growing the firm as the second or third largest accounting company in the country, he cashed in and sold the firm to a consortium that Cesar Purisima, a former SGV chairman and managing partner, put together. The consortium was led by two former SGV officials who had served in government and wanted to return to private practice.
Banking on, among others, their government and private contacts, former Securities and Exchange Commission general accountant Roberto Manabat and former finance undersecretary Emmanuel Bonoan are the chair and vice chair, respectively, of KPMG RG Manabat & Co.
Wholesale departure
More drama at SGV happened after Ernst & Young dumped its then local affiliate, Punongbayan & Araullo, in favor of SGV.
In 2002, SGV was up for the taking when Arthur Andersen, the foreign partner of SGV, was embroiled in the Enron financial mess and was found concealing the energy and trading company's true debt levels.
After the dust had settled, other bruising fights within SGV ensued.
In 2008, then SGV vice chairman Roman Felipe "Manny" Reyes led what was then referred to as the "SGV 14" mutinous partners. They vehemently protested the integration of SGV's local operations with Ernst & Young's international operations. They cited, among others, a constitutional breach since accounting is a profession that's still limited to Filipinos. With the SGV 14 was chairman David Balangue who was later ousted by the group of Cirilo Noel, who assumed the top position in 2009.
Reyes and the rest of the SGV 14 team eventually bowed out with a "withdrawal package," which included a non-compete clause that barred them from engaging in a business that rivals SGV for several years. Reyes, together with 11 of the SGV 14, eventually set up the upstart Reyes Tacandong & Co., which became a member firm of RSM, a global auditing group.
Despite being the newest kid on the block, Reyes Tacandong has been aggressive in signing up clients. It cornered 5% of the listed firms in the local bourse as of end-2016, not a small feat considering it started only in 2010.
The way leadership changes at SGV shows cutthroat competition to bag the juiciest posts in private firms is no different from the slew of compromises that politicians use to advance their interests. In the private sector, however, executives prefer not to wash their dirty linen in public.
Stability at the top
The series of breakaways and boardroom coup d'état at SGV broke momentum. From 1999 to 2009, there was a new chairman and managing partner every 5 years. Recently retired top boss Cirilo Noel stayed for 8 years. His successor, J. Carlitos Cruz, assumed the new role only a few months ago.
The constant changing of the guard is an issue the competitors don't have to contend with since their founders remain actively involved in the business of serving existing clients and courting new ones.
And in a business that thrives on relationship building, leadership stability is a big plus.
SyCip somehow provided some sort of security, at least as far as the company brand is concerned. His name, after all, is the "S" in SGV.
He retired as group chairman in 1996, when he reached the age of 75, the mandated retirement age under affiliate Arthur Andersen then. But he continued to go to the office daily, and was a constant presence in the boardrooms of over two dozen of the country's top 1,000 companies. He also remained active in social gatherings here and abroad.
His name commands respect and attention. He has been sought after by key companies who want to include him in their boards, not only to benefit from the breadth and depth of his experience and network, but also from the prestige of his name.
Those on the heels of SGV shared they could not penetrate companies where SyCip is part of the board because the family owners owe SyCip debt of gratitude from the challenging years in the past. SyCip has either provided them wisdom, suggested a winning strategy, or linked them with white knights.
Requests from and to clients, especially those who have survived the ups and downs of the Marcos years, the different crises – oil, dollar, credit, housing, and other financial crises – in the 1970s up to the 2000s, are a phone call or a chat away from SyCip. Most, if not all, of the country's top companies have gone through the scrutiny of SGV.
SGV has a first-comer advantage since it started after World War II, in the 1940s, long before other local accounting firms began.
There are also a myriad of businessmen and professionals in large and medium companies who previously worked at SGV, which they still associate with SyCip. They are grateful for the discipline, work ethic, and professionalism they have been exposed to early in their careers. Some are now SGV clients.
SyCip's passing creates a void on these intricate relationships that directly involve or are dependent on him that will be difficult, if not impossible, to fill.
Changing times
The SGV that SyCip has left behind is also in a battlefield that's shifting. Not only is it facing stiffer competition among its local peers in terms of clients, the fundamentals of the industry are changing, too.
Aside from the traditional auditing and tax services, the local players are expanding their portfolio to include high-level consultancy services, including meeting global corporate governance standards, which Filipino firms that want to access financing abroad must heed.
On the other hand, the competition for the dwindling supply of accounting and business graduates has become more challenging as business process outsourcing firms in the Philippines that engage in financial services have also joined the fray.
But the most pressing challenge so far is how technology is set to disrupt the status quo, if it has not already.
Industry players are in the process of automating tedious, repetitive, and manually conducted processes, such as checking inventories, processing paperwork, and even drafting audit reports. These will reduce manual tasks that the accounting world has been known for.
This will free up auditors to do higher value tasks, such as examining all corporate contracts, which are currently cost prohibitive or too complex for unaided human minds.
Artificial intelligence (AI) is seen to also improve the identification of accounting fraud to help improve audit quality. Machine learning, when applied to a company's financial statements, can produce a predictive model that learns from the company's previous financial reports, thus flagging areas of a current financial statement indicative of a misstatement or even fraud.
These and many more deep-learning capabilities of machines are all still at an early stage. But the wider use of technology to shake up the industry here and elsewhere is not a question of if, but when.
Will SGV be up to it? – Rappler.com
Editor's note: Data on the list of clients for each accounting firm came from the Philippine Stock Exchange research team.