The number of foreigners who visited Boracay rose by 29% in the first two months of 2018, based on data from the Malay Municipal Tourism Office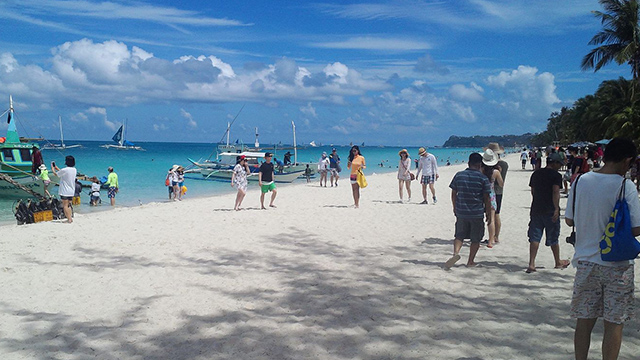 MANILA, Philippines – Facing closure threats and environmental woes, Boracay Island remained the destination of choice by Chinese and Korean travelers for the first two months this year. 
Based on data from the Malay Municipal Tourism Office, 262,488 foreigners visited the island from January to February, up by 29% compared to 203,167 tourists in 2017.
Chinese tourists remained the top regional market with 120,973 arrivals. Koreans came in second with 88,662, while the Taiwanese ranked third with 5,198 arrivals.
In February alone, foreigners registered 136,578 arrivals while domestic tourists tallied 49,209.
Boracay Island, off the northern end of Aklan, accommodated 66,358 Chinese travelers and 44,204 Koreans in February. In January, a total of 54,615 Chinese visitors also stayed in the island.
By regional grouping, East Asia was composed of Hong Kong, Japan, China, Korea, and Taiwan with 216,430 arrivals. North Americans from Mexico, United States, and Canada also had 7,874 arrivals.
Northern Europe composed of Norway, Ireland, Denmark, Sweden, United Kingdom, and Finland are the 3rd biggest source of tourists with 7,624 arrivals.
Western Europeans from France, Belgium, Austria, Germany, the Netherlands, and Switzerland had 5,721 arrivals, while East Asians from Singapore, Malaysia, Indonesia, Myanmar, Laos, Thailand, Vietnam, Brunei, and Cambodia accounted to 5,218 arrivals.
Long-haul inbound markets from Eastern Europe (4,514) and Middle East (3,829) also contributed to the growing tourist arrivals of Boracay.
Overall, Boracay Island drew 375,993 tourists from January to February compared to 344,026 in 2017 – an increase of 9%. – Rappler.com