'We must stay the course,' the economic managers say in a joint statement as they defended the tax reform law as crucial to progress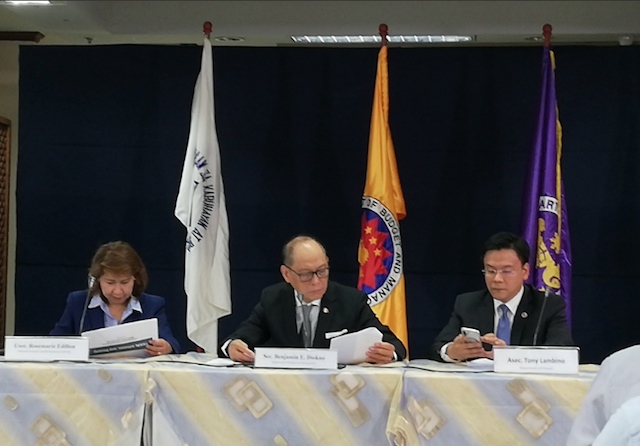 MANILA, Philippines – The country's economic managers on Tuesday, June 5, rejected calls to suspend the implementation of the tax reform law amid higher transportation costs and prices of basic goods that drove inflation to a new 5-year high.
The economic managers – the budget chief, Finance Secretary Carlos Dominguez III, and National Economic and Development Authority chief Ernesto Pernia – expressed their position on the Tax Reform for Acceleration and Inclusion (TRAIN) law after the government announced that inflation rose to 4.6% in May.
"Suspending TRAIN and adopting other Band-aid solutions will only have a minimal and short-term impact on inflation and will stifle our growth, further delaying our nation's progress toward becoming an upper-middle-income country by 2019, such that around 6 million Filipinos would be lifted out of poverty by 2022," the economic managers said in a statement read by Budget Secretary Benjamin Diokno.
The officials reminded critics of the measure that the law "reformed a previously unfair and harsh tax regime" and effectively  "lowered the personal income taxes of most Filipinos except the very rich – increasing the take home pay of 99% of income tax payers."
They said the benefits of TRAIN, along with free higher education and jobs from infrastructure projects funded by proceeds of the law, would lift 6 million people from poverty.
"The Philippines is already on the path of high and sustained growth. We must stay the course," the economic managers said.
Consumers are feeling the pinch of the TRAIN law which has pushed up prices of basic goods and fuel, and transportation cost. (READ: [OPINION] Higher inflation: Is TRAIN to blame? Part 1 and Part 2)
Senators and various groups have urged the government to suspend the imposition of the TRAIN law, or at the least, excise taxes on fuel amid skyrocketing prices. The Senate held hearings in various regions on the impact of the law on prices of goods and transportation cost.
The economic managers said to ease the burden on consumers, the Department of Energy is in talks with oil companies to give discounts to public transport groups, while the transportation department is finalizing the guidelines for fuel subsidies  under TRAIN.
They said more rice imports due this month will pull down rice prices by as much as P7 per kilo. The officials also urged Congress to hasten the passage of the proposed Rice Tarrification Act, which will allow cheaper rice to enter the country.
On rising fuel prices, the economic managers said major oil producers were in discussions on a possible increased production of oil, which would bring down pump prices.
President Rodrigo Duterte had earlier distanced himself from concerns over the impact of the TRAIN, particularly on the poor, saying it would be up to Congress to decide on calls to suspend or amend the measure. – Rappler.com