The rising prices of agricultural goods are seen as the 'main drivers of inflation,' and the Department of Agriculture headed by Secretary Emmanuel Piñol 'must act quickly'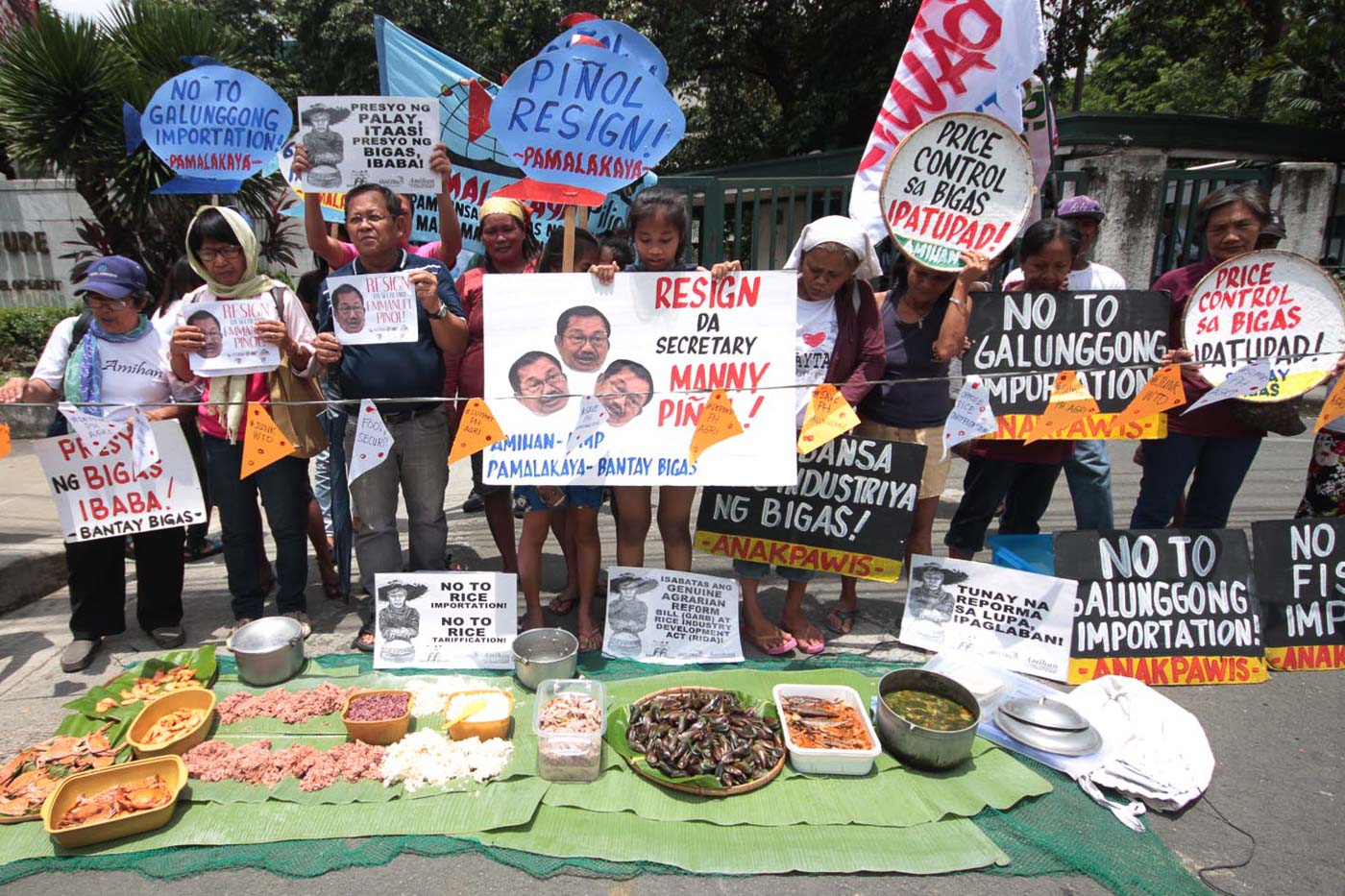 MANILA, Philippines – President Rodrigo Duterte's economic managers pointed to the agriculture sector's problems as the reason for inflation hitting another 9-year high of 6.4% in August.
Bangko Sentral ng Pilipinas Governor Nestor Espenilla Jr attributed the spike to food supply shocks and rice.
Rice inflation in August soared to 7.1% from the 5% recorded last July.
"These warrant more decisive non-monetary measures to fully address [inflation]," Espenilla said. (READ: EXPLAINER: How inflation affects you)
Echoing the central bank chief's sentiments, Socioeconomic Planning Secretary Ernesto Pernia also said that the Department of Agriculture (DA) – headed by Secretary Emmanuel Piñol – "must act quickly and fervently with a sound judgment to ease the increasing prices of agricultural commodities which are the main drivers of inflation."
Pernia also pointed out the slowdown of rice production to 1.68% during the 1st half of 2017 and the decline in the rice inventory of the National Food Authority (NFA). (READ: High rice prices a win for farmers – Piñol)
The NFA's stocks declined further to 1.9 million metric tons (MT) as of August 10, 15% lower than the levels in the previous month. (READ: Duterte won't fire Piñol, NFA's Aquino over rice crisis)
"The NFA should fast-track the distribution of remaining inventories, alongside the completion of the government's 250,000 MT rice imports from Thailand and Vietnam in the last week of August to build its rice inventory, a necessary step to temper inflation," Pernia said.
Pernia, along with Budget Secretary Benjamin Diokno, renewed their calls for the passage of the rice tariffication bill to bring down prices of rice and support farmers.
Pernia also called for reforms to improve fisheries and production of other crops.
"A comprehensive and strategic trade policy in place is more important now than ever. Importation of agricultural products to boost supply at the domestic level must be coordinated and harmonized with the local stock inventory and production," he said.
Meanwhile, House economic affairs committee vice chairperson Joey Salceda proposed immediate and medium-term measures to "slay the inflation monster."
He said the NFA should import more rice and distribute these to rice-deficit areas and food-deficit communities.
Salceda also renewed his proposal to reduce tariffs on meat products. – Rappler.com