Business groups also ask the President to lift the moratorium on new mining agreements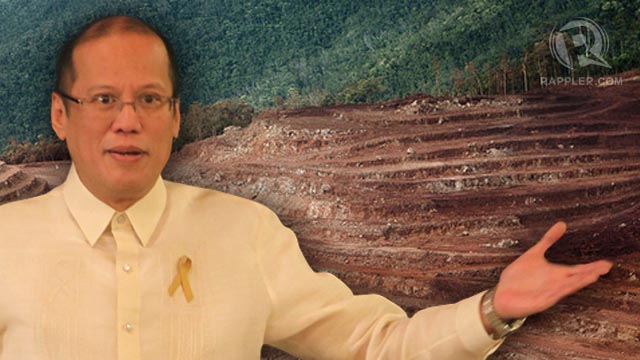 MANILA, Philippines – Business players in the mining industry are asking President Benigno Aquino III to certify as urgent the new mining reform bill that will outline the revenue-sharing arrangement between the government and the private sector.
"For the Philippine mining industry to realize the potential enormous wealth creation from its mineral resource base, a revised and internationally-competitive revenue sharing mechanism needs to be enacted quickly and certified as urgent by President Aquino," according to a position paper supported by various business groups. 
The paper was released February 20 during a ministerial meeting joined by the Chamber of Mines of the Philippines (COMP), Philippine Chamber of Commerce and Industry and the Philippine Mining and Exploration Association. The meeting was organized by the Philippines-Australia Business Council.   
The Aquino government earlier said the mining reform bill is among its priority measures in Congress for the last 3 years of the Aquino presidency. 
The Department of Finance (DOF) has also been pushing for the approval of the mining revenue bill to jumpstart the ailing mining industry and raise more revenues for the government.
Act as one
Business groups urged Aquino, however, to initiate legal challenges against local government units issuing local ordinances and imposing fees contrary to national law "such as the Mining Act of 1995."
Investors, they said, need assurance that the national government would take decisive action to enforce a "unitary form of government vis-a-vis that of the local government."
The groups also want Aquino to lift the moratorium on new mining agreements. The moratorium was imposed pending the passage of the new revenue bill. 
About P12 billion in mining projects are currently on hold amid the revenue-sharing issues of the bill.
The constitutionality of the revenue-sharing scheme as outlined in the 1995 mining law has been assailed before the Supreme Court (SC).
Petitioners argued that the scheme puts the country at a disadvantage as the government's mineral production share is limited to excise tax, while COMP argued that the law has been declared constitutional by the SC in a 2004 decision penned by former Chief Justice Artemio Panganiban. – Buena Bernal/Rappler.com