Guess what the average age of farmers in the Philippines is?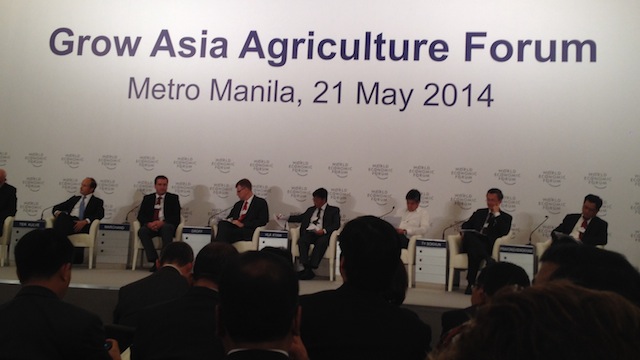 MANILA, Philippines – It's a simple equation – without farmers, it would be impossible to achieve food security.  
But in the Philippines, a nation that is still considered an agricultural country, farmers are now considered "endangered species," Presidential Assistant for Food Security and Agricultural Modernization Francis Pangilinan said on the sidelines of the Grow Asia Agriculture Forum in Makati City on Wednesday, May 21. 
Grow Asia was part of the opening salvo of the World Economic Forum on East Asia, which is being held in the Philippines for the first time. Over 600 political and business heavyweights from the region will tackle key economic issues at the forum, which will be held at the Makati Shangri-La Hotel from May 21 to 23.
According to Pangilinan, the average age of farmers in the Philippines is 57. This is only a few years away from the mandatory retirement age of 60 to 65. 
"In the Philippine setting, a new generation of Filipinos refuse to go to farming and that is a threat to food security," Pangilinan said. 
"When a new generation refuses to farm, who will feed the people?" Pangilinan added. 
Pangilinan was among the panel of the Grow Asia forum where stakeholders in ASEAN agriculture discussed ways on how to strengthen the sector. 
Other panel members included: 
Tobias Marchand, head, Asia Pacific Bayer (Southeast Asia)

Stephen Groff, vice president, Asia Development Bank

Jonathan Kyaw Thaung, CEO, Capital 8 in Myanmar

Francis Pangilinan, Presidential Assistant for Food Security and Agricultural Modernization

Ty Sokhun, Secretary of State, Ministry of Agriculture, Forestry and Fisheries of Cambodia

Phuang Parisak Pravongviengkham, Deputy Minister of Agriculture and Forestry of Laos

Peter Ter Kulve, president for ASEAN and Australasia, Unilever Asia Private Limited
International Rice Research Institute director general Robert Zeigler served as the moderator. 
'Empower and celebrate farmers'
At the Grow Asia forum, participants identified 5 key areas that must be given focus in reaching food security.
1. Empowerment of farmers 
 "If you are to achieve food security, you must first secure your farmers," Pangilinan said. 
How? Zeigler said the key is to bring in better technology and better value chains into farming to help make it a viable alternative than going to the cities to find jobs. 
To achieve this, the private sector must also do its part to bear the risk for farmers so they are not bearing risks in the market disproportionately, Groff said. 
With better linkage to the market through the help of the private sector, as well as the government, coupled with better technology, Kulve said this would help foster an increase in farm productivity. 
2. Sustainable agriculture 
In the lead up to the establishment of a common market through the ASEAN Economic Community, Marchand said ASEAN must create a vision for a sustainable culture and food security that would help improve the quality of agriculture. 
3. Making agriculture more disaster resilient
In the face of more frequent and devastating disasters battering the region, making agriculture disaster resilient has become an imperative. Sessions on disaster resilience will be conducted during the WEF on East Asia. 
4. Focus on food waste
A study of main retailers worldwide showed 43% of packaged food in today's world goes to waste, according to WWF International president Yolanda Kakabadse. 
"Too much of the food we produce is wasted and we need to manage what are increasingly scarce resources better," Kakabadse said. 
5. Better cross-border collaboration
Kulve said there is a need to develop an independent neutral coordinating body for agriculture across boarders. 
As ASEAN 2015 draws nearer, the prospect for this happening is positive. 
Marchand said the attitude among companies, government bodies and non-governmental organizations in establishing cross-border collaboration is one of cooperation, not competition. 
"We should all work together to bring agriculture to the next level of professionalism," Marchand said. 
As delegates to the WEF on East Asia tackle the theme "Leveraging Growth for Equitable Progress," the role of agriculture in fostering inclusive growth will be among the core discussions. 
"Agriculture is one of the most effective ways of reducing poverty since the vast number of poverty-stricken families live in rural areas," Groff said. 
"If we're serious about inclusive growth, agriculture is going to be at the core of the solution,"Groff said.  – Rappler.com