Watch the World Economic Forum on the education-entrepreneurship-employment nexus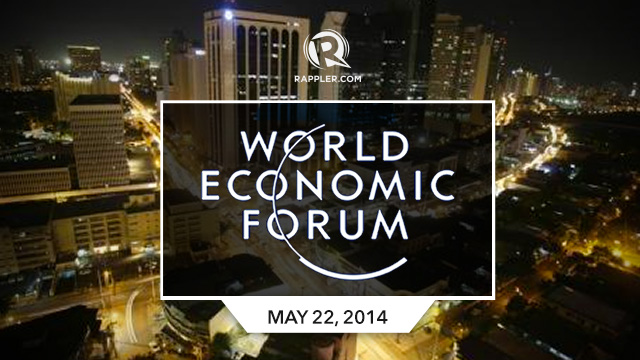 MANILA, Philippines – After more than two decades, the World Economic Forum (WEF) on East Asia is held in the Philippines.
Set on May 21-23, WEF is an opportunity for business and government leaders to come together a year before the integration of ASEAN member-countries.
In this forum, delegates talk about how education and entrepreneurship strategies can be designed to generate employment and drive economic growth in the region.
Leading forum delegates are the heads of states of the Philippines, Vietnam and Indonesia, as well as the Vice President of Myanmar. At least 70 public figures from 20 countries and 460 business leaders will  also be attending to share ideas and strategies on inclusive growth.
In line with WEF's theme "Leveraging Growth for Equitable Progress," WEF Southeast Asia head Sushant Palakurthi Rao endorsed the Philippines' economic credentials, citing policies promoting good governance that he said served as an example for the region. President Benigno Aquino is expected to showcase the Philippines' stellar economic growth. – Rappler.com
---
Watch the other sessions
09.15 – 10.30am
10.45am – 12.00nn
1.30 – 2.45pm
3:15 – 4:00m
4:15 – 5:30pm
---
09.15 – 10.30am
10.45am – 12.00nn
1:45 – 3:00pm
3:15 – 3:45pm