The country's successes have not been enough, thus the focus on helping the poorer sectors, says President Aquino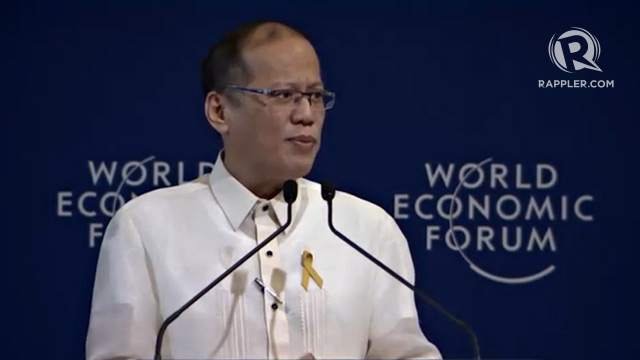 MANILA, Philippines – Speaking before some 600 political and business heavyweights from all over the world, President Benigno Aquino III said on Thursday, May 22, that the Philippines is experiencing a "dramatic turnaround" in all sectors but stressed this can only be meaningful if felt by the majority.
In a speech at the opening plenary of the World Economic Forum on East Asia 2014 at the Makati Shangri-la, Aquino emphasized that the Filipino people are his country's "greatest resource," crediting them for "great turning points that have allowed us to achieve national redemption and progress."
 "For the past four years, through the unwavering support of our people, we have enacted reform after reform. We overhauled systems that were prone to abuse. We reformed the way we do our budget," Aquino said.
"At the end of the day, however, we recognize that the power behind all our efforts – whether in pursuing inclusive economic growth, improving competitiveness, food security, or disaster risk management – comes not from any individual, but from our people."
Aquino said this was the driving force behind his government's resolve to pursue inclusive growth, and to ensure the economic growth experienced by the Philippines trickles down to the poor. (READ: How to sustain PH growth?)
"This is why inclusive growth is not just a mantra for us; it is the yardstick by which we measure any government undertaking. After all, it is a participatory public – one that is empowered, and one that gives government their trust and confidence – and a government that never misplaces that trust that ultimately makes equitable progress possible," he said.
Dramatic turnaround
The Philippines is hosting the WEF on East Asia for the first time in two decades. 
Once dubbed as Asia's "sick man," the Philippines is now the fastest-growing economy in the region, next only to China. For the first time in its history, the country won investment grade status in 2013 – an important vote of investor confidence.
"It is evident: Our country is in the midst of a dramatic turnaround in every sector, and we are intent on continuing this trend and making certain that each and every Filipino enjoys the full dividends of progress," the President said.
Aquino said the benefits were mutual, and that the relationship between the government and the Philippines is "truly symbiotic."
"As we empower our people to improve their lots in life, they empower us to battle the vested interests that remain in society. Ultimately, it is our countrymen who give us the confidence to continue blazing the path of reform," he said.
Aquino cited his administration's successes from health to education to anti-corruption efforts that have seen the prosecution of some of the country's senior leaders.
He also talked about government efforts to build back better after Super Typhoon Yolanda (Haiyan), to harness technology to improve processses, and to generate jobs.
The successes, however, have not been enough said Aquino, thus the government's focus on helping the poorest of the poor, most especially through the administration's Conditional Cash Transfer Program.
"There is a simple idea behind all these initiatives: Our people are the be all and end all of this government, and we are not content with waiting for the benefits of growth to just trickle down the social pyramid," he said.
"This is why, from the beginning of our term, most of our efforts have been targeting the poorest of the poor… Our goal: To push them further and further away from the poverty line, andto empower them to improve their own lots in life." 
Achievements
Aquino discussed various achievements of his government but emphasized the prosecution of senior level government officials – specifically former president Gloria Macapagal-Arroyo and impeached Chief Justice Renato Corona – as part of his good governance reforms.
The President said his administration dismantled "the culture of corruption" and said taking on those "with a misplaced sense of entitlement" was a step to improve the lives of the people.
"So, we went after every individual who committed wrongdoing, and look at the results: My predecessor is now undergoing hospital arrest as she undergoes two serious charges, with another being evaluated by the Ombudsman," he said.
"The Congress and the Senate removed a Chief Justice from office for failing to declare over 98% of his assets in his Statement of Assets and Liabilities and Net Worth contrary to our constitution and our laws."
He said going after the corrupt and sending a message across, expanded the resources available to government, which his administration has used to serve the people in an attempt to achieve inclusive growth.
Among the achievements he hailed are the following:
Poverty reduction: Conditional Cash Transfer Program, which currently assists 4.3 million families or 22% of population

Education: Erasure of 66,800 classroom backlog, 2.5 million backlog in chairs and tables, and 61.7 million backlog in textbooks

Health: Tripled budget of Department of Health, allowing increase enrollment to PhilHealth

Tourism: Increased investment led to 11.6% growth in international tourists from 2010 to 2013

Economy: 7.2% economic growth in 2013 despite natural and man-made disasters; credit rating upgrades; rise in competitiveness ranking from 85th to 59th according to WEF

Infrastructure spending: Doubled from P200 billion in 2011 to more than P400 billion in 2014

People empowerment: Creation of websites to track budget and government spending

Job generation: In 2012, 62.4% of government-trained workers found employment, compared to 28.5% from 2006 to 2008

Climate change: Government is building back better, harnessing technology to build in strategic manner
Aquino vowed the government would continue to pursue the growth instituted by his administration until its effects are felt by the people. – Rappler.com
For live updates on the World Economic Forum on East Asia 2014, visit our live blog here.
For everything you need to know about WEF on East Asia 2014, visit Rappler's microsite.