Watson Institute, founded by Forbes 30 Under 30 social entrepreneur Eric Glustrom in the US, seeks to give students hands-on experience in developing entrepreneurial skills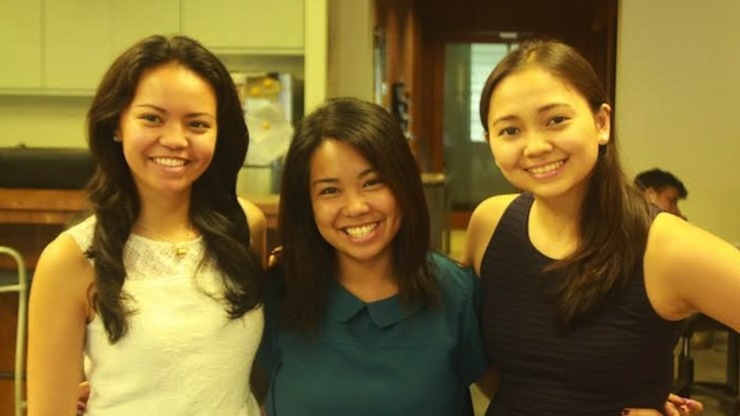 MANILA, Philippines – If you go into any classroom full of Filipino students and ask how many of them want to be entrepreneurs, not so many will raise their hands. The 22-year-old Filipino-American entrepreneur Andy Rapista wants to change all that.
Beginning on July 14, Rapista and 3 other youth leaders – Raya Buensuceso, Carbs Bayombong, and Veronica Velayo – have been hosting a two-week workshop of the Watson Institute at co.lab, a coworking space in Pasig City. The institute, which was founded by Forbes 30 Under 30 social entrepreneur Eric Glustrom in the United States, seeks to give students hands-on experience in developing entrepreneurial skills. Watson, then, is part of the larger movement for non-traditional education in the world, which is only starting to take shape in our country.
The format of the Watson Institute is simple. Rather than have students read textbooks or listen to lectures (as might happen in a traditional business class), the Watson fellows are coached by master course teachers, who are masters of their respective fields in every sense of the phrase. Teachers have so far included: Ideaspace Foundation president Earl Martin Valencia, VMoney CEO, and TechJobsAsia founder Diego Jose Ramos.
Addressing the gaps in the educational system
To spearhead a non-traditional type of education in the Philippines, which tends to prize credentialism (i.e. where you went to school matters), you need to have a non-traditional background. Rapista briefly attended Georgetown University – yes the one where Gloria-Macapagal Arroyo studied with Bill Clinton – before deciding to pursue Watson full-time as a co-founder.
Rapista believes that Watson can help transform education in the Philippines. "The most watched TED talk of all time is Sir Ken Robinson's "How Schools Kill Creativity", which underlines the need for us to restructure our schools to accommodate students' skills and strengths," Rapista says. "Schools today ask different animals to climb the same tree – it simply does not work; there are various types of intelligence apart from verbal and mathematical, which is what schools focus most on today.
There are several theories as to just how many kinds of "intelligences" there are, and Rapista cites Howard Gardner's model, which names several that schools don't usually encourage, such as spatial intelligence, bodily-kinesthetic intelligence, musical intelligence, and interpersonal intelligence.
Rapista sees the need to fill in these gaps as a matter of national importance. "If we were to adopt this system where we play to different students' educational learning styles, it would not only transform the educational system, but also restructure the economy. It means more varied jobs as students start companies that play to their strengths and passions," Rapista said.
But Rapista and the Watson team do not simply want to fill in those gaps with any curriculum – they want the right curriculum. "It's easy to start an accelerator program – anyone can teach entrepreneurship; but for Watson, it's not just a question of 'creating' entrepreneurs, but 'what kind of entrepreneurs are we creating?'" Rapista said. "How do we empower young Filipinos to become the next generation of empathetic, innovative, and entrepreneurial leaders?"
Last-minute preparations
Rapista and the Watson team had only a month to recruit the inaugural class of fellows in the Philippines as well as organize the workshops themselves. "Literally two weeks before our class orientation, we were spread across 4 different countries: Spain, the USA, Canada, and the Philippines," Raya Buensuceso, community builder and an incoming sophomore from Princeton University said. "Thankfully, two of the 3 were able to come home to help host Watson."   
According to Carbs Bayombong, a co-founder of Watson Institute Philippines and a current senior at University of the Philippines, the geographic diversity of the Watson team helped them get sponsors and speakers for the program. Bayombong, in particular, praised the quality of speakers that they were able to get.
"We've hosted Ryan Letada of NextDayBetter, who believes that diasporas like the Philippines global community are hubs and inspirations for social innovation, incredible design, and world changing ideas," Bayombong said. "There's also Julius Paras from Palo Alto, CA a Stanford University Alumnus and the CEO of Gumption Studios, who connects game-changing Filipinos around the world through @Filamthropy."
The scholars, while mostly hailing from the University of the Philippines, are impressive and equally diverse in their own right.
"For example, we have Montse Ticzon, a 2nd year BS chemical engineering student at UP who wants to build an R&D company that focuses on developing eco-friendly alternatives to conventional products and technologies and renewable energy resources accessible to all ages and socioeconomic groups," Buensuceso said.
"We also have Louise Mabulo, a 15-year old Junior MasterChef finalist from the UK is creating a store that will encourage healthy living and leverage the fair-trade system to provide sustainable livelihood for local farmers," Buensuceso said. 
Though each of the scholars may have very different aims, Buensuceso wants them to be united on one front. "At Watson, we want to breed a different type of entrepreneur," Buensuceso said. "We want to create entrepreneurs who are empathetic problem solvers with ideas that will shape the future and who put the common good above themselves."
The Watson culture
As a non-traditional institution, the Watson institute has unique traditions. Some of these are quirkier more than anything, such as the fact that they snap fingers in place of clapping for their guest speakers, but others have a genuine effect on the overall educational culture. A good example of this is the practice of "checking in" and "checking out" – prior to and after each activity, each fellow will discuss how they feel at that very moment. These check-ins and check-outs can get really personal, really quickly.
Such openness plays into Watson's culture. "Vulnerability is one of the most important aspects of Watson Institute," Bayombong said. "We've worked hard to create a safe space for the scholars. We live in a world where success, especially in entrepreneurship, is usually too glamorized."
As a result, Bayombong feels that the community shies away from the difficult but necessary discussions. "Hence, people don't usually talk about the gritty stuff – what it took to get there or how many failures they encountered. Our safe space allows our scholars to grow personally and invest time and effort on becoming not just successful entrepreneurs but entrepreneurs with empathy and compassion, integrity, humility, grit and resilience – characteristics we need in our future leaders" Bayombong said.
Despite the success of the inaugural Watson Institute in the Philippines, Rapista does not completely discount the value of a degree from a university. "I'm still in the process of obtaining my bachelor's degree," she said. "Entrepreneurship demands that you work smart and fast – while university is important, you don't need a degree (or other's opinions) to validate your capabilities. I have an amazing team of mentors, advisors, and friends who have helped guide and shape Watson Institute Philippines. Had I waited for that special paper to say 'I'm ready' and 'I'm good enough' – the past two weeks would not have been possible."
Rather than appeal to a university for support (as a student might), Rapista is appealing to everyone in the Philippines. "Watson in the US has helped scholars get their companies acquired, speak at numerous national and international events, receive investment from one of the world's most respected investors, and much more," she said. "We're aiming to have the same impact in the lives' of our Filipino scholars, but we need the help of the community to get there."
As an example, she cites the need for more representation from across the Philippines for the next class of Watson fellows. Rapista said, "We've managed to get 12 incredible students from all over Luzon, but we want a full representation, we want students from Visayas and Mindanao, especially the provinces, where students don't necessarily have access or exposure to the opportunities we have here in Manila." 
She continued, "That's a waste of human capital; we want to find the next innovators, game-changers, and movers and shakers, and we know they're here in the Philippines, we just need to find them and provide them with the platform and safe space for growth; conducive environment for creativity and entrepreneurship; community/tribe for support; and tools and opportunities to manage and expand." – Rappler.com
Rappler business columnist Ezra Ferraz graduated from UC Berkeley and the University of Southern California, where he taught writing for 3 years. He now consults full-time for educational companies in the United States. He brings you Philippine business leaders, their insights, and their secrets via Executive Edge. Follow him on Twitter: @EzraFerraz