A social enterprise expert from the Social Enterprise Development Inc gives practical advice on how to overcome challenges in business startups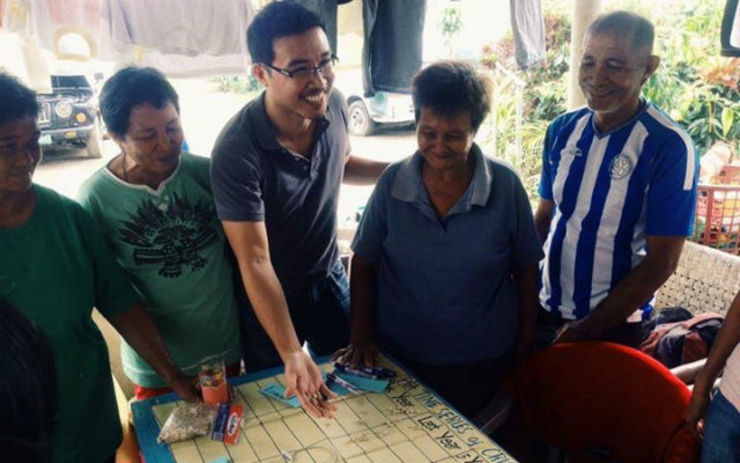 TAGBILARAN CITY, Philippines – Social enterprise has been a buzzword in business and development in the past decade, as some experts would argue. The overarching concept is to involve marginalized communities in doing good business that would profit both the entrepreneur and the community. 
But how does one go about starting a social enterprise? The biggest challenge, as some successful social entrepreneurs would say, would be finding the financial resources for the business. This, along with developing a product, are the first steps.
Vincent Rapisura, president and chief executive officer of the Social Enterprise Development Inc (SEDPI), speaking to young entrepreneurs during the British Council's I Am A ChangeMaker ideation camp, said business startups are always challenging. 
"We started SEDPI 10 years ago with the vision of addressing the capacity-building needs of development organizations in the field of micro-finance. It has gone a long way but it wasn't easy," one of the founders of the social enterprise said. 
SEDPI is a capacity-building institution that trains other groups in micro-finance, financial literacy, and social entrepreneurship. From an initial capital of P45,000 (US$1,027),* the financing company now has P195 million ($4.45 million) based on audited financial statements in the past year. It has an annual turnover of P12 million-P15 million in the past 3 years.
"We've estimated that we reached out to a million households in the Philippines by building the capacity of development organizations that directly help them," Rapisura added.
Rapisura gave tips to young social entrepreneurs on how to go about and finance their business startups:
1) Use your money first
According to Rapisura, social entrepreneurs should not immediately focus on the return of their investments. They should instead concentrate on developing their products and studying their market. This requires a lot of financial resources.
"They should focus more on their market rather than focusing on where to get their investment back. Give focus on product development and really make sure that they address the needs of the markets that they want to reach out to. The enterprise is not about you, it's about the target market," he added.
2) Establish credibility, partnerships
In light of the recent corruption scandals that involved development organizations, though not directly social enterprises, Rapisura said it becomes even more challenging to establish a company's credibility.
"You have to establish your track record. That's the main thing in establishing your credibility. You have to prove to yourselves that your model works," Rapisura said. 
SEDPI hired professionals for bookkeeping and to come up with good documentation. They eventually partnered with SGV & Co, an established professional services firm, as their auditor to establish more credibility.
Rapisura shared how it was difficult to establish the SEDPI brand, given that he had a small network at the start.
"I started this when I was 25 years old. It's very difficult to establish a name, especially if you're not well-known. I come from a middle-class family and no one knew about me. What I did was to hone my skills, knowledge and to establish my network." 
He added: "A lot of those that helped me would be my link with Ateneo de Manila University and my partnership with the British Council. You have to align yourself with organizations and people that already have established brands." 
3) Invite your immediate network to invest
Rapisura said that he and his co-founders invited their immediate family and friends to invest in their business after they were able to prove that their model works. They remain SEDPI's largest investors.
"It's actually a misconception to think that your goal is to repay the investments. You have to show your capacity that you can repay the investments. But the goal is to actually entice them to invest more because they believe in your cause and business model," he added. 
After the initial investments, SEDPI was able to attract outsiders to invest.  
Rapisura added: "We started to attract philanthropists and young professionals. Now, overseas Filipino workers, international development organizations and commercial banks are investing in us."
4) Train and trust the right people
Rapisura said that it is important for social entrepreneurs to realize that they cannot do things alone, even if it often seems that they have to do everything at the start.
"Focus on the training. It's difficult for entrepreneurs not to do the work ourselves, our tendency is that we want to do it to make sure it's correct. But you have to get out of that shell if you want to grow. I delegated work and started to train people so that the quality they produce would be to my liking," he said.
A recurring tip during the ideation camp was for social entrepreneurs to be practical in trying to solve social problems, that they cannot solve every problem they see. (READ: #ChangeMaker2014: Young entreps help in Sendong rehab)
"You have to build partnerships because collaboration and cooperation will make things easy for you. That entails a lot of emotional stability because you deal a lot with people and a lot of creativity as well," Rapisura said.
On startups
Rapisura said there are 4 main ingredients to achieve success in business startups – skills, knowledge, network, and luck. 
"If you have the first 3, you can take advantage of the 4th one. You can't take advantage of opportunities that come your way if you are not prepared in terms of your skills knowledge and you don't know people who can make you realize your dream," he added.
He said social entrepreneurs need to be more practical than idealistic so as not to raise false expectations.
"Make your dreams an inspiration but don't be very idealistic. Don't pressure yourselves if you don't make your targeted goals. You have to learn to celebrate small wins," Rapisura concluded.
The British Council's ideation camp concluded Friday, October 24, with 5 groups receiving seed funds of P100,000 ($2,300) each to fund their startups. – Rappler.com
See other stories from the British Council's I Am A ChangeMaker ideation campfollowing here:
*(US$ 1 = P43.8)