Consumers are more equipped to boost savings and invest spare cash, driving greater demand for banking and finance services, Nielsen says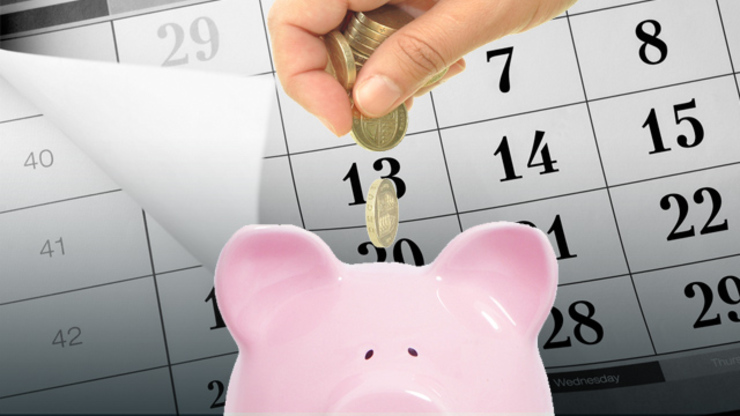 MANILA, Philippines – At least 8 in 10 or 80% of consumers in the Philippines adjusted their spending habits over the past 12 months to boost their household savings, according to Nielsen's Consumer Confidence Index report released Monday, January 26.
The Nielsen survey said that more than 6 in 10 Philippine consumers or 62% are spending less on new clothing, while some are cutting back on expenses by saving on gas and electricity; delaying upgrading of technology; and switching to cheaper grocery brands. (See chart 3)
Saving and investment also continue to be a priority for the Filipino consumers. They, along with other Southeast Asian consumers, are considered the most avid savers in the world, Nielsen added.
More than 3 in 5 Filipino respondents (63%) also say they prioritize saving their spare cash, compared to 69% of consumers in the region and 43% globally.
Consumers in Vietnam are the top savers (77%), and Indonesia ranks third globally (70%). Consumers in Malaysia (67%), Thailand (63%), and Singapore (62%) follow closely.
Loans, investments
Consumers in the Philippines (32%) and Singapore (31%) are also focused on paying their debts and loans.
About a third of Malaysians (33%), Indonesians (32%), and Thais (30%) are channeling their spare cash into stocks or mutual funds.
Based on the survey, 79% of Filipino respondents are bullish about their personal finances over the next 12 months.
"It is a positive indicator of financial health when you see consumers who are conscientiously planning their financial future," said Stuart Jamieson, managing director of Nielsen Philippines.
Jamieson added that as disposable income becomes more readily available than before, consumers have the capacity to boost their savings and invest their spare cash, driving greater demand for banking and finance services.
After putting spare cash into savings, 35% (-2) of Filipinos spend on new clothes; 32% on home improvements (+3); 29% on holidays (+1); and 29% new technology products (+1). (See chart 2)
2nd most optimistic in the world
Overall, Filipino consumer confidence surges to a 5-point increase in Q4 2014, pushing the country to the no. 2 spot with Indonesia as the most optimistic countries globally, according to Nielsen, a global information and measurement company.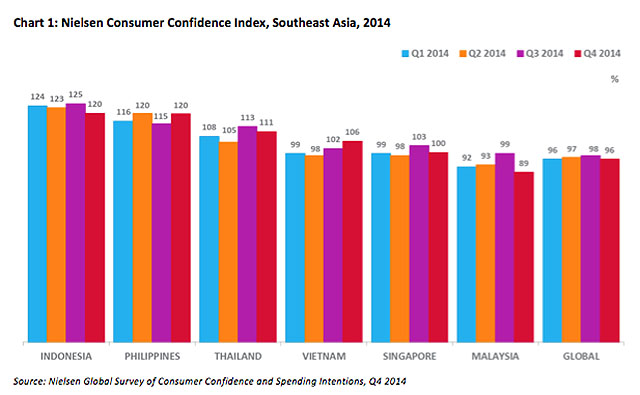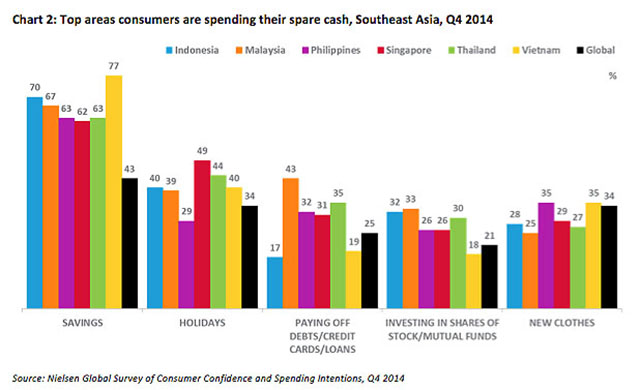 The Nielsen Global Survey of Consumer Confidence and Spending Intentions also showed that 5 of 6 Southeast Asian markets register a confidence index above 100 percentage points (pp).
Consumer confidence levels above and below a baseline of 100 indicate degrees of optimism and pessimism.
With an index score of 120 points, the Philippines reaped one of the largest quarterly increases globally at +5 pp per last quarter.
Indonesia, meanwhile, achieved an index score of 120 in Q4 2014 (-5pp compared to previous quarter).
India holds on to number one with 129 (+3); the highest index across the 60 countries measured.
Thailand came in fifth with an index score of 111 (-2pp versus last quarter).
Consumer confidence levels in Vietnam (106 points, +4pp) and Singapore (100 points, -3pp) also remain relative strong.
Consumer confidence in Malaysia stood at 89 points, which was down 10 pp on Q3, the largest quarter-on-quarter decline globally and 7 points below the global average of 96 points. (See chart 1)
"The spike in consumer optimism is a result of several key developments," Jamieson said. 
The continuous expansion of the business process outsource (BPO) industry that provides the bright spot in the Philippine economy contributed to the upsurge in consumer confidence.
Unemployment was also found to be at its lowest in 10 years as a result of a growing economy.
"Such factors are major influencers in further expanding the middle class or the new consumer class who spend on technology, real estate, consumer and retail goods, and travel," Jamieson said. (READ: 80% of Fillipino consumers curb spending in Q4 2014) – Rappler.com