These emerging firms may have the solution you are looking for - from online dating to growing your business
As an entrepreneur or small business owner, it is also important to pay attention to what other companies in the tech space are doing.
Being aware of how other entrepreneurs are solving their challenges might give you a better understanding of how you might address your own.
That said, here is a quick rundown of 5 rising tech startups in the Philippines, the problems they are trying to solve, and the challenges that stand in their way.
Diptyc: Dating for PH professionals
There may be many dating sites in the Philippines, but none quite like Diptyc.
According to founder Jean-Jacques Lafon, the site aims to bring together urban, educated professionals where they can meet like-minded individuals, make new friends, and go on a date in a more fun and pleasant way.
"The dating world is already tough as is!" Lafon exclaimed, adding that many Filipinos seem to be having trouble finding suitable dates through apps like Tinder or international dating sites (many of which are nothing more than glorified mail-order bride services for foreign men, Lafon said).
Despite serving a niche, Lafon still has his work cut out for him. The biggest challenge though is breaking the stigma of online dating as it is still not widely accepted here, mainly because of Filipinos being more conservative and shy.
"I'm convinced we can overcome it by building a trusted brand, based on two pillars: quality and safety," he said.
To address quality, Diptyc has selective admission – new members are voted in by existing members.
It has also many safety features, such as verified profiles and the ability to send details of an upcoming date to a friend via e-mail. "Safety of our members is of prime importance to us," Lafon concluded.
PawnHero: Disrupting the pawn industry
Only two out of 10 people have a bank account and less than 5% have a credit card in emerging markets like the Philippines, shared David Margendorff, the chairman and co-founder of PawnHero.
Additionally, most do not have access to affordable credit. As a result, the only option available to them is to borrow from pawnshops, which charge extremely high interest rates.
As an online pawnshop, PawnHero attempts to address such problems, with added benefits.
Through PawnHero, users can submit a pawn request from anywhere, anytime, and get a valuation within minutes. That valuation, too, is generally fairer than what one would receive in a traditional brick-and-mortar pawnshop, all without any hidden costs or penalties, the firm offers.
Lastly, the item can be redeemed via a PawnHero card or going to any of PawnHero's associated partners.
"PawnHero might be less interesting for those who need money on the spot or for those who are uncomfortable in sending valuables without immediate payout," Margendorff said.
As such, Margendorff said the firm put it lots of hours to make PawnHero value chain more efficient to provide the best customer experience possible.
PawnHero also went out into the field to ask customers how they would feel about a delayed payment. Margendorff said that of the Filipinos who went to a pawnshop before, 63% would feel comfortable with a delayed payout, while 67% would feel safe with 2Go (PawnHero's logistics partner) picking up their item.
Despite this confidence, PawnHero is putting other assurances in place. "Once items are picked-up, they are kept in one secure storage facility; and in the unlikely event that an item gets lost or stolen, PawnHero will pay for the damage, up to the initial estimate or agreed loan amount."
Pickld: Sharing your story
Everyone has a story to tell, but not everyone has the time to journal their daily moments, said Pickld founder Dale Dennis David.
"Even with the technology of smartphones available, it's still a complex task to organize all your photos together. Pickld aims to be the easiest way to capture, tell, and share your daily stories creatively," he said.
In practice, this means that the platform suggests 8 moments a day as a guide – #selfie, #OOTD, #whoamiwith, #mebusywith, #whereami, #morning, #afternoon, #evening – hashtags intended to string together a storybook of your daily life.
The Pickld team has done a lot of iterations and improvement on the product based on the feedback from test users. Their next challenge, upon launching, will be gaining traction and exposure, particularly as they want Pickld to go global.
And the Filipino culture will help with this cause, David said. "With Philippines being the selfie capital of the world, we believe that Filipinos would love and support Pickld; and since Filipinos are all over the world, they would hopefully help spread the Pickld love," he said.
PocketMarket: Building your own storefront
While there may be many storefront platforms, such as Shopify or Magento, these still require a lot of technical knowledge to set up and customize. To address the issue, Paulo Del Puerto created PocketMarket, which he feels is easier to set up.
As sellers upload and share their products, they get automatically posted to their Facebook, Instagram, and Twitter pages.
"Moreover, we've integrated an IM [instant messaging] feature so buyers can connect with them if they have inquiries," Del Puerto said. This feature was implemented because Filipino buyers like to talk to the sellers before and during the purchase, he added.
Yet many of the merchants that PocketMarket spoke with said that chatting over SMS and IM resulted in mixed up orders, unanswered inquiries or double deliveries.
As a result, PocketMarket's IM feature has been upgraded to allow merchants to send official invoices and receive payments in-line within it. "Ultimately, the goal is to provide merchants an online selling control center where they can manage all inquiries, orders, and payments from different channels in one place," Del Puerto said.
The biggest challenge PocketMarket faces is getting users to love their product, especially given how crowded the space is. "The challenge is letting these merchants realize that we're doing something different, and something that we feel, they would be more comfortable with," Del Puerto said, emphasizing that this difference is in the personal connection they try to strike between buyer and merchant and how it translates into a more meaningful purchase transaction.
ThinkBit: Focusing on what you do best
ThinkBit is a company that aims to serve small businesses, said Jedd Lim, its sales and marketing director. In order to grow, small businesses need to automate some of their processes, so they can focus on the most vital aspects of their business. This is where ThinkBIT comes in.
"We help these businesses simply through creating websites, systems, or mobile applications which not only simplifies their work, but also gives them an advantage over their competitors," Lim said.
He noted that he sees ThinkBIT as a way for some people with no technical knowledge to convert their ideas into an actual product.
The growing number of competitors who offer similar services is the challenge ThinkBit is dealing with. Lim said they would overcome competition through traditional means, such as building strong relationships with their clients and offering them more value to their businesses than to their own. – Rappler.com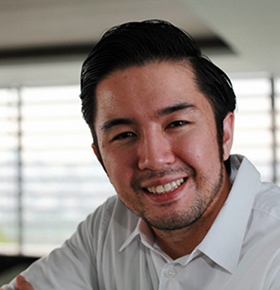 Rappler Business columnist Ezra Ferraz is also the chief content officer at ZipMatch, a tech company backed by Ideaspace Foundation, Hatchd Digital, IMJ Investment Partners, and 500 Startups. He brings you Philippine business leaders, their insights, and their secrets via Executive Edge. Connect with him on Twitter: @EzraFerraz