From a financial planner's perspective, Pacquiao is asset-rich but cash-poor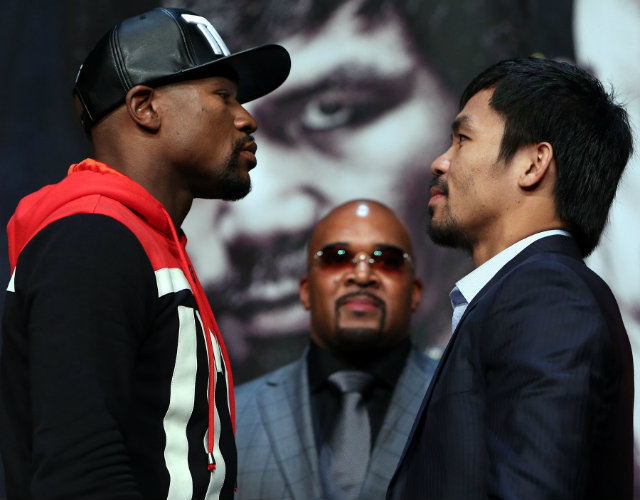 Four hundred million dollars. That is how much Emmanuel "Manny" Pacquiao earned throughout his two-decade boxing career, including the much-anticipated, match-of-the-century bout with Floyd Mayweather.
The fight alone is expected to give Pacquiao upwards of $100 million. He joins an elite group of athletes who have earned beyond $400 million: Tiger Woods, Phil Mickelson, Roger Federer, Lebron James, Kobe Bryant, and of course, Mayweather.
Having earned so much from his career, there is always the threat of splurging all away just like other star athletes who have earned mega millions as well. The bright spot for him is that, although he does splurge, he also knows how to put his earnings to good use.
Asset-rich, cash-poor
From a financial planner's perspective, Pacquiao perhaps is asset-rich but cash-poor. No doubt in anyone's mind that Pacquiao is rich.  
Based on his 2013 Statement of Assets and Liabilities (SALN), Pacquiao declared total assets of P1.8 billion ($40.34 million) – P1.1 billion ($24.65 million) in real properties and P763 million ($17.10 million) in personal properties. He has liabilities of P527 million ($11.81 million), for a net worth of P1.3 billion ($29.13 million).   
Of those assets, his mansions here and overseas already take a huge cut of that pie. The Forbes mansion was bought for P388 million ($8.70 million). The Los Angeles mansion is valued at upwards of P100 million ($2.24 million). Most likely, so do the Biñan and General Santos mansions.
His SALN still does not include the P500 million ($11.21 million) Beverly Hills mansion he bought from Hollywood celebrity Jennifer Lopez in March this year.
He also had a fleet of luxury cars, including a Ferrari 458 Italia worth $255,000. And God knows how many pieces of jewelry they own.   
Apart from these "investments," Pacquiao and his wife, Jinkee ,run several businesses: water refilling station, fashion boutique, gasoline station, arcade building, dermatology clinic, economy hotel, merchandise store, among others.
Pacquiao is wise enough to learn from the follies of other star athletes who squandered a lifetime of wealth. Whether these businesses are generating profit is anyone's guess.
Areas for expansion
There are still a lot of opportunities for Pacquiao to expand his wealth even further. After all, his lifestyle is not cheap.
For one, his businesses are concentrated in his hometown, General Santos. Geographically, he could venture into other prime locations here and abroad.
Putting up a boxing gym and fitness center franchise just like Gabriel "Flash" Elorde is also an option. Imagine opening one in the United States. A gym with his brand can certainly give other fitness chains a run for their money.  
For diversification, Pacquiao could invest more in paper assets. There is a disproportion between his real and personal properties as shown in his SALN. Investing in assets that provide regular payout is also worth considering.
In the country, fixed-income and preferred shares are options. These investments regularly generate interest and dividends, respectively, thereby providing Pacquiao millions of pesos through these alone.
He could also include annuities in his portfolio. These will also provide regular payout when he turns older. His investment options are not limited here. Frankly, there are more alternatives in America; henceforth, exploring speculative investments is feasible. He has the funds after all.  
Locally, Pacquiao may be uninsurable given the occupational hazard a professional boxer brings; but insurance companies in the US do offer it.
As an alternative, he could put up an Irrevocable Living Trust for each of his 5 children, guaranteeing them a bright future in case something happens to him while they are still young. The reason why it is irrevocable is so that the trustor – either Pacquiao or Jinkee – would not be tempted to withdraw anything that is intended for the kids.
Pacquiao also has to plan succession and transfer of properties so writing a will should be on his list. Additionally, he also has to prepare for his estate taxes. His listed net worth is P1.3 billion ($29.13 million) already. Since the couple did not sign any pre-nuptial agreement, everything is conjugal property.
Tax management
Part of prudent financial planning is tax management. Pacquiao has had his hands full with his battle with the Bureau of Internal Revenue.
In 2013, he was slapped with a P2.2 billion ($49.31 million) tax liability. Pacquiao's camp argued that they had already settled their tax obligation in the US, and therefore, there was no need to pay any taxes here as that would tantamount to double taxation.
In 2014, the Supreme Court issued a Temporary Restraining Order against the BIR and Court of Tax Appeals in their claim against his alleged tax deficiencies.
Now that he is expected to earn beyond $100 million, expect the BIR to have a field day in pinning him for more tax delinquencies.
Pacquiao has a spectacular record. Chalk up another win for him against Mayweather, and it might be the last match because quite obviously, there is no one else left to fight with.
But beyond the ring, when he hung up his gloves, there are still financial obligations that he has to contend with.
That is the match he cannot afford to lose.
Got a question about personal finance? Tweet @rapplerdotcom or email us at business@rappler.com. – Rappler.com
Kendrick Chua is a registered financial planner of RFP Philippines. He writes regularly about personal finance. He is also a Chinese language instructor, TV host, free runner, and violinist. To learn more about RFP, you may email info@rfp.ph.







$1 = P44.62