NEDA reports that 495,000 more Filipinos gained employment during the period, reducing the total number of unemployed Filipinos to 2.7 million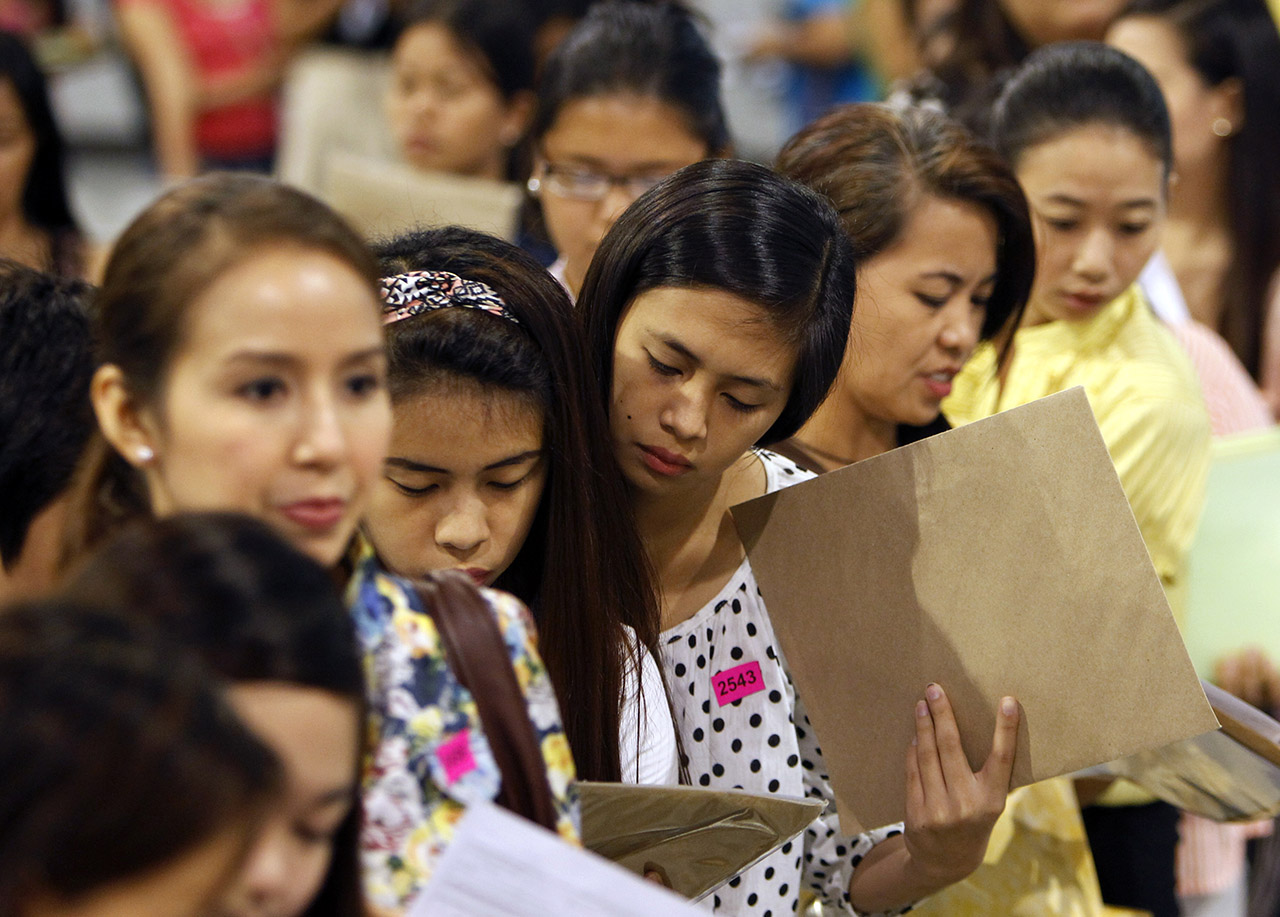 MANILA, Philippines – Sustained, favorable market conditions in April resulted in a "significantly reduced" unemployment rate for the period, the National Economic and Development Authority (NEDA) reported on Tuesday, June 9.
The country's unemployment rate went down to 6.4% in April 2015 from 7% in the same month in 2014, translating to 495,000 more employed Filipinos, the Philippine Statistics Authority (PSA) said.
The PSA said that the total number of unemployed Filipinos went down to 2.7 million, while underemployment improved to 17.8% from 18.2% in the same period in 2014. This accounts for 44,000 Filipinos who are no longer underemployed and further reduces the total number to 7 million employed persons who want more work for the period.
Economic Planning Secretary Arsenio M. Balisacan said that the favorable market conditions in April 2015 follow a similar trend in the January 2015 round of the Labor Force Survey (LFS), where unemployment and underemployment also declined.
In January 2015, employed Filipinos increased by over 1 million to 37.5 million, from 36.4 million in 2014. 
The unemployment rate in January 2015 declined to 6.6% from 7.5% in January 2014. Specifically, the number of unemployed went down by 334,000 to 2.6 million during the period.
Decent work indicators
Labor Secretary Rosalinda Baldoz said that the April 2015 LFS results validate the government's optimism in the country's overall employment situation.
The ratio of unemployed youth to total employment was also very encouraging, noted Baldoz, as the number of unemployed persons aged 15-24 years old decreased to 1.350 million (14.9%) from 1.457 million (15.7%) in April 2014.
Women's participation in the labor force, both decent work and Millennium Development Goals (MDGs) indicators, slightly eased as well, from 51.3% in 2014 April to 51% in this survey round.
Baldod noted that the quality of employment also improved, as the number of wage and salary workers continued to increase. In the April 2015 LFS, the numbe reached 22.637 million, up by 418,000 from 22.219 million in April 2014 – a modest 2% growth compared to the 4.3% growth in the April 2013 LFS results.
Employment growth was fueled by increases in services, which grew by 776,000; and in industry, by 121,000. The growth in these two sectors was large enough to absorb the decline in agricultural employment, which recorded a decrease of 402,000.
In industry, manufacturing employment decreased slightly by a percentage point, while mining rose by half percentage point. Construction posted the biggest gain of 167,000 new employed persons.
In services, almost all subsectors recorded high growth, except arts, entertainment, and recreation (-30,000); and activities of households as employers (-20,000).
Wholesale and retail trade were among the winners in services, adding 210,000 to total employment; transportation and storage (+109,000); public administration and defense (+162,000); and information and communication (+67,000).
Broad-based improvement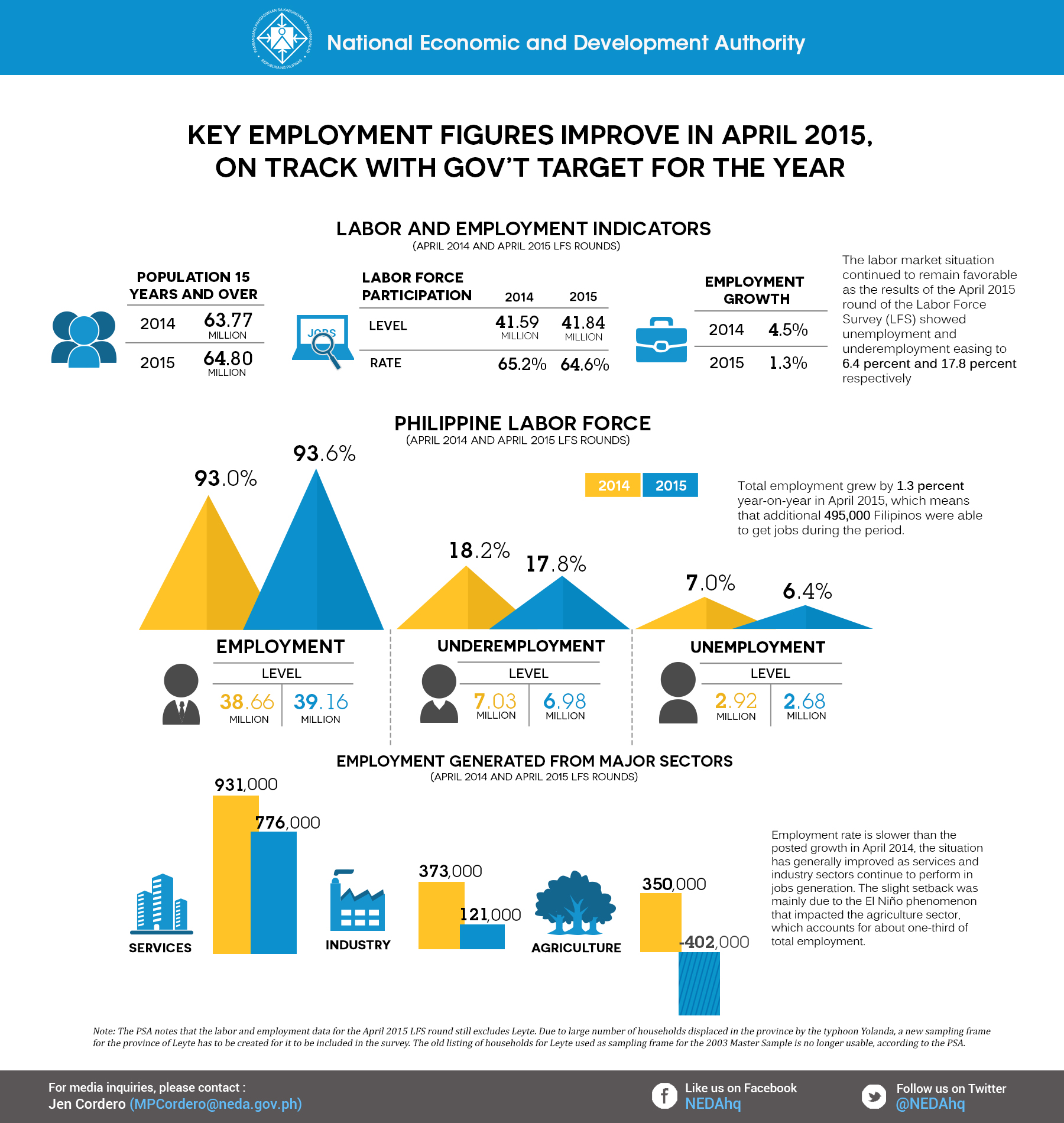 The labor department noted that the ratio of self-employed (11.034 million) and unpaid family workers (4.334 million), reversed its decline and slightly rose by 145,000 to reach 11.034 million and 4.334 million, respectively.
Also, majority of the labor force employed in more remunerative and stable work increased by 1.9%, reaching 22.6 million in April 2015. They now comprise 57.8% of total workers, slightly higher than their 57.5% share from a year ago.
NEDA said that the latest improvement in the employment situation appears to be broad-based, as 13 of 17 regions, including the National Capital Region (NCR), showed a decline in unemployment during the survey period.
NCR continued to post the highest unemployment rate at 9.3%, while the Autonomous Region in Muslim Mindanao recorded the lowest unemployment rate at 3.2%.
PSA noted that the April 2015 LFS still excluded Leyte, where a large number of households were displaced by Super typhoon Yolanda (Haiyan). The old listing of households for Leyte used as sampling frame for the 2003 Master Sample is no longer usable, PSA added.
Balisacan said if these developments are sustained for the rest of 2015, the full-year average will likely surpass the Philippine Development Plan target of 6.6% to 6.8% for the unemployment rate, and 18% for the underemployment rate in 2015.
Generally improved
NEDA noted that while April 2015's employment rate is slower than the posted growth in April 2014, the situation has generally improved as services and industry sectors continue to perform in jobs generation.
The slight setback was mainly due to the El Niño phenomenon that impacted the agriculture sector, which accounts for about one-third of total employment.
Balisacan said the government needs to implement disaster risk management strategies and other precautionary measures against drought, floods, and rain-induced landslides in hazard prone areas. This is to mitigate and prevent any further adverse effects of natural disasters on the country's economy, especially on employment.
Balisacan said the following are needed to sustain the gains in this front:  speeding up the implementation of key reforms such as public infrastructure development; reducing investment restrictions; increasing competition; and reducing the cost of doing business.
"If implemented, these can help lift the key constraints to sustained, job-generating growth," he said.
Sustaining gains
Presidential Spokersperson Edwin Lacierda said the encouraging figures reflect the results of the Aquino administration's "investment in the Filipino people."
Lacierda also said the administration "remains relentless in its push for reforms, cognizant that the increased government efficiency and public trust lead to more investments – which will in turn bring about more and better opportunities for our countrymen."
"In all our activities, we in the administration remain focused on what's best for the Filipino people, and will continue to strive toward greater heights for the benefit of current and future generations," the Palace official said in a statement.
Aquino has been wooing investors to the country to generate jobs. His recent visit to Japan is estimated to generate over P13.5 billion in investments and more than 30,000 jobs.  (READ: Aquino: No better time to invest in PH)
In Tokyo, Aquino told Japanese businessmen that those with established corporate presence in the Philippines can attest to the caliber of the Filipino worker and "to the fact that kaizen (continuous improvement) seems to be inherent to my countrymen, and that they will do everything in their power to ensure that you succeed."
Coinciding with Aquino's Japan visit, around 200 Japanese companies in China expressed their desire to relocate to "attractive" sites like the Philippines, citing China's declining economic growth and rising wages, said Japanese Chamber of Commerce and Industry of the Philippines Incorporated vice president Nobuo Fuji.
"In China, there are so many companies invested, but they face wage increase, historical problems, labor strikes, and so on. They want to relocate to other countries in ASEAN, and the Philippines is attractive for them," Fuji said. (READ: 200 Japanese firms in China want to move to PH) – Rappler.com