Deloitte's 2015 Millennial survey shows the need for closer coordination between businesses and the academe in preparing graduates for employment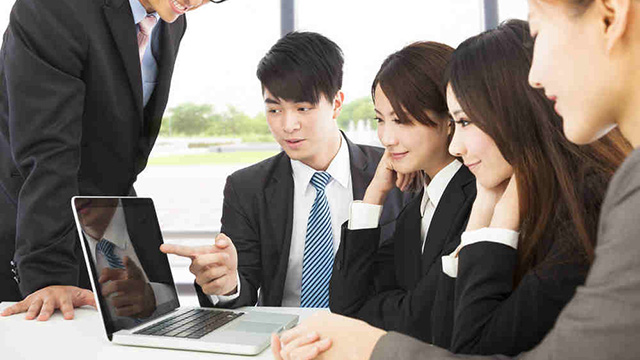 MANILA, Philippines – Millennials in emerging markets such as the Philippines are more ambitious in attaining leadership positions  than their counterparts in developed markets, according to the results of Deloitte's 2015 Millennial survey released on Wednesday, June 17.
Millennials are or those born from 1980 to 1993, though some would include those born until 2000.
Greg Navarro, managing partner and chief executive officer of professional services firm Navarro Amper & Co, said the survey showed that while young Filipino professionals are relatively confident about their leadership skills, the results in general suggest that there should be closer coordination between businesses and the academe in preparing graduates for employment.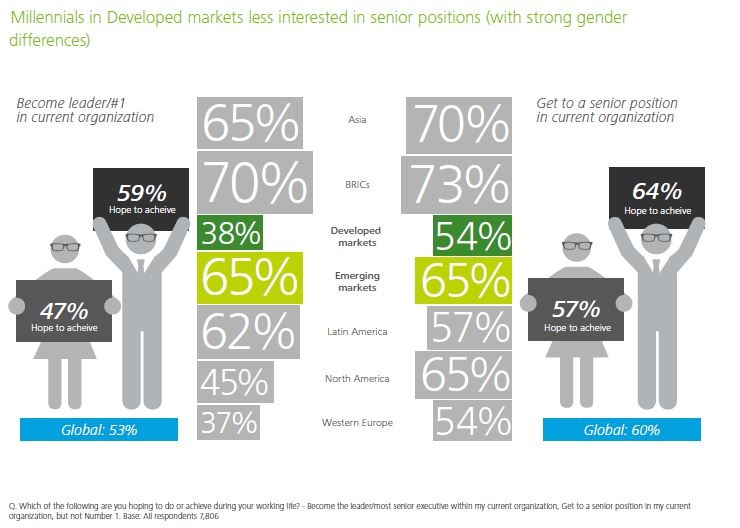 More than 6 in 10 (65%) millennials in emerging markets aspire to become the "leader or most senior executive within their current organization," compared to fewer than 4 in 10 (38%) in developed markets such as France and Germany. Similarly, 65% of millennials in emerging markets would like to "get to a senior position, but not 'number one,'" compared to 54% in developed markets.
The gap as regards leadership varied significantly across markets, with the gap in the large economies of the US (-14), France (-16), and Japan (-17) hovering close to the global average of 15 points, while the gap in the Philippines (-10), India (-4), and Indonesia (-1) were below average.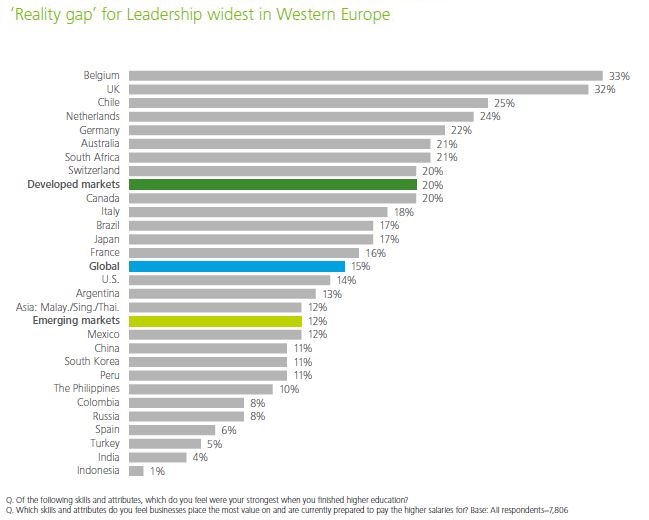 'Small' gender gap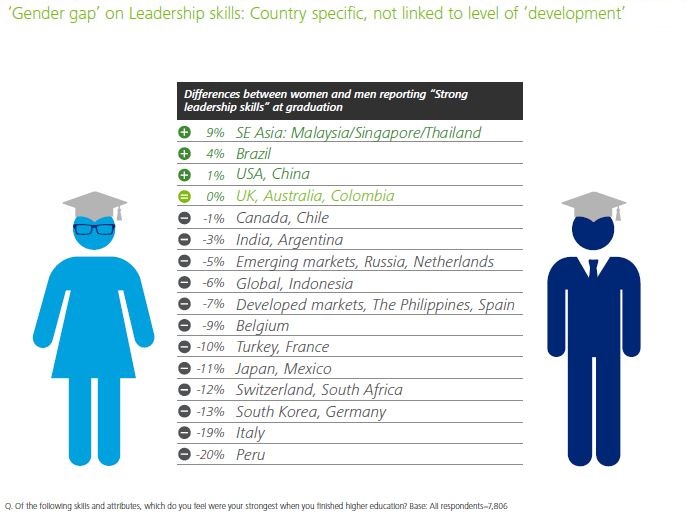 A "small" gender gap is also present between Filipino men and women millennials when it comes to leadership skills.
The survey showed that 7% more Filipino men than women said "leadership" was an individual strength, compared to Peru where 20% more men than women said they possess strong leadership skills.
There were no countries where significantly more women than men say they had strong leadership skills upon graduation.
Navarro said young, educated professionals in emerging markets see that there is a path for them to reach the top, which makes them more driven to work toward that goal.
When asked what they would do if they were to move jobs, 22% of millennials in emerging markets said they would consider starting their own business, while only 11% of their counterparts in developed markets said they would do the same.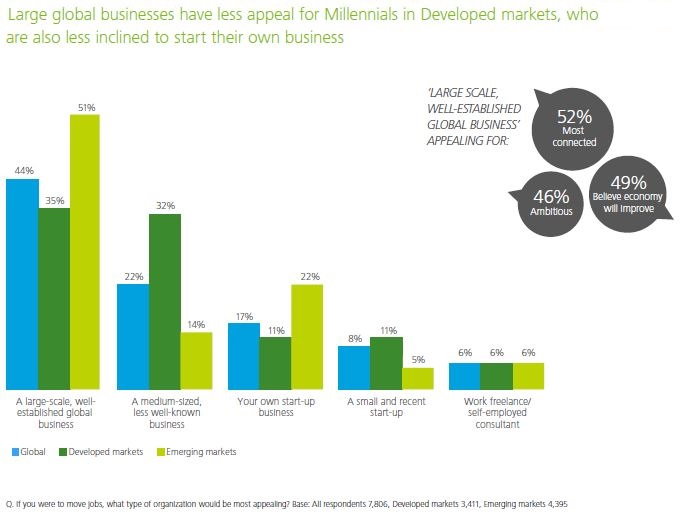 When asked to estimate the contribution of skills gained in higher education in achieving an organization's goals, the millennials' average figure is 37%.
"This tells us that two-thirds of the skills required of millennials to make meaningful contributions to organizational objectives were gained while they were already employed," Navarro said.
Navarro added that for businesses, this is a clear sign that it pays to invest in continuous training, and "we can probably even stretch this further to say that having a mentoring or coaching program is something that would benefit, maybe attract, millennials."
Higher education
The survey also showed that skills gained in higher education contribute only 40% to the fulfillment of day-to-day roles and responsibilities, and 42% toward meeting longer-term career aspirations.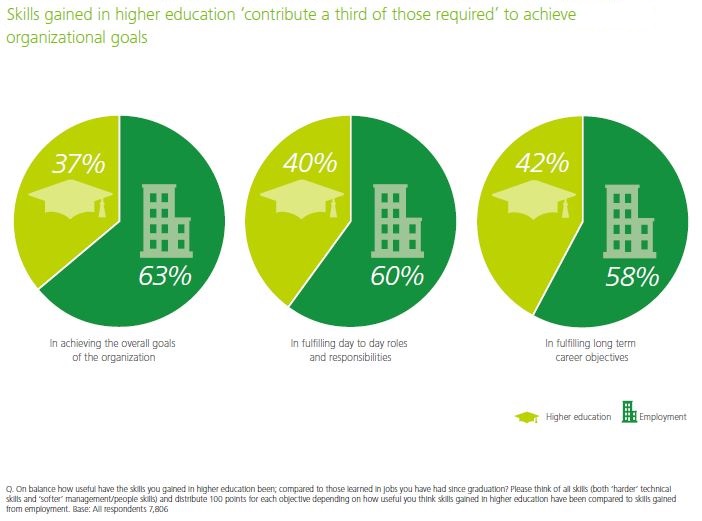 "While it is a fact that there are skills that can only be learned on the ground, that is, when one is already doing the job, there is no denying the advantage of a millennial who already possesses business acumen straight out of university," Navarro said, as he explained the findings for the Philippines where about 300 millennials were polled.
Also, the gap between the skills millennials possess and those required by their current employers can be partly explained by an assessment of the qualities millennials believe they bring to the table upon graduation.
With the exception of academic knowledge or intellectual ability, millennials said they are stronger on "soft" attributes such as being professional, hard-working, flexible, and in possession of integrity and maturity. But they do not think these are the traits businesses value the most.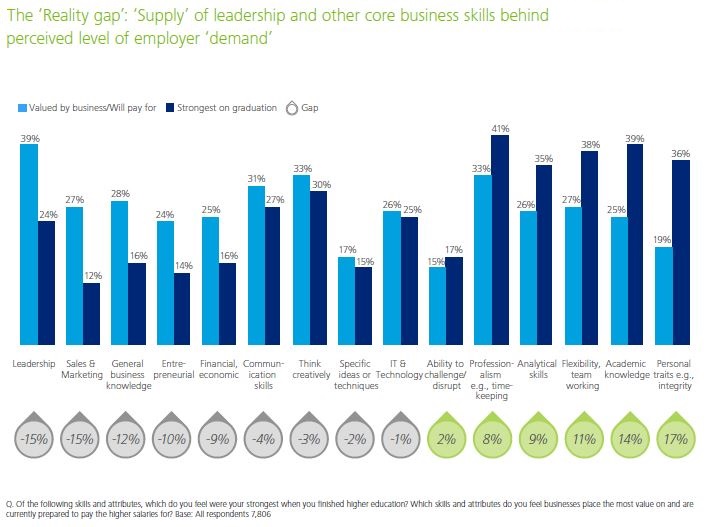 Millennials also pointed out the qualities that were relatively under-developed at graduation, like leadership, which was considered most valuable (mentioned by 39%) but only 24% thought this was a strong personal trait upon graduation (a gap of 15 points).
Relatively large gaps also exist with respect to sales and marketing (-15); general business knowledge (-12); entrepreneurialism (-10); and financial/economic knowledge (-9).
Deloitte provides audit, consulting, financial advisory, risk management, tax, and related services to public and private clients spanning multiple industries.
Navarro Amper & Co is a member of Deloitte Southeast Asia Ltd – a member firm of Deloitte Touche Tohmatsu Limited, organized to deliver measurable value to the particular demands of increasingly intra-regional and fast growing companies and enterprises. – Rappler.com
Charts, graphs from Deloitte-Navarro Amper & Co.
Millennials concept image from Shutterstock