An Asian Development Bank study shows over 70% of Philippine MSMEs had cash flow problems, forcing owners to borrow from friends and family to keep their business afloat
In terms of the coronavirus pandemic's impact on businesses and households, the Philippines had it worst, according to a study by the Asian Development Bank (ADB).
A paper by ADB financial sector specialist Shigehiro Shinozaki, presented in a webinar on Wednesday, September 16, showed that 70.6% of micro, small, and medium enterprises (MSMEs) in the Philippines were forced to temporarily close due to the COVID-19 outbreak.
The country was followed by Laos (61.1%), Indonesia (48.6%), and Thailand (41.1%).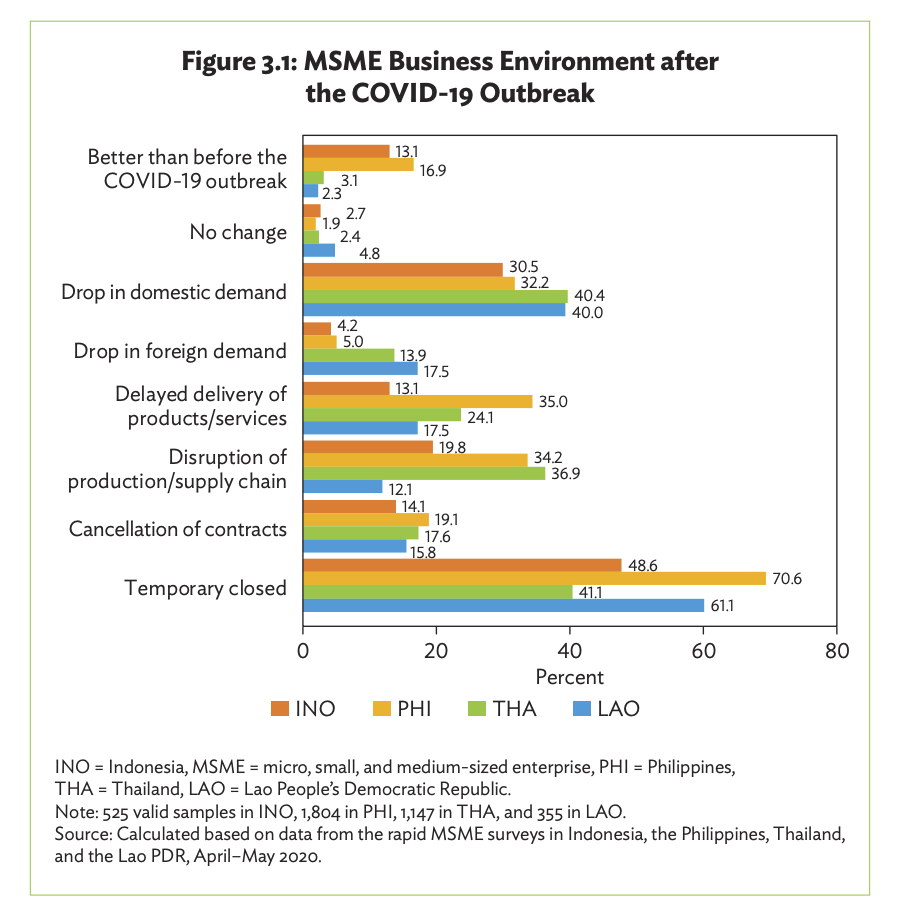 Philippine MSMEs also noted the most cancellation of contracts (19.1%) and delayed delivery of products and services (35%) during the lockdown.
A total of 3,877 MSMEs were surveyed for the study, 1,804 of which came from the Philippines.
Majority or 58.8% of MSMEs in the Philippines reported zero income, while 28% said revenues fell over 30%. Laos topped the surveyed countries, with 62.8% of MSMEs reporting zero income due to temporary closure.
In terms of employment, 66.2% of Philippine MSMEs reported temporary staff cuts, followed by Laos (53.5%), Indonesia (51%), and Thailand (42.3%).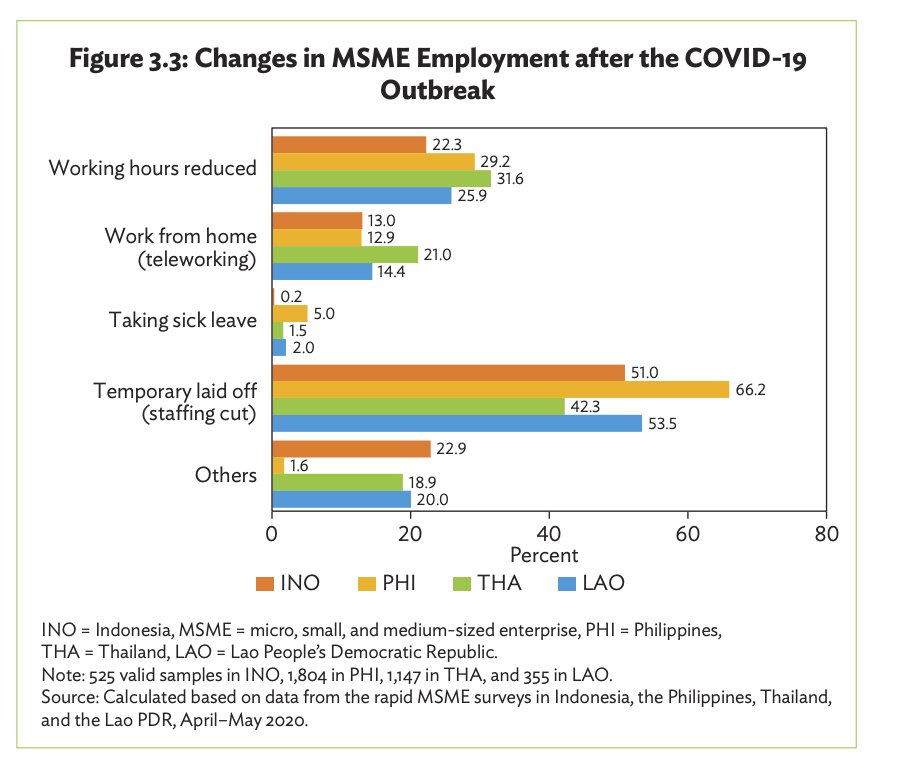 The study also noted that the work-from-home setup is "not a serious option for MSMEs," with only 13% to 21% of businesses in the 4 countries adopting the scheme. This means that small businesses adapted to the pandemic through temporary layoffs, rather than implementing work-from-home schemes that governments have encouraged.
For wage payments, the Philippines and Indonesia reported that nearly 60% of MSMEs totally suspended payments. The situation was less severe in Thailand and Laos, as more than one-third of their MSMEs reported no change in monthly payments.
Between March and April, 36.7% of MSMEs in the Philippines said they had no cash and savings, while 42.1% said cash would run out in a month.
Majority of the businesses surveyed in the 4 countries reported that they had to borrow from family, friends, and relatives, and used personal money just to keep the business afloat.
Majority of businesses also requested delayed tax payments from governments, as well as delayed repayments from financial institutions.
Some 20.8% of businesses in Indonesia applied for bankruptcy, while the figure was at 12.7% for those in the Philippines.
Recommendations
Shinozaki recommended the following measures:
Assistance to focus groups. He said this would encourage effective use of limited budget and support for the most devastated firms in sectors such as manufacturing, traditional wholesale and retail trade, accommodation, tourism, and transportation.
"Governments of countries surveyed already provided economic stimulus packages, but if the pandemic continues, as it has, a more detailed budget allocation for those most affected by COVID-19 and lockdown measures is needed," he said.
A phased approach. He said this would allow governments to "flexibly redesign policy support, given the uncertainty over containing the spread of the pandemic."
Differentiate policy measures by firm size. Shinozaki said this is needed, "given the different time horizons between micro and small enterprises and medium-sized firms with distinctive differences in their abilities to cope with the impact."
Promote a shift to digital transactions. In general, many small businesses still require personal contact.
Assist the transition to work from home. He said this would avoid layoffs. This measure also requires improving skills for both MSME owners and employees.
Strengthen the distribution of government support programs. Shinozaki emphasized the need for financial support and to ensure it reaches target beneficiaries.
Periodically monitor MSME business conditions. This will "fine-tune the direction of government policy support," according to Shinozaki.
"In this, ADB can help developing member countries design evidence-based policies through follow-up MSME survey." – Rappler.com