The Philippine Tax Whiz explains Revenue Memorandum Order No. 29-2021 reiterating taxes due on online transactions
The Bureau of Internal Revenue (BIR) issued Revenue Memorandum Order (RMO) No. 29-2021, reiterating the taxes due on transactions through digital platforms such as Facebook, Instagram, YouTube, Airbnb, Lazada, and Shopee, among others.
Does RMO No. 29-2021 impose additional tax for online transactions? Who is covered by this memorandum? Are tech companies also required to pay taxes in the Philippines?
It does not impose additional tax. As early as 2013, the BIR already issued Revenue Memorandum Circular (RMC) No. 55-2013 reiterating taxpayers' obligations in relation to online business transactions, including online retailing through virtual shopping malls, online marketplaces or shops, and similar websites.
RMC 55-2013 covers all online merchants, social media influencers, and other businesses operating through digital platforms.
Tech companies which are duly registered in the Philippines are required to pay taxes. However, Congress has not yet passed a digital taxation measure which would impose tax on the fast-growing e-commerce industry, including the use of cryptocurrency, digital assets, and digital platforms which are registered abroad like Google, Facebook (Meta), Airbnb, and others.
How will the BIR monitor online transactions including social media influencers? What are the basic tax compliance requirements aside from registration? What will happen to those who refuse to comply and register with the BIR?
The BIR has created a special task force (STF) to gather relevant information pertaining to social media influencers and online sellers of goods and/or services such as fintech and online leasing of properties, and to determine who among them are or are not registered with the BIR.
The basic tax compliance requirements include:
Payment of annual registration fee
Issuance of sales invoices/official receipts
Keeping of books of accounts
Timely filing of tax returns and payment of taxes due
Withholding of tax on income payments subject to withholding and timely remittance of tax withheld
Filing of required information returns, such as the Summary List of Sales/Purchases and Annual Alphalist of Payees, on or before the due dates prescribed by law or existing revenue issuances, whenever applicable
For those who refuse to comply and register with the BIR, the STF will endorse the case to the concerned regional investigation division or national investigation division for preliminary investigation, which may warrant the issuance of a letter of authority (LOA) for the filing of a tax evasion case under the Run After Tax Evaders (RATE) program and/or other tax enforcement actions.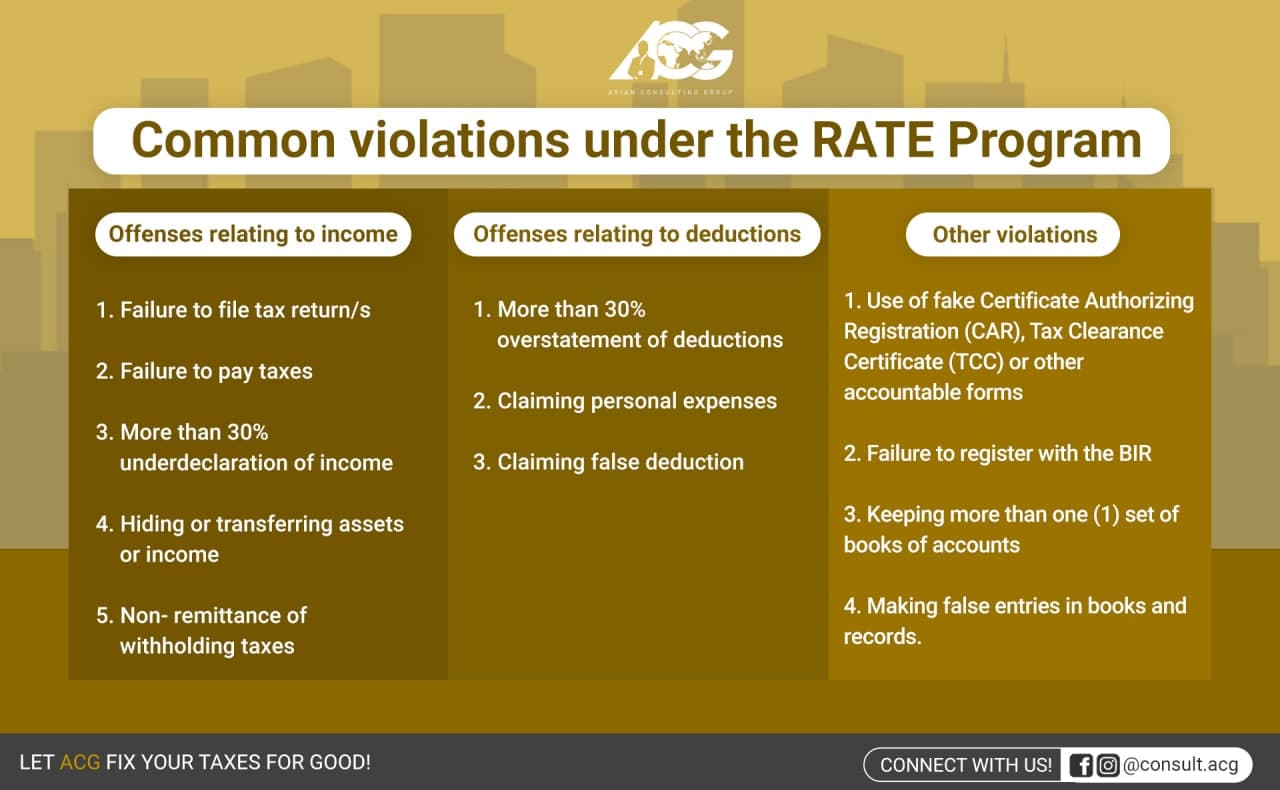 I am a content creator and live streamer at the same time. Most of my income is from abroad. Am I still required to register with the BIR even if taxes were deducted from the income payment I received through bank transfer? How will they know if I'm earning income or not?
Resident citizens are still required to register and declare their income from abroad and apply any tax payments made as tax credit, if applicable.
The STF will verify income declarations through the exchange of information mechanism under valid and effective tax treaties, if applicable.
Failure to comply with tax laws may warrant the issuance of LOA or audit and investigation. Any tax assessment is subject to penalties and interest. Avoid the stress and unnecessary penalties by emailing us at consult@acg.ph or calling 09063159230 for tax assistance. You may also need to join the Executive Tax Management Program of the Asian Consulting Group to handle your BIR audit without compromises. Just register through this link or visit www.acg.ph for more information. – Rappler.com
Mon Abrea, CPA, MBA, is the co-chair of the Paying Taxes-EODB Task Force. With the TaxWhizPH mobile app as his brainchild, he was recognized as one of the Outstanding Young Persons of the World, an Asia CEO Young Leader, and one of the Ten Outstanding Young Men of the Philippines because of his tax advocacy and expertise. Currently, he is the chairman and CEO of the Asian Consulting Group and trustee of the Center for Strategic Reforms of the Philippines – the advocacy partner of the Bureau of Internal Revenue, Department of Trade and Industry, and Anti-Red Tape Authority on ease of doing business and tax reform. Visit www.acg.ph for more information or email him at mon@acg.ph and download the TaxWhizPH app for free if you have tax questions.