The Bangko Sentral ng Pilipinas is likely to look past spiking inflation to prop up the coronavirus-hit economy
The Bangko Sentral ng Pilipinas (BSP) on Thursday, March 25, decided to keep interest rates low to support the coronavirus-stricken economy, even as inflation is seen to breach the government target.
The BSP Monetary Board kept the overnight borrowing rate at 2%, while its corresponding lending rate stayed at 2.5%.
While keeping interest rates low injects liquidity into the Philippine financial system and supports the economy, it may lead to a rise in inflation. BSP Governor Benjamin Diokno noted, however, that inflation pressures are coming from the supply side.
The BSP sees inflation hitting 4.2% in 2021, beyond the target band of 2% to 4%, as food items like meat surged by 20% amid the African swine fever outbreak in Luzon.
"Tighter domestic supply of meat products and improved global economic activity could lend further upside pressures on inflation. However, the ongoing pandemic also continues to pose downside risks to the inflation outlook, as the recent surge in virus infections and challenges over mass vaccination programs continue to temper prospects for domestic demand," Diokno said.
Diokno hinted that he will continue to accommodate price spikes to support the economy and will likely hit a long pause on monetary policy.
BSP Deputy Governor Francisco Dakila Jr said inflation, which is likely to remain elevated even up to the 3rd quarter, can only be addressed by non-monetary measures.
'Crash lending'
Dakila noted that despite the central bank's monetary support, lending activity remains weak. (READ: Philippine bank lending drops for first time in 14 years)
"Because of the prevailing uncertainty in the economy, there has been a much longer lag in the transmission of [monetary policy on] credit activity. Banks are still reluctant to lend and business and the public are reluctant to borrow," he said.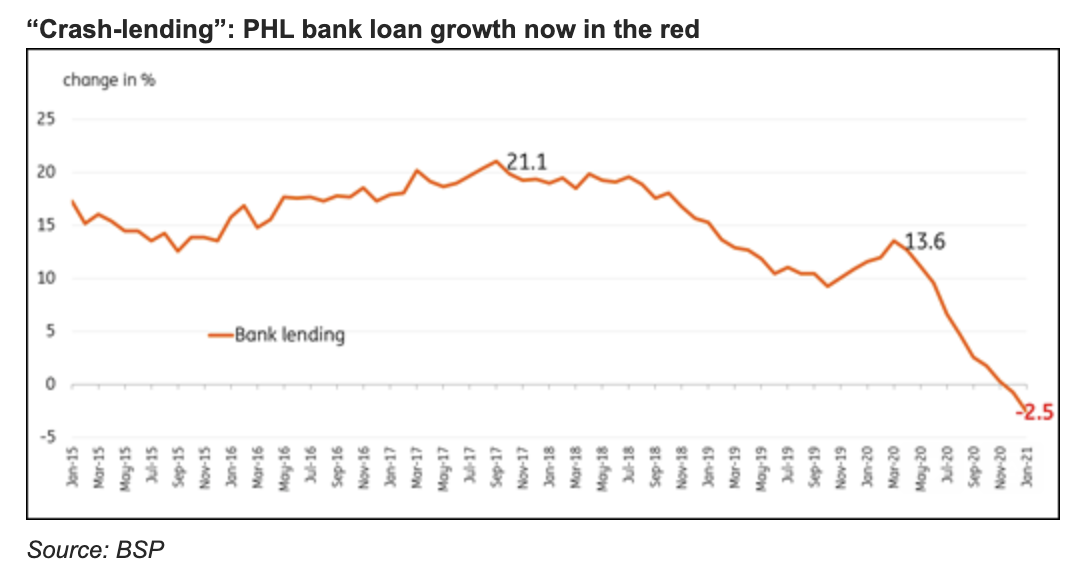 ING Bank Manila senior economist Nicholas Mapa expects interest rates to remain unchanged, as bank lending has crashed into negative territory, "suggesting that last year's easing efforts have yet to take root."
"BSP may only consider a possible rate hike should inflation remain stubbornly high, which could disanchor inflation expectations and spark second round effects such as wage and transport fare adjustments," Mapa said. – Rappler.com