President Rodrigo Duterte's economic team wants restrictions eased to generate jobs. But a closer look at the numbers would show regions that have opened up still struggle to revive the labor market.
President Rodrigo Duterte's economic team is once again pushing for "safely" reopening the economy further amid rising COVID-19 cases, as the Philippine Statistics Authority (PSA) reported dismal January employment data.
The issue, however, is that most regions are already quite open and have shifted to the most relaxed quarantine measure.
The number of unemployed persons in January 2021 went up to 4 million, higher than the 3.8 million unemployed in October 2020 and the 2.4 million in January 2020.
Last January, when the labor force survey was conducted, only the areas below were under general community quarantine (GCQ), while the rest of the country was under modified GCQ or MGCQ, the most relaxed of all lockdown categories.
Metro Manila
Isabela
Batangas
Iloilo
Tacloban City
Lanao del Sur
Iligan City
Davao City
Davao del Norte
Six of these areas, particularly Isabela, Batangas, Iloilo, Tacloban City, Lanao del Sur, and Iligan City, belong to regions that saw higher unemployment rates.
Meanwhile, Metro Manila, Davao City, and Davao del Norte are in areas that reported improved employment figures.
PSA data showed, however, that there were entire regions under the loosest lockdown category, yet still reported high unemployment rates.
In particular, Bicol reported an 11.3% unemployment rate.
This is the second highest next to Calabarzon, which posted 13.1%. In Calabarzon, only Batangas was under GCQ during the survey period.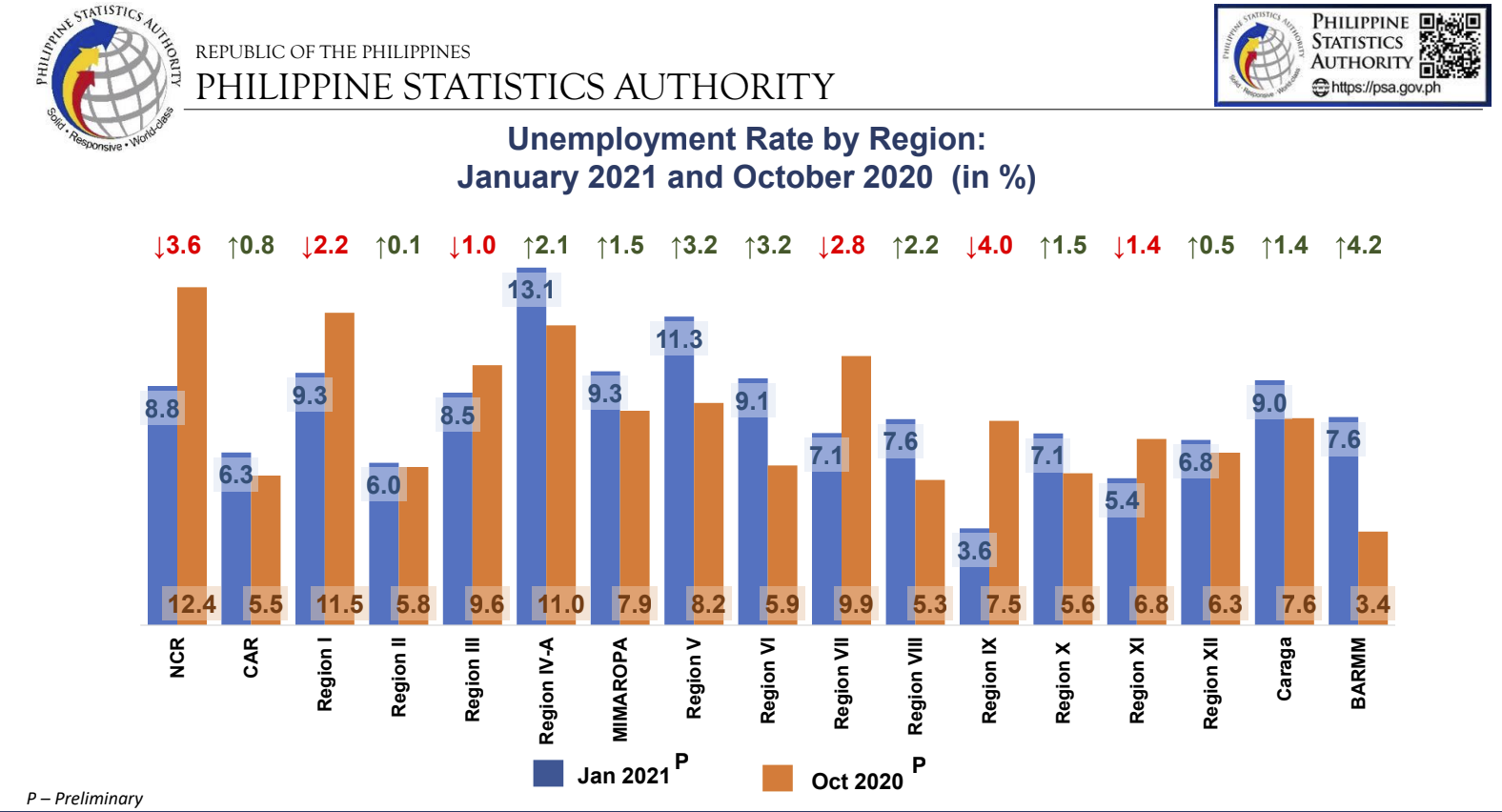 The Cordillera Administrative Region (6.3% in January 2021 from 5.5% in October 2020), Mimaropa (9.3% from 7.9%), Western Visayas (9.1% from 5.9%), Soccsksargen (6.8% from 6.3%), and Caraga (9% from 7.6%) also posted higher unemployment rates, even though these regions' economies already opened up due to looser restrictions.
The number of people who have jobs but are still looking for more – called underemployment – also went up in 12 of the country's 17 regions.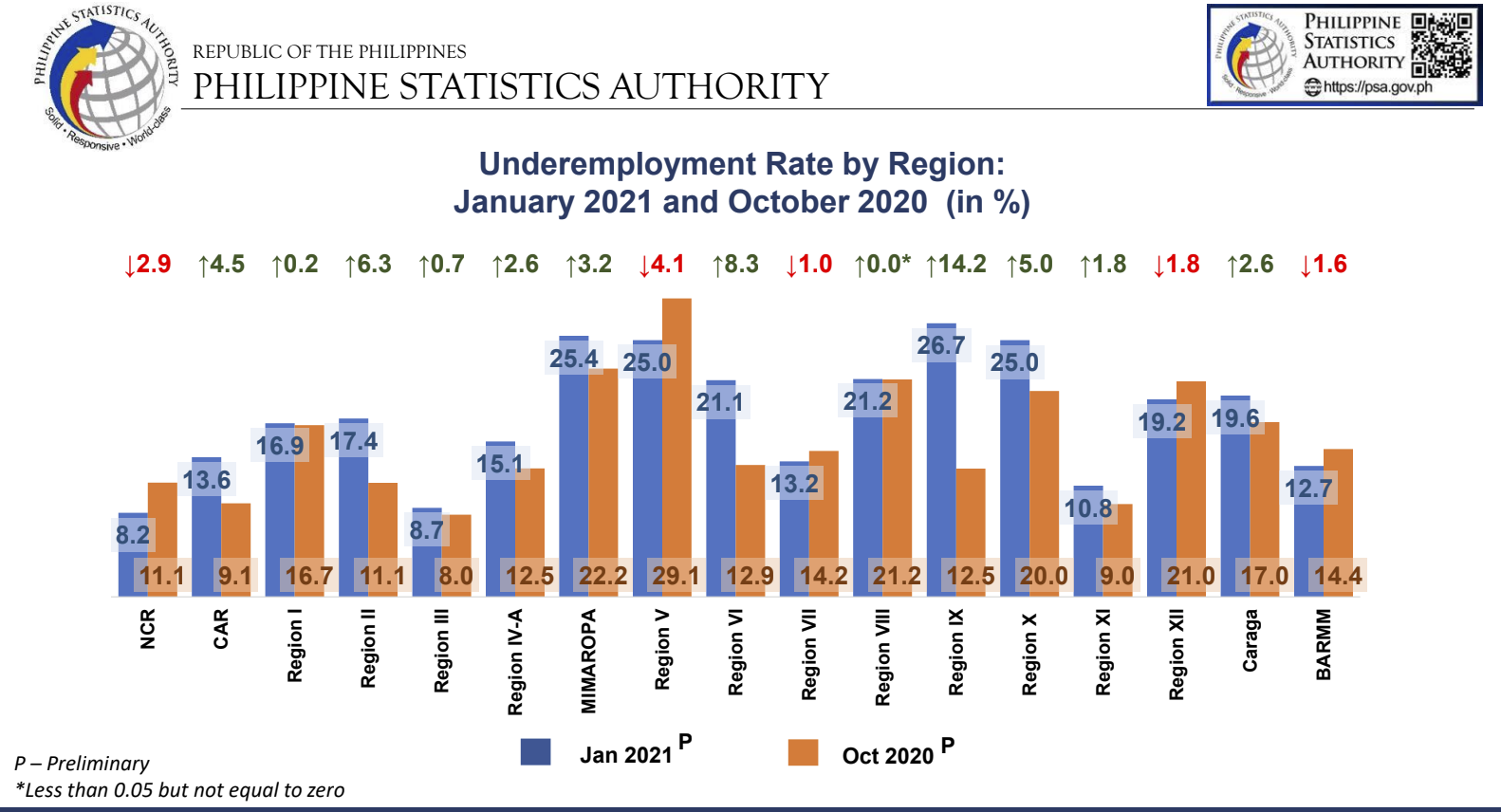 Underemployment is at its highest in the Zamboanga Peninsula, more than doubling from 12.5% to 26.7%, even though the region is already under MGCQ.
So, why aren't jobs coming back despite looser restrictions?
Pandemic scars
To lift the economy, the government's economic team is suggesting further reopening, despite the current surge in COVID-19 cases.
But ING Bank Manila senior economist Nicholas Mapa noted that the scars left by the pandemic are already on full display.
The reopening of malls and other establishments still did not lead to more shoppers, resulting in stunted employment growth.
"Authorities continue to believe that relaxing restrictions would usher in an era of revenge shopping akin to levels last seen in late 2019 when malls were packed and travel was on everyone's social media sphere," Mapa said.
"The high level of unemployment will be around even if we relax quarantine measures as the scarring effects of closed businesses and jobs lost become more entrenched and the economy slowly spirals into lower levels of GDP (gross domestic product)."
Other problems
The government may need to look at other factors, other than the lockdown classifications.
PSA data showed that most respondents said bad weather was the top reason for them being unable to work.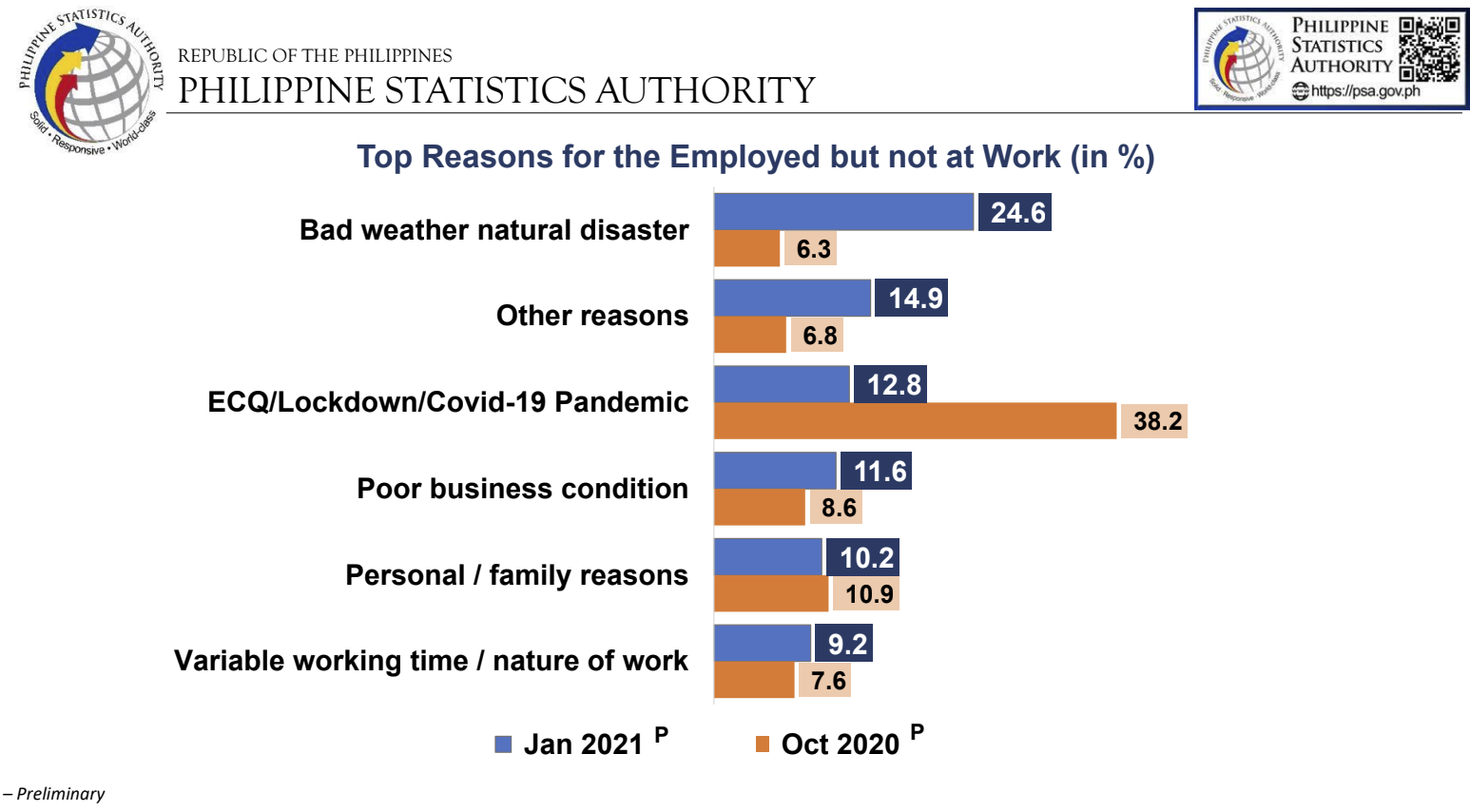 Note that 26.1% of men and 14.6% of women in the workforce are in agriculture and forestry, making them vulnerable to disasters.
Meanwhile, lockdown restrictions dropped to the third spot in January 2021 from being the top reason in October 2020.
It is also worth noting that more respondents now said that poor business conditions led to them being unable to work in January.
PSA data also showed that the mean hours of work in a week went down to 39.3 hours in January 2021 from 40.8 hours in October 2020 and 41.3 hours in January 2020. 
This is likely connected to businesses' cost-cutting measures, which in turn resulted in lower incomes.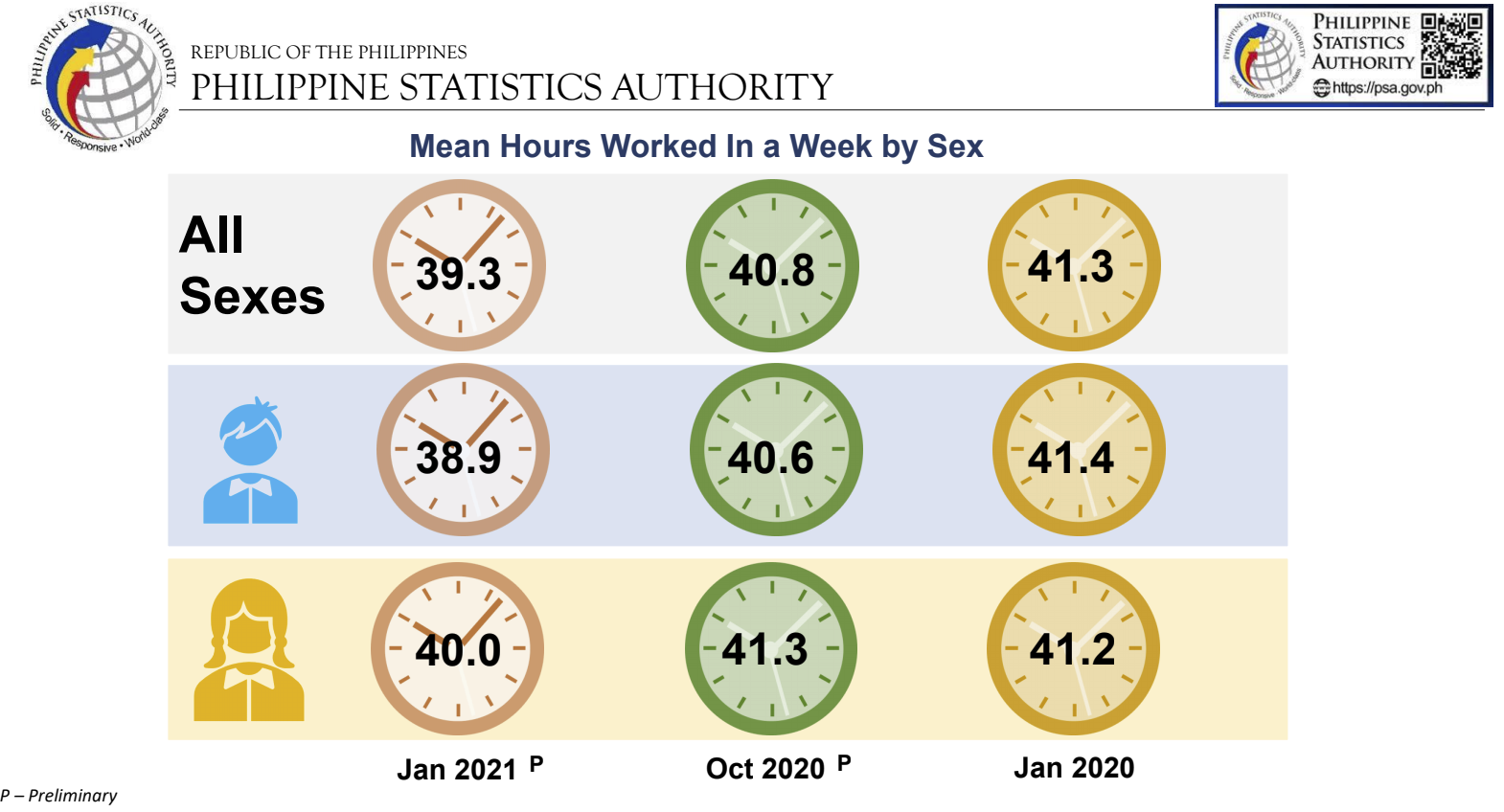 – Rappler.com