President Rodrigo Duterte's economic team paints a rosy picture of the economy. Rappler lists down some issues on poverty, jobs, and government finance ahead of Duterte's final SONA.
President Rodrigo Duterte's economic team on Monday, April 26, enumerated the achievements in business and economy under his administration in a pre-State of the Nation Address (SONA) forum.
However, despite the hours-long presentations of his team, many figures, particularly those that were not flattering, were left out of the discussion.
Rappler listed down some of these figures and economic issues that were not thoroughly discussed.
Note that Duterte's team did a similar move in recent years.
Poverty and unemployment
Finance Secretary Carlos Dominguez III discussed that poverty and unemployment in the Philippines hit an all-time low before the coronavirus pandemic.
Poverty incidence among the Philippine population fell to 16.6% in 2018 from 23.3% in 2015, while unemployment went down in October 2019 to a 14-year low of 4.5%.
In his speech, Dominguez said Duterte's economic legacy should be viewed as the "5 years before the pandemic" and the time of "pandemic response."
Dominguez did not highlight that the unemployment rate went up to 17.7% in April 2020, the highest ever on record, due to the pandemic. 
In February 2021, the unemployment rate stood at 8.8%, equivalent to 4.2 million jobless Filipinos, despite the economy gradually reopening.
During that time, some 1.9 million jobs were restored, translating to an overall employment level of 43.2 million. (READ: [ANALYSIS] The economic lies in 'Duterte Legacy')
Socioeconomic Planning Secretary Karl Chua noted that employment has returned to pre-pandemic levels, or the level in January 2020.
However, Chua did not say that the unemployment rate was still high in February due to the increase in the labor force participation rate. Simply put, more people wanted to find jobs during this time.
In a September 2020 briefing, Chua said unemployment would go down to between 6% and 8% in 2021, which means that the February figure of 8.8% is still not within the projected range.
Meanwhile, Dominguez noted that during the Duterte administration, the country saw poverty go down to 16.6%.
Chua, in September 2020, said the poverty rate would range from 15.5% to 17.5% in 2021.
Dominguez's chart still maintained that poverty would go down to 14% in 2021 and succeeding years.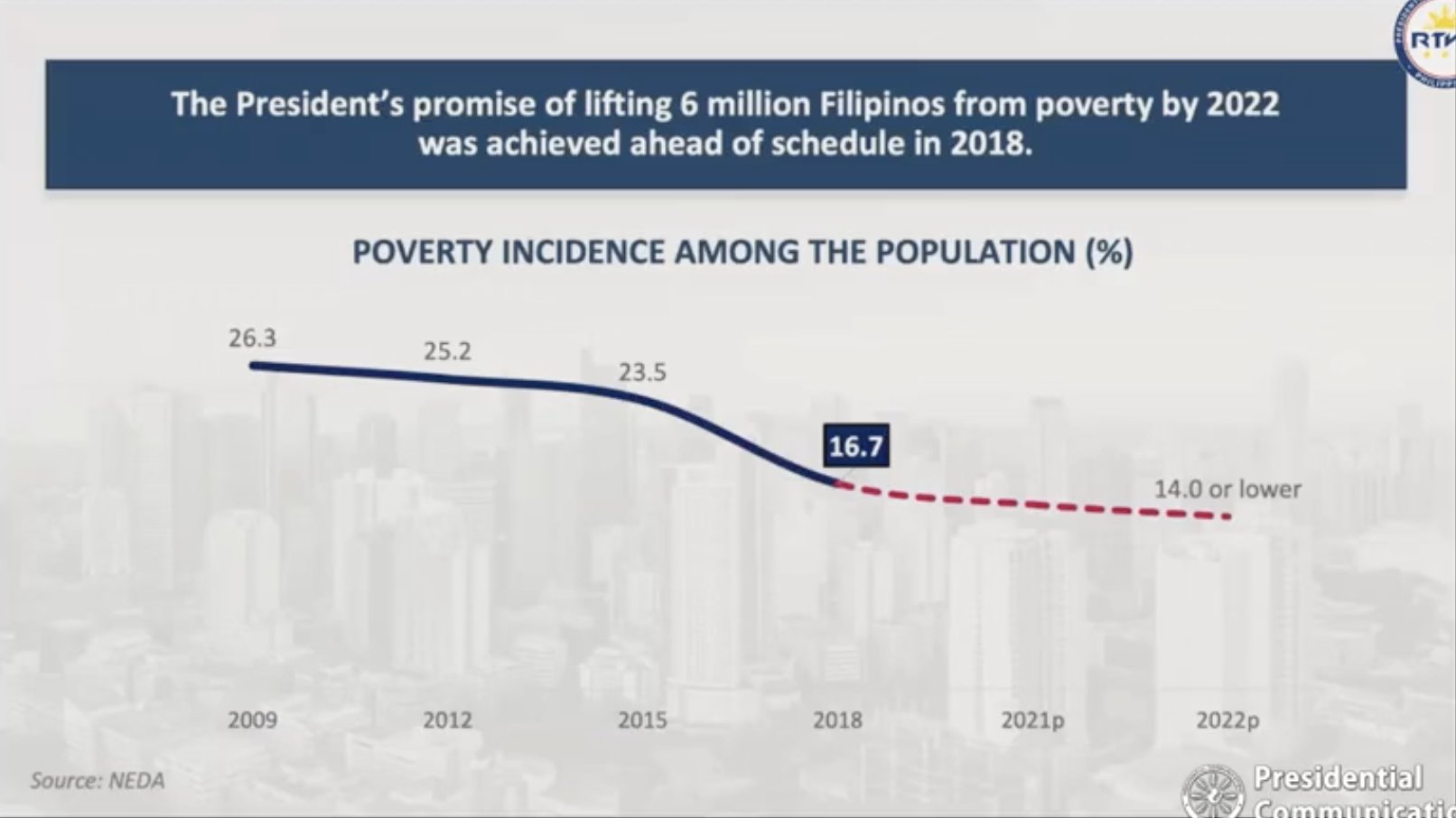 Vaccines
Dominguez also discussed Duterte's vaccination program, where they aim to vaccinate 70 million Filipinos or 100% of the adult population in 2021.
As of April 22, only 1.3 million people have gotten their first jab, while only over 209,000 have received their second dose, reflecting a sluggish rollout.
The figures show that only 1.9% of the adult population have been given their first dose, while only 0.3% are fully vaccinated.
As of April 22, only over 3.5 million doses have been delivered to the Philippines. Around 1 million of these were donations from China, 2 million were purchased, and 525,600 were given through the global COVAX Facility.
Economy, government finance
Duterte's economic managers also noted that gross domestic product (GDP) stood at over 6% before the pandemic.
But they did not state that they have missed their target of 7% to 8% for 3 consecutive years.
While the Philippines' economic growth before the pandemic was still among the fastest in Asia, the government earlier said growth of at least 7% would be needed for development to "trickle down" to the poor.
The economic managers also failed to state that the Philippines recorded the worst post-war GDP slump in 2020, with the economy shrinking by 9.5%. This was among the sharpest drops in Asia.
The Philippines is likely to still see negative growth in the 1st quarter of 2021, while neighboring countries are expected to bounce back to positive territory.
In the forum, the economic managers noted that some P2.76 trillion in fiscal and monetary response were unleashed during the pandemic.
The chart below may be quite confusing, as fiscal and monetary responses were lumped together.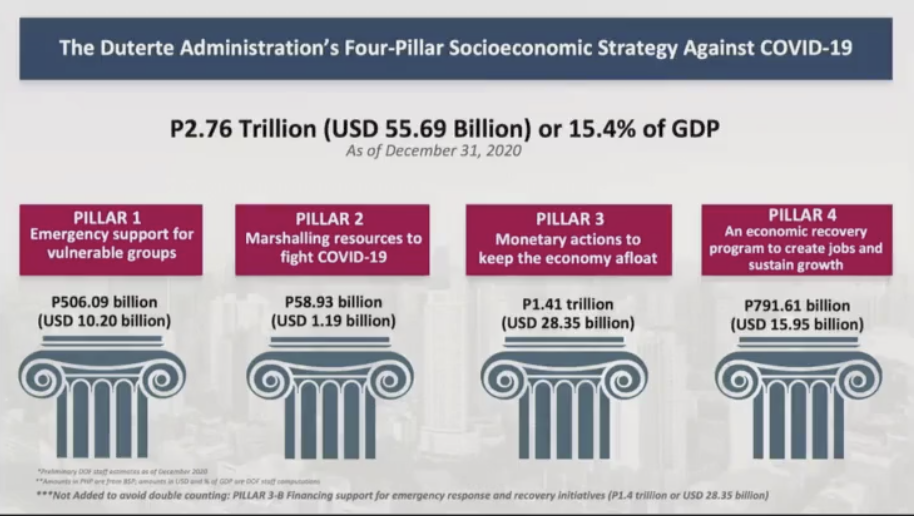 Moreover, various think tanks have criticized the Philippines' meager fiscal response, which is only around 3% of GDP.
Dominguez, on various occasions, said they are keeping spending conservative amid the worst economic crisis in recent history.
He noted in the forum that this prudent strategy has resulted in high credit ratings, but left out the warnings of debt watchers.
Last March, Moody's noted that the spike in COVID-19 cases in the Philippines is a credit negative. It also lowered its growth forecast due to the country's reimposition of a lockdown.
Moody's said the Philippine economy is in a "worrisome state," as inflation rises along with the COVID-19 surge.
Meanwhile, the economic team highlighted the passage of the Corporate Recovery and Tax Incentives for Enterprises or CREATE law, which lowers corporate income taxes.
They emphasized that it gives more room for businesses to expand and attract investors. However, they did not elaborate on how it would negatively impact government revenues.
They also omitted concerns that foreign investors are unlikely to expand business operations in 2021 due to unfavorable economic conditions.
Infrastructure
Dominguez also discussed Duterte's legacy in infrastructure. 
He showed a chart showing that the Duterte government's infrastructure spending was the highest, at 4.93% of GDP, compared to previous administrations.
But a closer look at the chart showed that he was referring to obligation levels.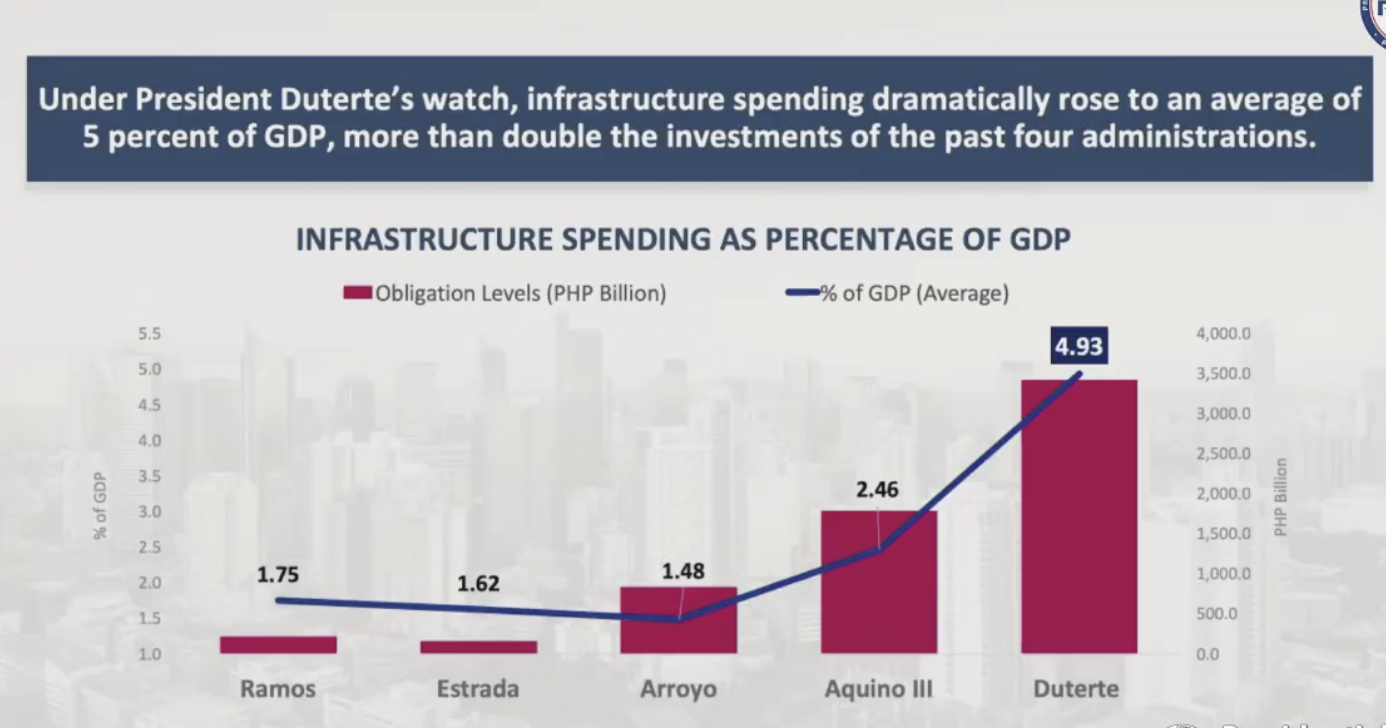 Obligations refer to liabilities incurred by the government when an agency enters into contracts for projects. Meanwhile, disbursements refer to cash withdrawn for such obligations.
This makes all the difference, as historical figures show that there is less money being disbursed than the amounts that were obligated.
Simply put, there is underspending and problems in implementation.
According to the Institute for Leadership, Empowerment and Democracy, the Department of Public Works and Highways and the Department of Transportation disbursed less than half of their total obligations for the past 3 years.
In fact, the Commission on Audit has repeatedly called out these agencies for their lackluster performance.
Duterte is also banking on infrastructure to give Filipinos jobs.
But as of February 2021, construction jobs actually fell to 4.1 million from 4.2 million in January.
Public works also failed to drive much of construction growth in 2020. – Rappler.com