The energy department insists that power reserves are needed to avoid blackouts, while the National Grid Corporation of the Philippines says new plants are the answer
Energy Secretary Alfonso Cusi asked Congress to place the operations of the country's power grids back under government control, as the government and grid operator clash over how to address the power supply problem.
At a Senate hearing on the Luzon blackouts, Cusi lamented over the National Grid Corporation of the Philippines' (NGCP) non-compliance with various department policies.
The most controversial of these instances is the alleged refusal of NGCP to contract firm power reserves called ancillary services (AS), which should be tapped when there is insufficient supply.
The Department of Energy (DOE) believes that contracting sufficient AS is a remedy to the blackouts problem.
"Sa proposal ko, ibalik natin ang system operation po sa gobyerno.… Para sa ganun po mas maganda ang pagpa-plano, maa-address natin and ma-identify ang responsibility," Cusi told senators.
(My proposal is that we return system operation to the government. That way planning is better; we can address problems and identify responsibilities.)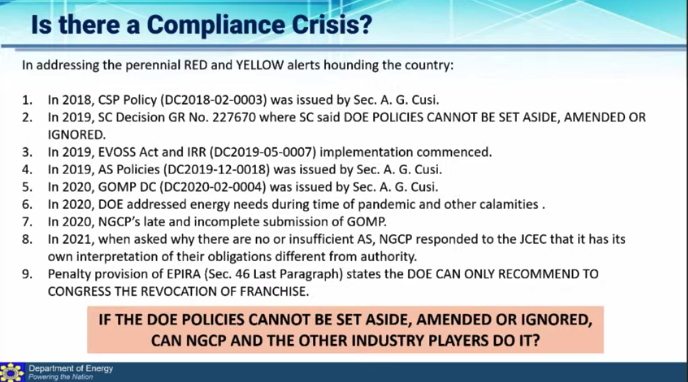 In 2001, the Electric Power Industry Reform Act or EPIRA privatized the National Power Corporation's assets, including power plants, and created a government body, the National Transmission Corporation (TransCo), which then owns the transmission network.
EPIRA also mandated that a private firm should operate, maintain, and improve the transmission network. In 2008, the NGCP was granted a 50-year franchise to operate the network.
"With the government as system operator, we can do a lot of things to prevent and remove the anxiety of the people," said Cusi in a mix of English and Filipino.
TransCo President Melvin Matibag also supported the energy chief's call, as well as the need to contract additional reserves.
"We should return the operations to the government, so the government can function to ensure that there is energy security," Matibag said.
Additional costs
In 2019, the DOE issued Department Circular (DC) No. 2019-12-0018, which mandated system operator NGCP to contract AS.
The NGCP, who had to bear the brunt of DOE's anger, insisted on Thursday that the power supply was the problem and not them being unable to fully contract firm power reserves.
It also reiterated that AS is a "pass-on cost," which means that consumers will be paying for these whether or not these are used.
"Ancillary services will not solve this supply problem; new plants will," said NGCP president Anthony Almeda.
In its presentation, NGCP said that contracting 100% firm reserves will result in additional charges to consumers, amounting to:
P0.6371 per kilowatt-hour (kWh) for Luzon
P0.5440 per kWh for the Visayas
P1.3894 per kWh for Mindanao
It added that of the three types of reserves, only regulating reserves are usually used, albeit not fully, versus contingent and dispatchable reserves that are seldom tapped.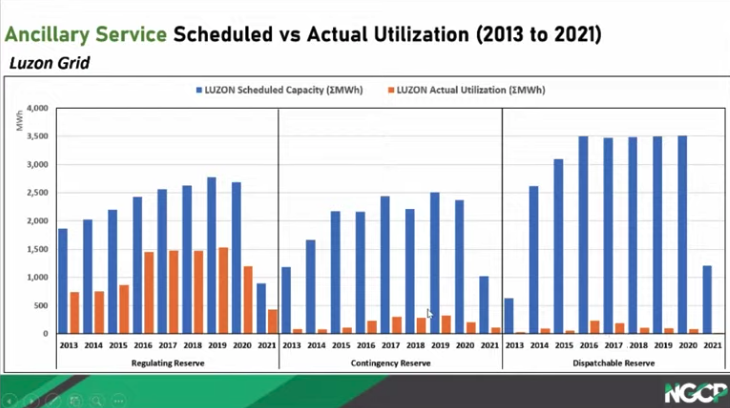 "NGCP cannot, in its good conscience, let consumers bear the brunt of paying for ancillary services that is neither used nor needed," Almeda said.
NGCP spokesperson Cynthia Alabanza also clarified that the system operator is "not resisting," but only that they want the policy to be studied more thoroughly.
Alabanza said that the NGCP has a "healthy mix" of firm and non-firm contracts. She later admitted, however, that the non-firm contracts could not be used as AS at times, as it was already tapped as part of the supply.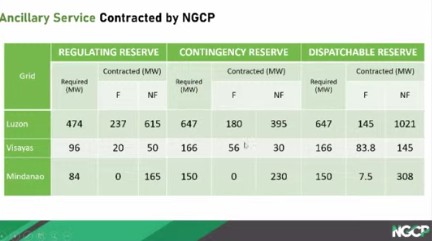 On the issue of pending firm contracts, Alabanza said: "As previously stated, we are seriously considering the rate impact on this, given that based on our preliminary projections, this will really create a spike [in prices]."
Cusi in the past had admitted that contracting reserves would have additional costs to consumers, but said that this cost should eventually go down when more reserves enter the market.
Senator Sherwin Gatchalian, Senate energy panel chair, said that NGCP's justification that AS was seldom used is "moot and academic." The department policy – which the Senate committee supports – is already there, he added.
Possible solution to costs
During the hearing, senators warned that the government and energy players may face backlash due to the looming increase in electricity bills when firm reserves are fully contracted.
So how can the government help cushion the impact?
Senator Risa Hontiveros brought up the Energy Regulatory Commission's failure to set NGCP's weighted average cost of capital (WACC) for 2016 to 2020, which could possibly adjust transmission charges in electricity bills.
NGCP's WACC remains at 15.04%, said Hontiveros, while its counterparts in Malaysia and Thailand are at around 7% only.
Matibag supported this and said that NGCP's WACC should already be brought down to 7%, according to a study TransCo conducted before. He said that while contracting reserves would have additional costs to consumers, reducing the WACC will offset that.
"If WACC will be reduced, the price of electricity will also go down. I will say that reserve is not indispensable; it's like insurance," said Matibag.
"Maybe we can reduce the P22-billion dividend given to [NGCP's] stakeholders so that the price of electricity goes down," Matibag added.
Cusi had said that the cost of blackouts is higher than the cost of contracting reserves.
On Thursday, Gatchalian noted that Luzon blackouts from May 31 to June 1 in Meralco areas amounted to P116.8 million in economic losses. This estimation does not include the third day of the blackouts and other franchise areas outside Meralco.
Gatchalian said that the issue on WACC will be discussed in another hearing. – Rappler.com