The Department of Agriculture is still trying to establish that pork prices have been manipulated, while imposing a price ceiling on the battered industry
The imposition of a price ceiling on pork was fueled mostly by claims of the Department of Agriculture (DA) that traders were manipulating prices.
But the agency has yet to present evidence, and not a single case has been filed against unscrupulous traders who are allegedly driving pork prices to over P400 per kilo.
In a press briefing on Tuesday, February 9, Agriculture Assistant Secretary Kristine Evangelista was asked about this matter, but did not directly address the question.
She instead noted that there were vendors who were slapped with notices of violation, where they were asked to explain high prices.
"By [asking vendors to explain prices], malalaman natin sino ang supplier and saan kinuha ang baboy. Tayo po ay lalapit sa kanilang supplier para malaman saan nila kinuha ang baboy. This is all part of the investigation," Evangelista said.
(By asking vendors to explain prices, we can pinpoint who their supplier is and where they got the pork. We will then go to the supplier to ask where they got the pork. This is all part of the investigation.)
Agriculture Assistant Secretary Arnel de Mesa added that they are looking into reports that some traders were diverting pork supply meant for Metro Manila to Bulacan and Pangasinan.
On Monday, February 8, the Department of Justice ordered the National Bureau of Investigation to probe allegations of market manipulation.
President Rodrigo Duterte's executive order caps prices to P270 per kilo for pork pigue and P300 per kilo for liempo.
Why proof matters
It is important to establish the root cause of the price spike, as price ceilings severely impact producers and may cause a supply shortage.
Agriculture Secretary William Dar earlier said the farmgate price of pork is only around P144 per kilo, which would prove that the P400-per-kilo pork in the market is too high.
However, Samahang Industriya ng Agrikultura (SINAG) chairman Rosendo So countered Dar's claim in a televised briefing on Tuesday, noting that the cheapest farmgate price is at P180 per kilo in General Santos City.
Provinces near Metro Manila like Batangas, Laguna, and Quezon posted farmgate prices of around P200 to P220 per kilo.
With these farmgate prices, an acceptable retail price would be between P330 and P380 per kilo, according to So.
Due to the low price ceiling, traders and vendors went on a pork holiday on Monday.
The Philippine hog industry is struggling with African swine fever, which killed thousands of pigs and pushed up production costs.
What shortage?
The DA said it needs around 4,000 heads per day to meet the daily pork demand of Metro Manila.
Based on the agency's monitoring, some 7,400 hogs are transported per day, mostly coming from Central Luzon.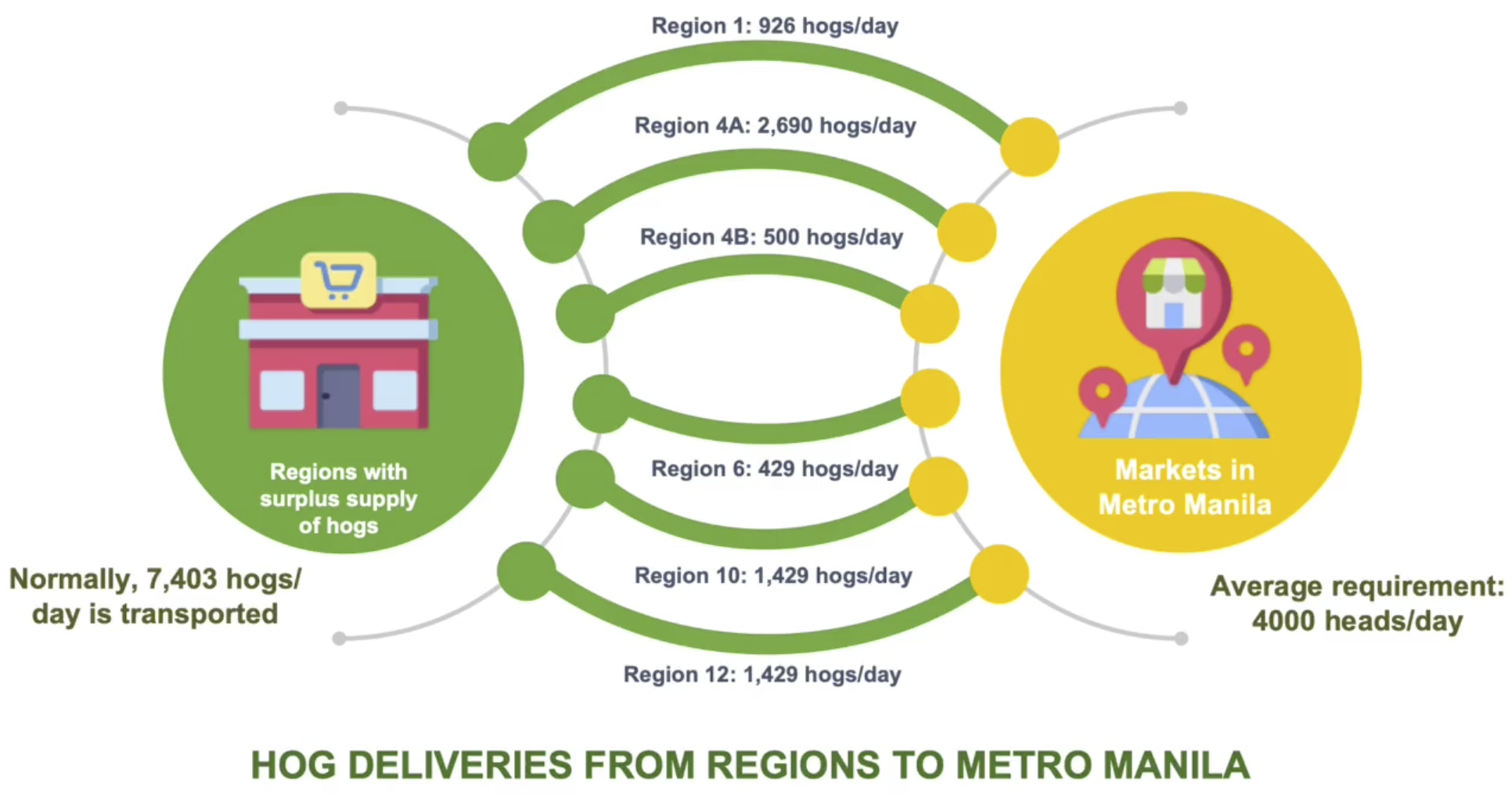 The DA implied that with these figures, there is sufficient pork supply in the market and traders are the ones manipulating prices.
At the same time, the DA wants to lower tariffs on pork imports to tame prices.
But if there's enough supply, why bother importing?
For So, pork imports should be increased if there is indeed a need for importation to lower prices. But the current tariffs, he said, must stay. – Rappler.com