(3rd UPDATE) An official of the Department of Finance, however, refutes the civic group's claims, saying that debt indicators are 'at the best they have ever been since 1986'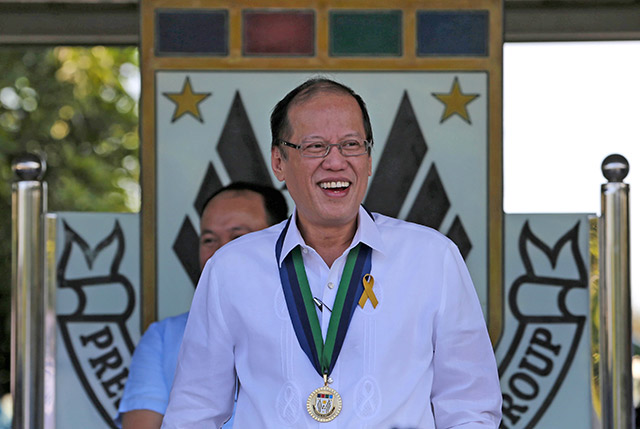 MANILA, Philippines (3rd UPDATE) – President Benigno Aquino III not only failed to curb the country's poverty and debt burden, but also turned out to be the "biggest loan addict," civic group Freedom from Debt Coalition (FDC) claimed.
"He [is] a total failure in addressing the Philippines' entrapment in a cycle of debt dependence," FDC said in a statement on Friday, February 19, adding that Aquino had even eclipsed former president Gloria Macapagal Arroyo as the biggest borrower among Philippine leaders since 1986.
According to FDC, Aquino will leave his successor with P6.4 trillion ($134.46 billion) of national government outstanding debt, of which P4.16 trillion ($87.39 billion) are borrowings made during his term. (READ: National debt at P5.954 trillion, up 3.8% from 2014 levels)
Divided among the projected 103 million population, each Filipino now owes a sum of P62,235.26 ($1,307.377) and P4,251 ($89.30) in government-guaranteed debts, the civic group added.
"This unresolved debt problem has resulted in the government's failure to meet its obligations to the people, or social debt as a percentage of the country's gross domestic product (GDP)," FDC president Ed Tadem said.
FDC said the Philippine president's social debt in education and health alone already amounts to P7 trillion ($146.99 billion).
"Philippine leaders since 1986 have merely continued this dependence on debt and non-prioritization of the welfare of the people because of blind adherence to prescriptions of country and multilateral lenders," Tadem said.
"It is time for us, the voters, to rise up and stage an electoral insurgency against debt and its role in perpetuating poverty and inequality," he added.
FDC earlier called for electoral insurgency, focusing on demands for the repeal of the automatic appropriations for debt servicing, the Electric Power Industry Reform Act, as well as tax and fiscal justice.
This is to ensure priority government spending for the people's needs and welfare, climate justice, and housing and essential public services, FDC said.
Independent senatorial candidate Walden Bello, who resigned as a lawmaker in protest of Aquino's double standards, said that it is criminal that debt payments get the first cut in the national budget before appropriations are made for social and economic services.
"This vicious cycle of debt and ballooning social debt will continue as long as the government resorts to new borrowings to pay for old loans, including those tainted with fraud and corruption, and with the existence of the law on automatic appropriations for debt servicing," Bello was quoted as saying.
FDC said that for 30 years, the continued implementation of the policy on automatic appropriations for debt servicing has resulted in an average of 27.21% of annual public revenues automatically earmarked for interest payments. 
Principal amortization, meanwhile, has eaten up an average of 67.61% of government's new borrowings.
DOF: What are they saying?
But for an official of the country's finance department, none of FDC's claims are factual.
Kenneth Abante, an executive assistant at the Department of Finance, said in his Facebook post that the Aquino administration's debt indicators are "at the best they have ever been since 1986."
According to Abante, the interest burden on the budget last year was at 15%, which was the lowest since 1986's 20%.
"If anything, the country's finally moving away from the debt trap after a decade of constant rehabilitation, not going into an addiction," Abante said in a post, reacting to FDC's claims.
Abante added that the outstanding public sector debt to gross domestic product (GDP) had also dropped to 56% in September 2015 from a record-low of 121% in 1986.
He said that debt-to-GDP has gone down to 45% in 2014, from 59% in 1986.
Philippine debt-to-GDP ratio peaked at 78.1% during the 1998 Asian currency crisis.
The finance department had earlier said in a statement that the country's debt-to-GDP ratio has been declining in the past 3 years, in its efforts to manage finances and sustain growth of the economy.
Finance Secretary Cesar Purisima also issued a statement late Saturday, saying the country's debt position is much better off now than in the past. (READ: Purisima to critics: PH debt position 'best in 18 years') – Rappler.com
$1 = P47.62