While the credit rating agency doesn't see any risk in the short term, it warns that 'increasingly controversial law and order policies' could detract attention from economic reforms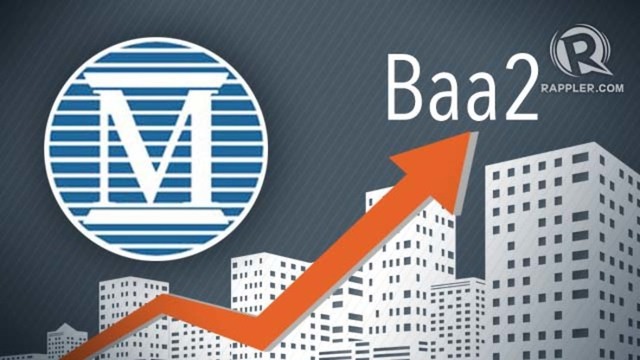 MANILA, Philippines –Moody's Investors Service said the country's investment grade rating is not immediately at risk despite the country being placed under a state of lawlessness following the Davao City blast.
"The near-term sovereign credit impact of these developments is limited as we do not expect them to change economic and fiscal policies or outcomes," said Moody's senior credit officer Christian de Guzman in the credit rating agency's latest report on Wednesday, September 7.
Moody's rates the Philippines as Baa2 or one notch above investment grade. Fellow major credit rating agency S&P also has the country a notch above investment grade at BBB while Fitch rates the country at BBB- or minimum investment grade.
"The Philippines' economy grew by an average of 6.9% year-on-year through the first half of 2016, a stronger performance than similarly rated peers. We do not expect recent events to meaningfully derail this economic momentum," De Guzman said.
Moody's also noted that while Mindanao, where Davao is located, has about 24% of the Philippine population, it only accounted for 14.8% of GDP in 2015 and contributed 0.8 percentage point to the country's real GDP growth of 5.9% in the same year.
"At this stage and, as long as the interventions under the state of lawlessness do not affect businesses nationwide, we assume that investment decisions will not be materially affected," De Guzman said.
Opportunity cost for reform
Part of Moody's optimism is that it does not expect recent developments to affect economic reforms, especially the planned 13.8% increase in infrastructure spending and the tax reform package to be submitted to Congress later this month.
De Guzman said, however, that "President Duterte's increasingly controversial law and order policies could exact an opportunity cost for reform."
"Recently, the President has deployed his considerable political capital in defense of his campaign on drugs and has engaged key legislators in highly publicized disputes, which – if protracted – could detract attention from the implementation of important economic reforms," he added.
These key reforms, he said, include revisions to the current framework for public-private partnerships, the rationalization of fiscal incentives for businesses, and amendments to the central bank charter, as well as changes to foreign ownership restrictions.
Duterte is also in the spotlight for his tirade against US President Barack Obama, which led to the cancellation of their talks on the sidelines of the ongoing ASEAN Summit in Vientiane, Laos.
Despite this, Moody's assessed the Philippines' susceptibility to political risks as low. It also believes that a significant intensification of the security response to the Davao City blast – such as the declaration of martial law – is not likely.
"The main challenge facing Philippine policymakers is sustaining the positive trajectory of institutional quality through the political cycle," said De Guzman.
"Should this improvement continue in conjunction with robust economic and fiscal performance, it would support positive momentum in the sovereign credit profile. However, in the event of greater uncertainty about policies and policy effectiveness, the economic outlook would become clouded, capping any positive momentum," he added. – Rappler.com