Personal remittances from land-based OFWs with contracts of a year or more registers $1.5B, the central bank reports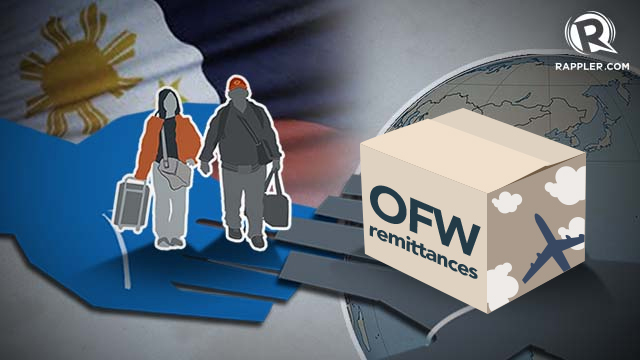 MANILA, Philippines – Personal remittances from Overseas Filipino Workers (OFWs) reached $2 billion in January 2015, 0.2% higher from the year-ago level, the Bangko Sentral ng Pilipinas (BSP) announced Monday, March 16.
Land-based workers with contracts for a year or more contributed $1.5 billion of registered remittances.
Those sea-based and land-based workers with work contracts of less than a year sent total registered remittances of $0.5 billion.
Cash remittances from OFWs coursed through banks reached $1.8 billion in January or 0.5% year-on-year growth.
Cash remittances from land-based employees hit $1.4 billion while sea-based workers sent total of $0.5 billion. 
The bulk of cash remittances came from the United States, Saudi Arabia, the United Arab Emirates, the United Kingdom, Japan, Singapore, Hong Kong, and Canada.
BSP also lauded the continuous efforts of bank and non-bank remittance service providers to expand their international and domestic market coverage through their network of business partners worldwide that provide support for steady remittance flows.
BSP noted though that there are some limitations on the remittance data by source.
For instance, remittance centers in various cities abroad course remittances through correspondent banks, most of which are located in the US.
Also remittances coursed through money couriers cannot be disaggregated by actual country source and are lodged under the country where the main offices are located, which, in many cases, are in the US.
Thus the US is showing up as the main source of OFW remittances because banks attribute the origin of funds to the most immediate source, BSP explained.
Meanwhile, continued demand for skilled Filipino manpower contributed to the steady inflow of remittances, BSP noted.
Remittances buoy the Philippine economy, but the Philippines still has to confront the brain drain issue that deprives the labor pool much of its greatest talent, the Institute of Chartered Accountants in England and Wales (ICAEW) said in its latest Economic Insight report.
ICAEW noted that most of the productivity gains are enjoyed by developed economies where Filipino migrants work.
"This has been a problem for a while now, with the country having lost an estimated 10% of its population to work abroad, including many highly-qualified professionals," ICAEW said.
A total of 26.3% of total approved job orders of 77,009 in January 2015 were processed during the period, preliminary reports by the Philippine Overseas Employment Administration (POEA) indicated.
The processed job orders were intended mainly for service, production, and professional, technical and related workers in Saudi Arabia, Kuwait, Qatar, Taiwan, and the United Arab Emirates.
Workers with processed contracts increased by 6.7% to 2.4 million in 2014, the POEA reported. – Rappler.com