State statisticians revise it to 6.6%, in time for today's scheduled release of data for the first quarter of 2015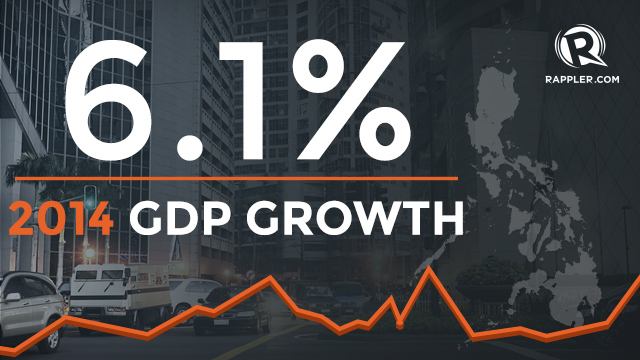 MANILA, Philippines – The growth of the Philippine economy during the fourth quarter last year was weaker than initially reported, state statisticians said Wednesday, May 27.
The Philippine Statistics Authority (PSA) in January announced that the gross domestic product (GDP) growth for the October-December 2014 period was 6.9%. This was revised Wednesday to 6.6% growth.
The downward revision came on the eve of Thursday's scheduled announcement of GDP growth for the first quarter of the year.
The revised reading, according to PSA, was a result of "downward revisions in Trade; Other Services; and Electricity, Gas, and Water Supply."
"The preliminary GDP estimates for the fourth quarter were released with a shorter time lag of thirty days and based on limited data that were available as of January 2015," the PSA statement read.
PSA, however, noted that the 2014 full-year GDP growth remained unchanged at 6.1% – which was below the government target of 6.5% to 7.5%, and lower than the record-high 7.2% growth in 2013.
Watch Thursday's GDP growth announcement for the first quarter of 2015: 

Broadcast live streaming video on Ustream
 – Rappler.com