Thin power reserves would be likely in May 2022 – part of the dry season – due to higher demand and lack of water for hydro plants, says the Department of Energy
The Department of Energy (DOE) said thin power reserves are expected during the week of the 2022 elections, but blackouts are unlikely to happen.
In a virtual forum on Tuesday, August 17, Energy Undersecretary Wimpy Fuentebella said thinning of reserves is seen during the second quarter of 2022 – as it usually happens every year due to the dry season.
But based on the power outlook presented during the forum, the entire month of May sits comfortably above the contingency reserve threshold.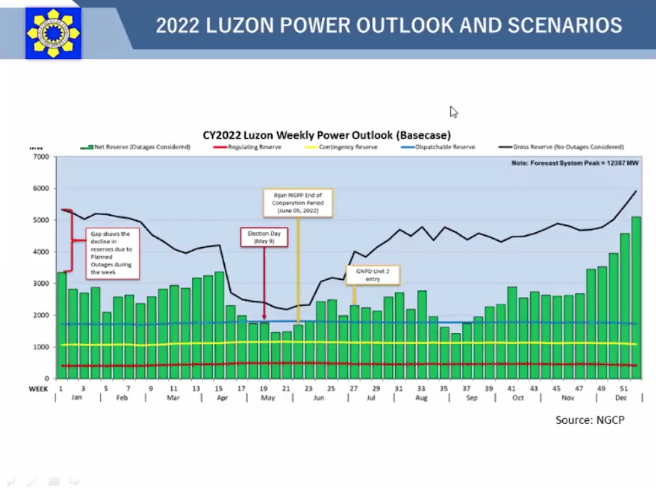 This means that even yellow alerts are not expected.
A yellow alert indicates that reserves are thin, but power interruptions are not necessarily expected. It is declared when the level drops below the contingency reserve threshold. (READ: EXPLAINER: Why do rotational blackouts happen?)
The 2022 national and local elections is on May 9. Temperatures will be peaking around that time.
"As NGCP (National Grid Corporation of the Philippines) explained, it's because of higher demand and lack of water for the hydro plants," said Fuentebella.
However, forced plant outages could also happen, which may affect power reserves.
Fuentebella said a number of plants built during the Aquino administration are already starting to operate, but he did not specify which ones.
Asked where the DOE gets its confidence in saying that power interruptions are unlikely during the polls, Fuentebella said, "We have been looking at this very early on, so the preparation is quite early."
In 2018, Energy Secretary Alfonso Cusi signed a circular creating a task force that would ensure reliable power supply during elections.
"We have been doing this. As far as our people are concerned, they are experienced in – not only election preparation – but also responses [to] earthquakes, typhoons. It's our experience and how we work together – that's where our confidence stems from," Fuentebella said.
Manila Electric Company spokesperson Joe Zaldiarraga said the power distributor has contingency plans, as well as generator sets ready for backup power for its franchise areas.
The Philippine Independent Power Producers Association, meanwhile, said the generation sector will do "its very best" to maintain power supply at sufficient levels in 2022. – Rappler.com