How will the Davao airport mishap affect the global safety status of the Philippine aviation body?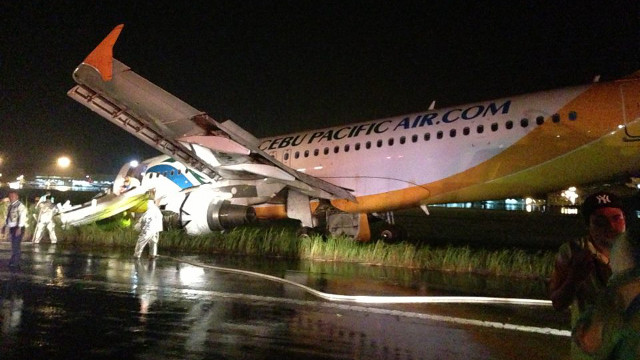 MANILA, Philippines – How will the Davao airport mishap affect the global safety status of the Philippine aviation body?
Transportation Secretary Joseph Emilio Abaya said on Tuesday, June 4, that the airport incident involving an Airbus A320-200 aircraft of budget carrier Cebu Pacific may affect the Philippines' bid to regain a global safety status that allows local airlines to mount new and additional flights to the US and Europe.
Abaya noted that representatives of the European Union are in the country to pursue their safety audit, a crucial process involving the Civil Aviation Authority of the Philippines (CAAP).
"The EU team are here since Monday (June 3) and will leave Friday (June 7). The [Davao airport] incident had a wrong timing," he said in a radio DZMM interview.
"Perhaps this (Davao incident) will have an impact (to the EU team's assessment), but these things happen even in other countries. What happened in Davao was not fatal," he stressed.
A Cebu Pacific Airbus A320-200 aircraft skidded off the Davao airport runway after it touched down amid heavy rain on Sunday evening, June 2. The aircraft was towed away on June 4, after it was stuck for almost two days, paralyzing operations at the country's 3rd busiest airport.
Presidential Communications and Strategic Planning Office Secretary Ricky Carandang did not share Abaya's concerns. Carandang said the incident should not be a reflection of the country's entire aviation situation.
"I think what happened in Cebu Pacific is not something that you can say is systemic. So we will leave it to the inspectors to have an appreciation of what impact that will have," Carandang said.
"I can say, at this point, that the steps that were recommended for us to be taken off of Category 2 are being taken by our airport authorities and this should not be a reflection of that," he said in a press briefing. 

The EU followed the move of the US Federal Aviation Authority (FAA) to ban Philippine carriers from adding travel routes to their local airports.
The FAA downgraded its peer body, the CAAP, to a Category 2 status in 2007 following audit findings that local aviation officials could not implement global safety standards among the aviation players they oversee. These include airlines, airports and others. – Rappler.com