Boeing describes the recent incidents involving its 787 Dreamliner airplane as normal growing pains for a young aircraft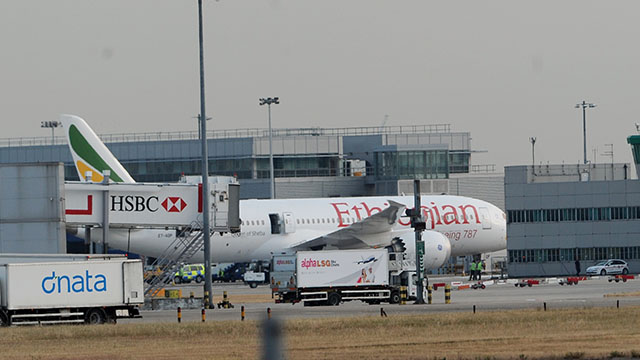 NEW YORK CITY, USA – Boeing's 787 Dreamliner airplane continued to face scrutiny Friday, July 26, following recent incidents, but the company described them as normal growing pains for a young aircraft.
The aircraft has been under the spotlight since the US Federal Aviation Administration and other regulators grounded the aircraft globally for three months earlier this year due to overheating batteries.
An aviation source told AFP Friday that a 787 operated by Qatar Airways had been grounded in Doha since Monday due to a problem with an electrical panel.
A Qatar Airways spokesman in London said the company "is aware of a very minor incident which has been resolved" and refused to comment further or provide details.
Other media accounts described a fire aboard an Air India 787. Air India rated the episode a "minor incident," according to one report.
Japan's All Nippon Airways (ANA) said Friday that it found damage to the battery wiring on 787 emergency locator beacons, the same device suspected of causing a fire on an Ethiopian Airlines 787 parked at London's Heathrow airport this month.
"We have found small damage to the covering of the battery wiring in two Emergency Locator Transmitters," said an ANA spokesman.
Boeing declined to comment on the incidents individually, referring questions to the respective airline.
"The 787 is a great airplane and we know it will continue to receive heightened attention when reliability events occur in service," said a Boeing spokeswoman.
"Every new airplane experiences early in-service component reliability issues. Overall 787 in-service performance continues on par with the Boeing 777 experience at the same time frame following its introduction," the spokeswoman said.
"That said, we continue to focus on the 787's reliability improvement efforts."
The 787 has had its share of disappointments since its creation. The plane finally made its service debut in October 2011 after several years of production delays.
The biggest crisis came earlier this year when regulators grounded the plane in mid-January following two battery overheating incidents that caused a fire on a Japan Airlines 787 parked at Boston's Logan airport and smoke that forced an ANA aircraft into an emergency landing.
The grounding was lifted more than three months later after regulators approved Boeing's battery fix.
Following the Ethiopian Airlines fire two weeks ago, British authorities recommended that the distress beacons onboard all Boeing Dreamliners be disabled, after identifying the devices as the likely cause of the fire.
US and European regulators have since ordered airlines to deactivate and inspect the emergency locator beacons. On Thursday, the FAA told airlines to remove or inspect them.
The same day as the London fire, a Dreamliner operated by Thomson Airways was forced to return to Manchester shortly after takeoff. The following week, a Japan Airlines Boeing 787 was forced to return to Boston due to a possible pump problem.
An executive from Boeing arch-rival Airbus, John Leahy, was quoted following the Heathrow fire as saying the 787 was "not reliable."
Asked about the comments, Boeing chief executive Jim McNerney said Leahy "got carried away with himself." McNerney said customer support for the aircraft "remains high."
Boeing earlier this week reported better-than-expected quarterly results and increased its profit forecast for the year.
The Dreamliner was not the only Boeing vehicle in the news Friday. The FAA proposed a $2.75 million penalty on Boeing for quality control violations on its 777 airplanes.
The FAA said Boeing failed to meet its own deadlines for addressing problems with the aircraft once they surfaced. Boeing has 30 days to respond to the FAA's proposed penalty. – Rappler.com