Both CAAP and Cebu Pacific will look into the incident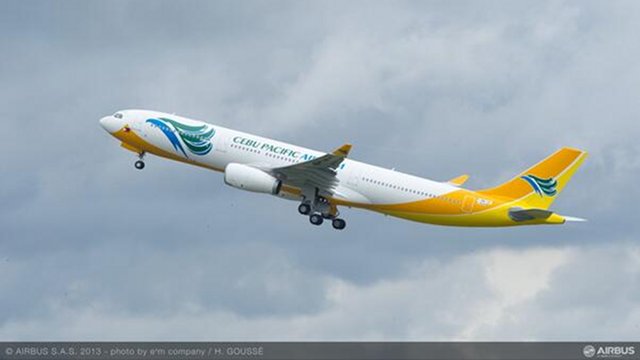 MANILA, Philippines – The Civil Aviation Authority of the Philippines (CAAP) on Monday, March 31 said it would investigate an incident between Cebu Pacific pilots and disgruntled Chinese passengers.
In a Monday incident report, CAAP Kalibo International Airport Office-in-Charge Cynthia Aspera said a confrontation happened between the pilots and passengers after a Cebu Pacific flight bound for Shanghai, China was forced to return to Kalibo due to bad weather on Friday, March 28. 
The plane left Kalibo at 4:45 pm on Friday but was diverted to Manila at 7:48 pm due to bad weather in China. Without improvements in the weather, the plane was forced to return to its point of origin – Kalibo right before midnight. Based on standard operating procedures, cancelled flights are required to return to their point of origin.
It was at around 3 am on Saturday, March 29 when the trouble began. Chinese passengers who were staying at the Kalibo International Airport saw Captain Johnny Tinto and his co-pilot Richard Avilla. The passengers "surrounded and blocked the two pilots refraining them to enter the terminal building," according to the CAAP report. 
The passengers, said Aspera, were asking for free hotel accommodation. Airport police questioned a certain Xue Weilang, one of the passengers, for "being arrogant and disrespectful to the pilots." Tinto and Avilla did not press any charges.
One media organization initially reported in a tweet that the 2 pilots were "mauled and held hostage" by Chinese passengers at the Kalibo airport.
Cebu Pacific denied a "mauling," and said the airline would conduct its own investigation. "The pilots are safe and accounted for," said Cebu Pacific Vice President for Corporate Affairs Jorenz Tanada.
CAAP Deputy Director General Retired Captain John Andrews meanwhile said the CAAP was also probing the incident.
The flight to Shanghai from Kalibo finally pushed through on March 31, Monday at 6:50 pm, said CAAP. – Rappler.com