Featuring the world's largest indoor arena, Ciudad de Victoria in Bulacan is expected to attract foreign and local tourists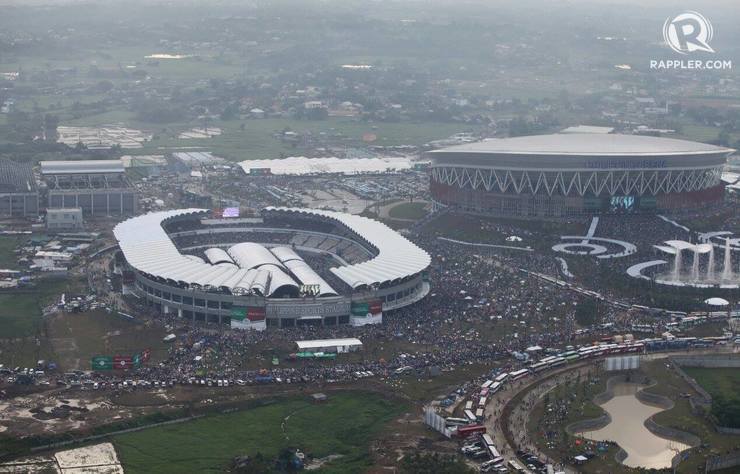 MANILA, Philippines – It was once an expanse of land that farmers left dry and idle. Today, it houses the world's largest indoor arena.

The 75-hectare Ciudad de Victoria is a mixed-use, tourism enterprise zone owned by the Iglesia ni Cristo (INC). Spanning two towns – Bocaue and Santa Maria – in Bulacan, it was built for INC gatherings as the politically influential religious group marks its 100th anniversary on Sunday, July 27.
Its centerpiece is the Philippine Arena, an astrodome capable of holding more than 50,000 people, surpassing the capacity of the Colosseum in the ancient Roman empire. The arena also dwarfs Staples Center in Los Angeles and Madison Square Garden in New York.
Originally intended to accommodate its over two million loyal members, INC's landmark development aims to attract tourists as well.
Real estate players are reportedly eyeing to come in as INC intends to build sports facilities, a university, hospital and commerical establishments within the property.

From a venue of assembly to tourism

Three years ago, Mark Evidente, one of the country's experts in the tourism sector, was tapped by some INC leaders to address their perennial problem: how, with their large population of believers, can they get together without experiencing logistical problems.
With an estimated 2.7 million members all over the world, INC gatherings usually cause heavy traffic, prompting government to issue working holidays when they mount huge events.
But the idea of looking for a location outside bustling Metro Manila to address their assembly concerns became a more ambitious plan.
"They said, 'what if we make it into a tourism zone?'" Evidente narrated, quoting one of the INC leaders he refused to name.
Evidente is president of TwoEco Inc, the company that helped arrange INC's incentives for the 75-hectare tourism enterprise zone owned by INC's New Era University (NEU).
The church's move to entrust the development to NEU, Evidente said, was to show that the facility, including the Philippine Arena, "was not only intended to address the logistical problems INC members experience during annual gatherings."
"It was built to operate as a secular facility," he added. 
A dream come true
Ciudad de Victoria, which means "City of Victory," marks INC's presence for 100 years.
On Juy 27, 1914, the INC was established in Sta Ana, Manila by the late Felix Manalo, a Catholic dissatisfied with theological teachings he grew up with. Now, INC is an influential religious sect known for its many traditions such as bloc voting. Politicians, even presidential aspirants, seek dialogue with the group to get its endorsement.
Ciudad de Victoria is the first mixed-use project of INC, which is known for its network of chapels with uniform colors and design nationwide. The project is larger than the 44-hectare Vatican, the administrative center of the Roman Catholic Church.
The property will feature, among others, the Eraño G. Manalo Medical Center, the Bulacan campus of NEU, the Philippine Stadium, the Philippine Sports Center, and the Philippine Arena.

Philippine Arena
Worth $214 million, Ciudad de Victoria's centerpiece, the Philippine Arena, stands on a lot area of 74,000 square meters, and has a total floor area of 99,000 square meters. It has over 50,000 seats – far more spacious than the Mall of Asia Arena and the Smart Araneta Coliseum in Manila.
Coming second to the Philippine Arena in terms of number of seats is the Gwangmyeong Velodrome in South Korea, which has a 30,000-seating capacity. (READ: FAST FACTS: Iglesia ni Cristo's Philippine Arena)
"This has never been done before," Andrew James, director of the Australian office of Populous and project director for the arena, told Rappler in a phone interview. James has other major projects in Asia under his supervision: the main stadium for the 2014 Asian Games in Incheon, and the Taipei Dome, a large commercial development in Taiwan.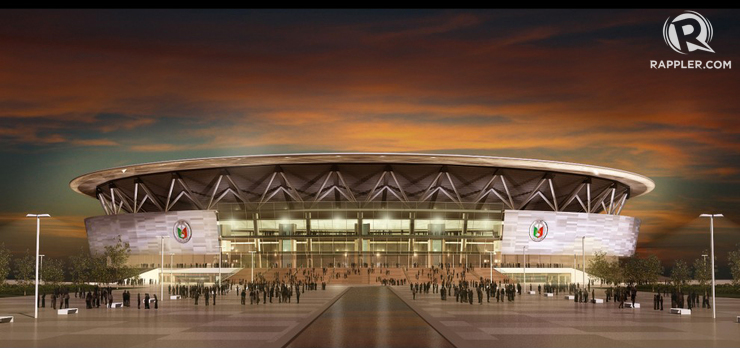 Now the biggest in the world, James is confident the Philippine Arena will qualify for Guinness World Record. The National Geographic earlier dubbed the structure as a man-made marvel built to withstand earthquakes.
A tourism zone
Tourism enterprise zones like Ciudad de Victoria enjoy the following government incentives: a 6-year income tax holiday, which can extend for up to 6 years more in the event the project expands; a preferential tax rate of 5%; and tax- and duty-free importation of capital equipment.
What's more, the provincial government of Bulacan has supported the development of Ciudad de Victoria. Already home to more than 20 religious attractions such as the Sta Monica Church in Angat and St Martin of Tours Church in Bocaue, Bulacan is poised to be the Philippines' "tourism mecca." The province is developing the Central Bulacan Tourism Loop Project, which will improve road access to its tourist destinations.
With INC pouring significant investments into Ciudad de Victoria, James said, "It's going to attract global attention."
"They're going to attract big name events. It's going to bring attention to the Philippines," he noted.
Meanwhile, Evidente, who helped draft the Philippine Tourism Act of 2009 as former Senator Richard Gordon's legislative director, said Ciudad de Victoria would employ 40,000 workers.
"If you're talking about tens and thousands of employers, then we're talking about billions (worth of economic growth)," he added.
Evidente pointed out the property's strategic location north of Manila: it's 45 kilometers from the Ninoy International Airport and 65 kilometers from the Diosdado Macapagal International Airport. Both airports are connected through direct access to the North Luzon Expressway, making Ciudad de Victoria accessible to tourists.
On the tourism sector's end, James said, "we really need facilities of this size."
Real estate players
Rappler asked big players in Philippine real estate like SM Prime Holdings and Ayala Land if they were interested in forging joint ventures with INC.
Teresita Reyes-Agsalud, vice president for finance at SM Prime Holdings, replied, "We are always on the lookout for potential development sites. When we are shown an area for development, we always conduct a study if the property is viable for a specific project or projects."
"We acquire those which are seen to be viable, most especially those suitable for mixed-use projects," she added.
Suzette Naval, Ayala Land corporate communications officer, said however that they were not looking at INC's development.
INC's growth as a church has become a significant part of history. But how it expands as a religious organization, from building churches to running a secular project, remains a closed book.
What's clear for now is that the church, which rivals Catholicism in predominantly Catholic Philippines, plays a key role in bolstering the economy.
"It will be very exciting to watch the lives of the people (Filipinos) change," James said. – Rappler.com