The government is in talks with a unit of San Miguel Corporation for the construction of an additional common station, this time at SM North EDSA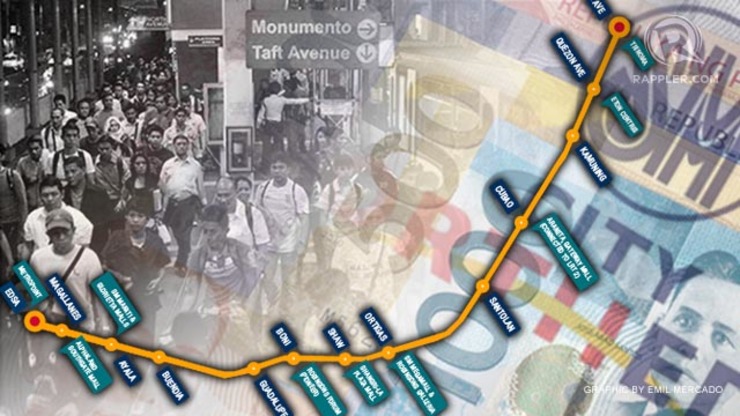 MANILA, Philippines – The government is in talks with a unit of San Miguel Corporation for the construction of an additional common station linking the northernmost stops of Metro Manila's railway systems – the Light Rail Transit (LRT) and the Metro Rail Transit.
Aside from the contested common station planned at the TriNoma mall in Quezon City, another one is being considered near its neighboring mall, SM North Edsa, said Transportation Undersecretary Jose Perpetuo Lotilla.
"The common station is required to be built in North EDSA because MRT7's end point is there," Lotilla told Rappler in an interview Thursday, November 20.
The proposed MRT7 system of San Miguel Corporation stretches from EDSA to Caloocan City, and will pass through Lagro and Fairview, Novaliches, Batasan, Diliman, Philcoa.
The government has been in hot water for unilaterally scrapping its agreement with SM North EDSA to build the common station there and transferring it to TriNoma. 
SM Prime Holdings Incorporated (SMPHI) has been fighting tooth and nail to get the planned common station back at its mall. It also wants the Light Rail Transit Authority (LRTA) to honor an agreement they signed in 2009 for SM to have naming rights to the proposed common station worth P200 million.
A Pasay City court junked SMPHI's application for a temporary restraining order (TRO) and preliminary injunction.
The Department of Transportation and Communications (DOTC) said SMPHI's memorandum of agreement (MOA) with LRTA had expired in 2011, and the National Economic and Development Authority had approved the construction of the common station at TriNoma.
SMPHI elevated the case to the Supreme Court, which issued last July 30 a temporary restraining order (TRO) on the planned transfer of the common station to TriNoma. It asked the Department of Transportation (DOTC) and the LRTA to comment on SM's petition and not to file a motion to dismiss it.
On September 12, the DOTC asked Universal LRT Corporation (ULC BVI) Limited – a San Miguel subsidiary and MRT7 concessionaire – to stand "neutral" over the actual location of the common station.
Five days later, on September 17, ULC BVI insisted "the common station should be in front of SM."
Lotilla explained that DOTC's intention in writing San Miguel "is to explore another approach," which is to design for another common station.
"The discussion is still open," he said. – Rappler.com