(1st UPDATE) As of 11 am, all domestic and international flights departing from and arriving in Cebu have been canceled until further notice while responders clear the plane from the runway
CEBU, Philippines – A Korean Air flight veered off the runway at the Mactan Cebu International Airport (MCIA) near midnight on Sunday night, October 23.

Flight number KE631, arriving from Incheon, South Korea, crash landed into a patch of grass at the MCIA, causing operations to temporarily cease in the country's second busiest airport. According to a post by Lapu-Lapu City disaster chief Nagiel Bañacia, the local government's emergency team was deployed to the scene shortly after the incident.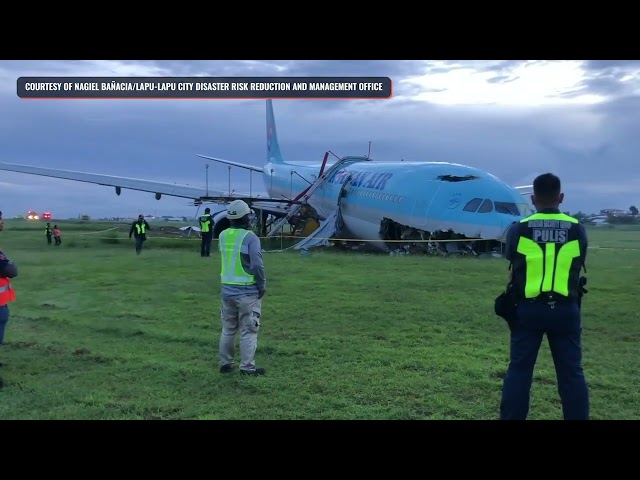 According to a statement from the MCIA, the A330-300 aircraft overshot the runway due to heavy rain.
The Lapu-Lapu City government's assessment said that the aircraft attempted to land twice before crash landing off the runway on its third attempt.
According to Bañacia, the LGU's medical team recorded no injuries.
There were 162 passengers on the aircraft and 11 crew members rescued on board the flight, the local government said in a statement sent to reporters at about 9 am on Monday morning.
Migrant workers secretary Toots Ople said Monday morning that two Filipino seafarers were onboard the plane.
"I have directed OWWA and POEA to assist OFWs who may be affected especially with flight cancellations, etc. Per OWWA, there were two seafarers onboard the plane that overshot the runway. Both OFWs are ok," Ople said.

Korean Air called it an "abnormal landing due to worsening weather conditions" in a statement posted on Facebook on Monday at around 1 am.
Korean Air President Keehong Woo apologized for the incident in a statement posted on the airline's Facebook account at around 5 am.
"I would like to extend my sincere sentiments regarding the Korean Air Flight KE631 incident at Mactan-Cebu International Airport on October 23, 2022," Woo said.
"A thorough investigation will be performed together with the local aviation authorities and Korean authorities to determine the cause(s) of this event. We always prioritize safety in all of our operations, and we truly regret the stress and inconvenience brought to our passengers. We remain committed to standing behind our promise of safe operations and will do our very best to institute measures to prevent any recurrence. Our overall goal is for our valued guests to trust that Korean Air will treat them well, and honor us with the opportunity to welcome them once again," the airlines' president added.
As of 11 am, all domestic and international flights departing and arriving in Cebu have been canceled until further notice while responders clear the plane from the runway. – with a report from Michelle Abad/Rappler.com