This is AI generated summarization, which may have errors. For context, always refer to the full article.
(UPDATED) The original proponent status earlier granted to Megawide Construction Corporation gets revoked. Megawide slams parties with 'vested and corrupt interests.'
The Manila International Airport Authority (MIAA) revoked the original proponent status (OPS) issued to Megawide Construction Corporation and its partner for the Ninoy Aquino International Airport (NAIA) rehabilitation project.
MIAA Corporate Secretary Leonides Cruz informed Megawide of the revocation in a letter dated Tuesday, December 15.
"We wish to formally inform you that in a meeting of the Board of Directors of the [MIAA] held on December 4, 2020, and subsequently affirmed in the Board meeting today, December 15, 2020…the MIAA Board has resolved for the revocation of the [OPS] earlier granted," the letter read.
The letter did not give the reasons for the withdrawal of the OPS.
Rappler reached out to MIAA General Manager Ed Monreal to ask why the OPS was revoked, but he has yet to respond to our message.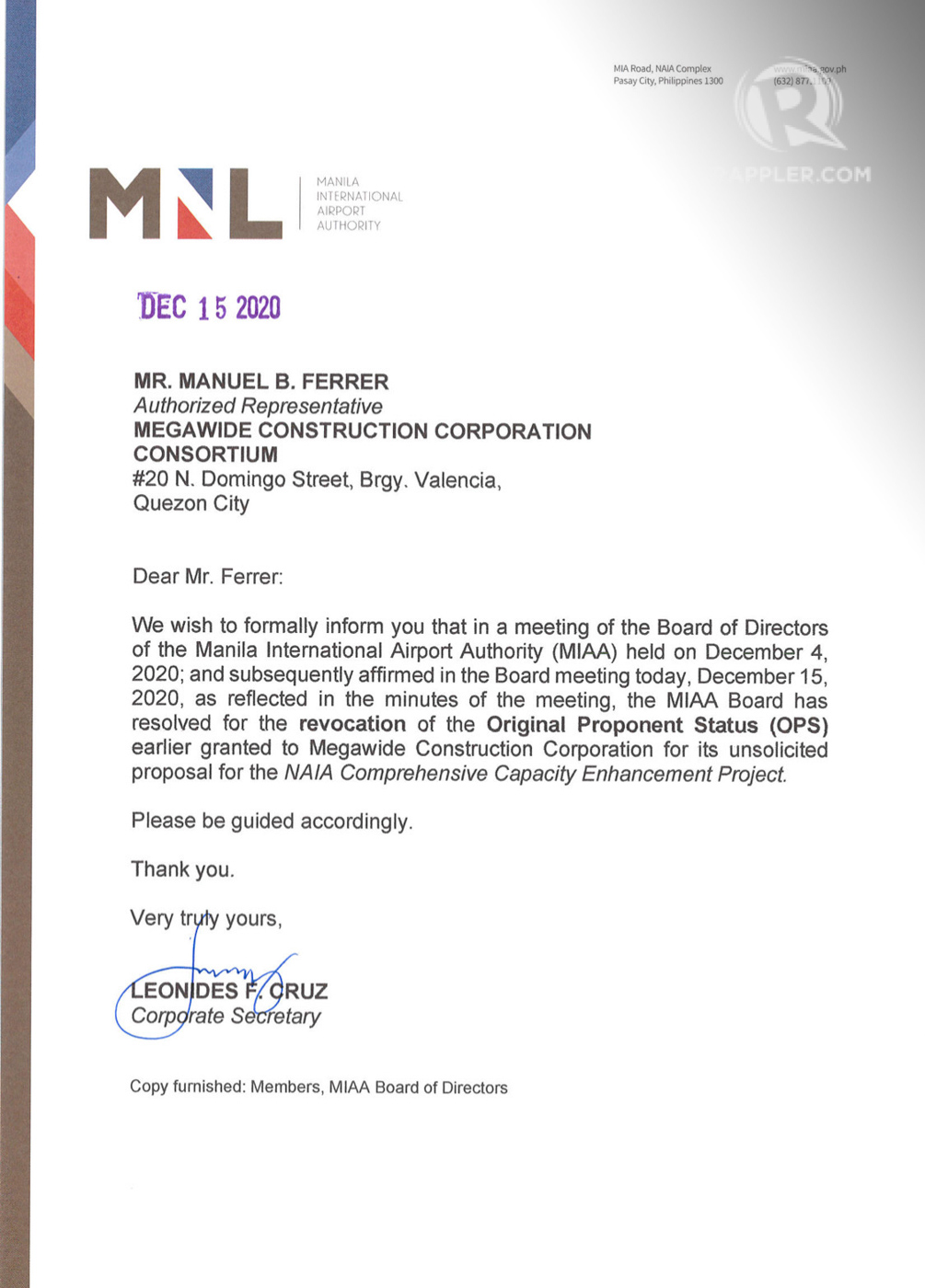 In a statement on Tuesday, Megawide said it will appeal MIAA's decision.
"At all stages, Megawide has complied with all requirements and interpretations of the government for its unsolicited proposal. There are no justifiable grounds to deny the Filipino people a transformed NAIA," Megawide said.
It added that the Philippine government had "even insisted" on contract terms that were stricter than those for the NAIA Consortium, the proponent it replaced. The NAIA Consortium was made up of the Philippines' top conglomerates.
Although it did not name who, Megawide also slammed parties with "vested and corrupt interests" who allegedly wanted it out of rehabilitation talks.
"At a time of deep economic crisis, the Filipino people today received a devastating blow against progress. A critical step towards the Philippines' national economic recovery was delayed further by vested and corrupt interests who have spent millions in trying to bring down the only capable and qualified player," Megawide said.
Equity concerns
In July, MIAA granted the OPS to Megawide and its Indian partner GMR Infrastructure Limited, after negotiations with the NAIA Consortium failed.
But in a November letter, the National Economic and Development Authority (NEDA) Board's Investment Coordination Committee-Cabinet Committee (ICC-CabCom) rejected Megawide's unsolicited proposal over insufficient equity.
The NEDA ICC-CabCom returned the documents to the Department of Transportation as the secretariat found that Megawide's equity position "is insufficient to finance the equity requirement for the proposed project."
At that time, Megawide said GMR "agreed" to provide 40% of the equity requirement for the project, and expressed confidence that the proposal would eventually be approved.
Megawide's proposed new design for NAIA was inspired by the Banaue Rice Terraces. It had planned to build a new passenger terminal building, taxiways, and an elevated railway linking terminals. – Rappler.com