Net foreign selling has reached $1.5 billion as of end-June 2021, yet the PSEi recently broke the 7,000 level
Philippine stocks have steadily gone up in recent months, thanks to Filipino millennials and housewives who have just started investing in the equities market amid the pandemic.
Analysis by First Metro Investment Corporation (FMIC) showed that foreign ownership in companies comprising the Philippine Stock Exchange index (PSEi) is at a nine-year low of 21%.
Net foreign selling has reached $1.5 billion as of end-June 2021. Meanwhile, total net foreign selling reached $2.1 billion for the entire 2020.
There were only some days where spurts of net foreign buying were recorded in 2021, amounting to just $152 million.
A total of $5.2 billion of outflows have been recorded as of 2017.
While foreigners have stayed away from the Philippine market, the PSEi has been hovering around the 7,000 level in recent days.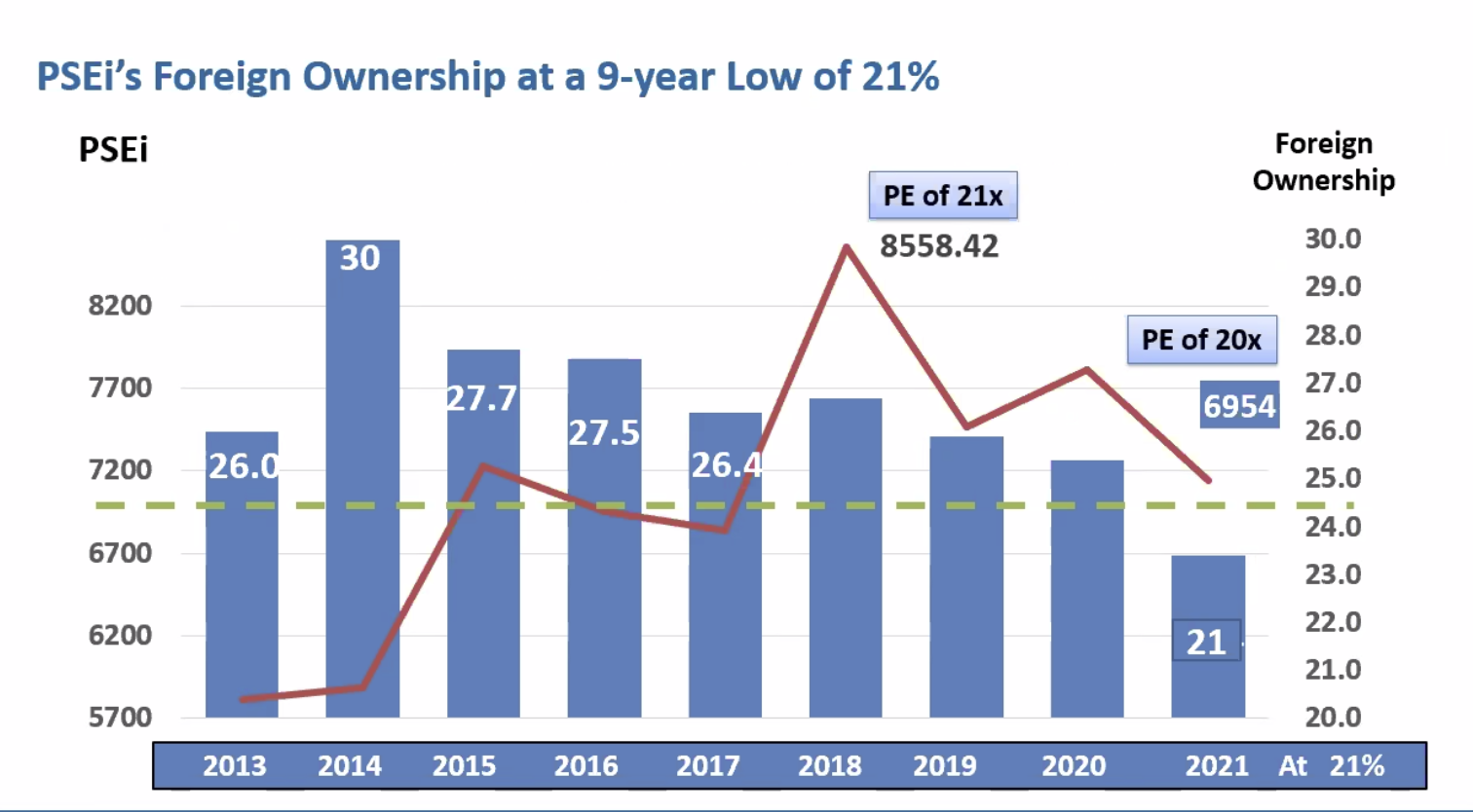 Moreover, the average daily number of trades in 2020 jumped by 33.7%, while retail participation surged by 47.8%.
Online accounts in 2020 increased by 19.7% to 936,000, while non-online accounts went up by 3.3% to 460,553. This means that 67% of the total stock market accounts are online accounts.
By age group, investors 30 to 44 years old held 45.6% of stock market accounts. They are followed by investors aged 18 to 29 at 22.5%, then those in the age groups of 45 to 59 as well as 60 and above at 19.8% and 12.1%, respectively.
FMIC's head of equities research Cristina Ulang said online platforms made it easier for retail investors to trade, hence the surge in volume from local players.
Ulang, however, noted that new investors must study the stock market well, as volatility continues amid the pandemic.
What stocks are they trading?
While it's difficult to pinpoint which stocks newbie traders are betting their cash on, data from the PSE showed that they're both looking at speculative stocks and blue chips.
From January to May, Dito CME shares were the most actively traded, with value turnover reaching P69.3 billion.
Dito CME is the public vehicle of telecommunications company Dito Telecommunity, which launched commercial operations in 2021.
There was also high interest in some PSEi heavyweights like SM Investments and Ayala Land, posting value turnover of P60 billion and P40 billion, respectively.
For the entire 2020, SM Investments, Ayala Land, SM Prime, BDO, and Ayala Corporation posted the highest value turnover.
When will foreigners come back?
Ulang said foreign investors are still cautiously looking at the following conditions:
Coronavirus vaccine rollout and reopening of economies
2022 inflation tempering to the target band of 2% to 4%
Continuing accommodative monetary policy
Fiscal stimulus
PSEi valuation
FMIC is looking at renewed virus outbreaks, higher-than-expected inflation, withdrawal of monetary support, and prolonged recession as risks.
"We are seeing a lot of positive signs and reasons to believe that the country is on its way to recovery, but it is not to say that we should let our guard down. Still, the biggest risk to our outlook is the uncertain course of the pandemic. We should continue to be cautious and mindful and do our share in controlling the spread of the virus," said FMIC president Jose Patricio Dumlao.
FMIC added that the healthy pipeline of offerings and the launch of real estate investment trusts are expected to stir excitement in the investing community.
FMIC sees the PSEi hitting 7,400 to 7,800 by end-2021 with a price earnings ratio of 17x. Corporate earnings are projected to deliver 25% growth by the end of the year. – Rappler.com