Bank of Commerce is an affiliate of San Miguel Corporation, which is linked to the Marcoses for corrupting taxes of coconut farmers
The Philippine government, through the Presidential Commission on Good Government (PCGG), will be running after San Miguel affiliate Bank of Commerce (BankCom) to collect P1.6 billion in Marcos ill-gotten wealth.
The anti-graft court Sandiganbayan awarded in September Marcos bank certificates worth P1.6 billion, and ordered a bank called Royal Traders Holding Co. Inc (formerly Traders Royal Bank) to pay the government. BankCom has since bought Royal Traders, but the Sandiganbayan dismissed the aspect of the case against the San Miguel affiliate bank.
PCGG chairman John Agbayani told Rappler the government will still be running after BankCom, believing it is them that must pay.
"A bank certificate has to be paid by the bank who issued it, the Traders RoyalBank (TRB). But since TRB was sold to Bank of Commerce (BankCom), then BankCom should pay," Agbayani told Rappler in a message.
"However, the Sandiganbayan dismissed the case against BankCom and the government thru the Office of the Solicitor General (OSG) filed a motion for reconsideration. This is now pending resolution," said Agbayani.
Agbayani said the bank certificates, P96.03 million and $5.4 million plus 12% annual interest since 1993, are already under PCGG custody.
But these won't be translated to government funds unless the bank pays up.
"In total, the estimated amount awarded to the Republic is P1.6 billion," said Agbayani.
Agbayani said he cannot discuss the issue further "since the subject matter is in litigation and is therefore considered as sub judice."
Rappler sought comment from BankCom, through a San Miguel media officer, on October 18, and followed up again on October 23 and 25, but has not received a response as of Wednesday, October 27. We will update this story once they respond.
The bank certificates were found among the wealth contained in crates, boxes, and suitcases that the Marcoses took with them when they fled to Hawaii in 1986 after the late dictator Ferdinand Marcos was ousted by a people power revolution.
This award adds to the ill-gotten wealth of the Marcoses that must be returned to Filipinos. The PCGG has so far recovered P174 billion, and is still running after P125 billion more to distribute to farmers, victims of human rights violations, and to fund agrarian reform.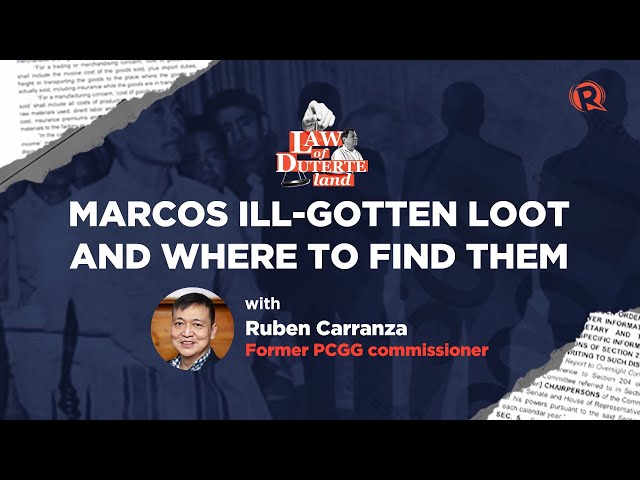 TRB, crony Benedicto and BankCom
According to Sandiganbayan records, TRB was controlled by Marcos and the late crony Roberto Benedicto, former ambassador to Japan and a close friend of the dictator since their law school days at the University of the Philippines (UP).
BankCom bought TRB/Royal Traders, and under a sale agreement, it would not assume TRB's liabilities under this case. In a statement in September when the court promulgated the award, BankCom said "it remains a separate legal entity from Royal Traders Holdings, Inc. or its predecessor Traders Royal Bank (TRB), and has no connection with the TRB issued certificates subject of PCGG's complaint."
"If (the motion for reconsideration) is denied, PCGG will appeal to the Supreme Court," said Agbayani.
San Miguel, of which BankCom is an affiliate, had also been ordered by the Supreme Court to return to the government P71 billion worth of shares because they were bought using taxes collected from coconut farmers during the Marcos administration.
In an earlier interview with Rappler podcast Law of Duterte Land, former PCGG commissioner Ruben Carranza said the contract stipulation does not absolve BankCom of liabilities.
"Para kang bumili ng lupa – 'yung sabi ng may-ari ng lupa, ibinebenta niya dun sa bibili, pero may nakatira dun na baka lumabas lang o hindi niya alam na may nag-occupy ng lupa niya. Kasali ba ako sa bentahan ng lupa niya? Hindi," Carranza said, explaining the principle of estoppel.
(It's like buying land – someone, apart from the seller, lives on that land who left temporarily, or the seller says he's not aware that someone is occupying it. Would the occupant be involved in the agreement between the seller and the buyer? No.)
"I cannot comment because I have no information, I have no knowledge about this particular case. I do not know, I have had no involvement in Traders Royal Bank before or since. I really do not feel that I am qualified to comment on that case," presidential aspirant Bongbong Marcos told CNN Philippines in an interview on October 7.
– Rappler.com