China remains to be the Philippines' top trading partner
Philippine exports jumped, while imports sustained momentum in March, partly due to low base effects, latest figures of the Philippine Statistics Authority showed.
A base effect occurs when figures are compared to abnormally high or low levels. Last year, trade contracted due to the pandemic.
Exports in March 2021 amounted to $6.68 billion, 31.6% higher from the contraction last March 2020.
The bounce was driven mainly by electronics which posted a 25% growth.
ING Bank Manila senior economist Nicholas Mapa said that demand for electronics and subcomponents will likely remain high, given the global chip shortage.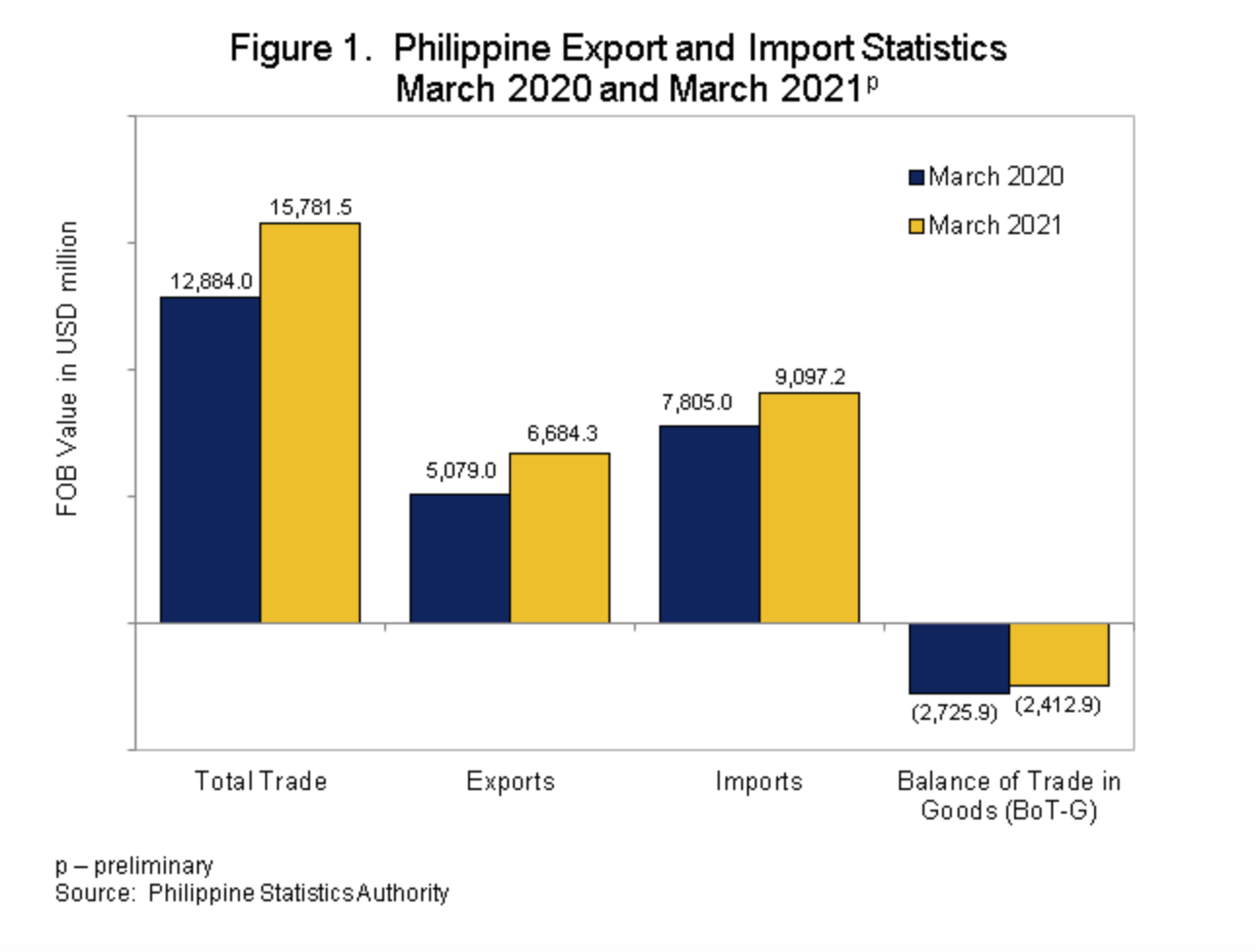 Year-to-date, export earnings amounted to P17.56 billion, 7.6% higher from the same period last year.
China contributed the highest export value, amounting to $1.07 billion in March, followed by the United States ($992.9 million), and Japan ($984.18 million).
Meanwhile, imports jumped 16.6% to $9.1 billion, as the country bought more food and other live animals, as well as telecommunications equipment abroad.
Mapa, however, was not convinced of the imports jump, noting that this was again driven mainly by base effects from the lockdowns last year.
China was the Philippines' biggest supplier of goods, valued at $2.1 billion, followed by Japan ($887 million), and South Korea ($663 million).
With imports and exports growing in March, the country's total trade in goods increased by 22.5% to $15.78 billion.
Of the total external trade, 57.6% were imported goods, while the rest were exported goods.
The country's balance of trade in goods (the difference between the value of export and import) amounted to -$2.41 billion, representing a trade deficit with an annual decrease of -11.5%. – Rappler.com