The Philippines is likely to miss its full-year target of 2% agricultural growth, as the sector posts another drop
From being a bright spot amid the coronavirus pandemic, Philippine agriculture slumped for the second consecutive quarter, as livestock and fisheries production declined.
The Philippine Statistics Authority on Monday, August 9, reported that agricultural output dipped by 1.5% in the second quarter of 2021 from a 0.5% growth in the same period in 2020.
The decline was led by livestock production, which sharply fell by 19.3%, as African swine fever continued to hound hog farmers. Hog production decreased by 26.2% during the second quarter.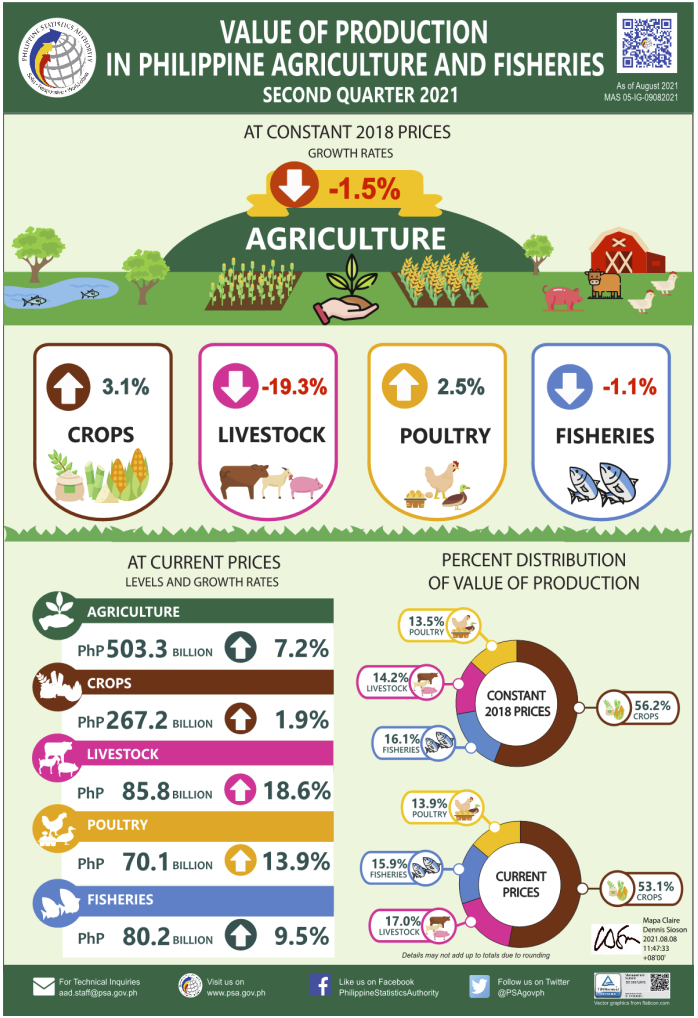 Poultry production recorded a 2.5% increase, with production increments in duck, chicken eggs, and duck eggs.
Fisheries dropped by 1.1%, as double-digit contractions were noted for yellowfin tuna at -34.9%, galunggong at -16.9%, and fimbriated sardines at -13.7%.
Meanwhile, crop production grew by 3.1%. Palay and corn production grew by 1.2% and 6.3%, respectively.
At current prices, the value of agricultural production in the second quarter reached P503.3 billion, 7.2% higher from the same period in 2020. However, from January to June, the value of agricultural production contracted by 2.5%.
The Department of Agriculture is aiming to grow the sector by 2% in 2021, a downward revision from its initial 2.5% target. Analysts earlier said the government is likely to miss even the lower goal. – Rappler.com