Ramon Ang says there is a 'demolition job' to paint the Pasig River Expressway 'as the opposite of what it truly is.' Mobility advocates maintain that 'sustainable' alternatives are needed, not PAREX.
San Miguel Corporation (SMC) pointed to "forces critical" of the planned Pasig River Expressway (PAREX) as it clarified that it has not yet signed a deal with architect and urban planner Felino "Jun" Palafox Jr. for the project.
SMC president Ramon Ang said on Tuesday, September 28, that they were hoping to get Palafox's services to help make PAREX "right."
Ang's statement came after Palafox Associates and Palafox Architecture Group denied working for the project.
"There is no formal engagement with Architect Palafox, but we have been in discussion, something that we have been very clear from the start – that we want him to help us do PAREX right," said Ang.
The tycoon claimed Palafox is being pressured not to take on PAREX.
"We've come to learn from him…that forces critical of the project have been exerting pressure on him, his associates, and his family to drop the project. We believe this is part of an orchestrated and continuing demolition job to paint the project as the opposite of what it truly is," Ang said.
SMC also clarified that Ang merely said the conglomerate is "tapping" Palafox for the project.
"Palafox signified his intention to think about the project and see how he can marry both his and [Ang's] vision for a sustainable, inclusive, green, hybrid infrastructure that will benefit both people and the environment," SMC said.
As PAREX has already been given the green light by the government, Ang said SMC can "move forward with engaging design consultants and working on the detailed design."
"This is the phase where all valid concerns of stakeholders will be taken into consideration – and where Architect Palafox and his team can provide us invaluable help," he said.
"He has expressed strong belief in the need to increase accessibility between the eastern and western corridors of Metro Manila as part of a broader strategy towards decongesting Metro Manila, and easing the many negative impacts of traffic."
SMC maintained its position that the planned elevated expressway will not negatively impact public health, mobility, and the environment.
"Of the many projects being done today to narrow our infrastructure deficit, PAREX stands out as a long-term, inclusive, and sustainable solution to traffic congestion, flooding, public transport inadequacies, and decades of Pasig River pollution," it said.
The conglomerate also addressed fears that PAREX will cover up the Pasig River.
"PAREX will be built only on the banks of Pasig River, its posts occupying only 1 meter of the average 200 meters width of the Pasig River. Adaptations to the environment and local surroundings are part of our commitments with the government and local government units," SMC said.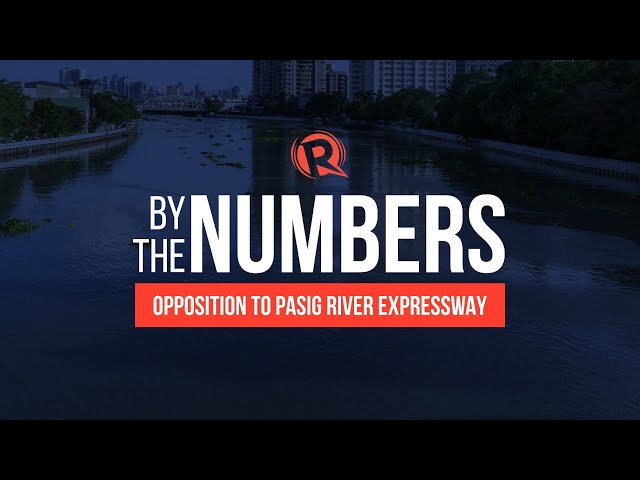 Meanwhile, Move As One Coalition issued a response to Ang on Tuesday, with co-convenor Robert Siy saying that the tycoon "should be more open" to alternatives.
"He should be open to considering all other options, including Architect Palafox's earlier master plan for Pasig which did not involve anything like PAREX," Siy said.
"A much better option would be to drop PAREX and to pursue river rehabilitation and beautification, plus the sustainable travel options."
Despite protests, infrastructure officials signed the supplemental toll operations agreement for PAREX on September 21, which officially green-lit the project.
Three days later, on Friday, September 24, the Department of Transportation and SMC broke ground for PAREX. – Rappler.com