A share in Manila Golf now costs P83 million, an all-time high, as demand picks up amid the coronavirus pandemic
Filipinos with millions of pesos to burn are spending it on golf shares and vacation houses outside of Metro Manila amid the coronavirus pandemic, latest figures from Leechiu Property Consultants showed.
Golf shares at Manila Golf and Alabang Country Club are up by 10% and have hit an all-time high of P83 million and P7.2 million per share, respectively.
Property veteran David Leechiu noted that golf shares at Manila Golf cost only around P9 million apiece in 2008.
"That growth is quite meaningful in any language," he said.
While some might find the spending "scandalous," Leechiu said those with the money who have had golf shares for decades definitely found value in it.
Other than shares, monthly expenses to play golf at Manila Golf are monthly dues (P12,000) and playing rights (P500,000). For those who have just become members, the entrance fee is P500,000.
As of July, Manila Golf has 600 shares, with 566 of these issued. Of the total issued shares, 270 are individuals and 330 are corporate accounts.
For Alabang Country Club, playing rights reach up to P538,000, while monthly fees reach P12,000.
Similar to golf clubs, luxury residential village and condominium investments have soared during the pandemic.
Property prices at gated resorts in Nasugbu, Batangas, have surged by 214%.
Prices are expected to appreciate even further, as infrastructure projects like the Cavite-Laguna Expressway will cut travel time from these luxury homes to Metro Manila.
The most expensive among the properties in the area are those at Peninsula de Punta Fuego, which range from P20,000 to P100,000 per square meter.
Properties in Kawayan Cove saw the largest jump in prices at 200%. From just P18,000 to P30,000 in 2020, prices now range between P27,000 and P75,000 per square meter.
Due to the demand for luxury homes outside Metro Manila, several companies have launched gated residential developments.
Ayala Land, for instance, has several developments under construction in Laguna, Cavite, Bataan, and Pampanga, with prices ranging from P28,000 to P35,000 per square meter. Most of the units are already sold out.
Meanwhile, condominium prices in Metro Cebu and Davao City are also catching up to levels seen in Metro Manila.
Metro Cebu's condominium prices now range from P97,000 to P370,000 per square meter, while Davao City rates range from P83,000 to P314,000 per square meter.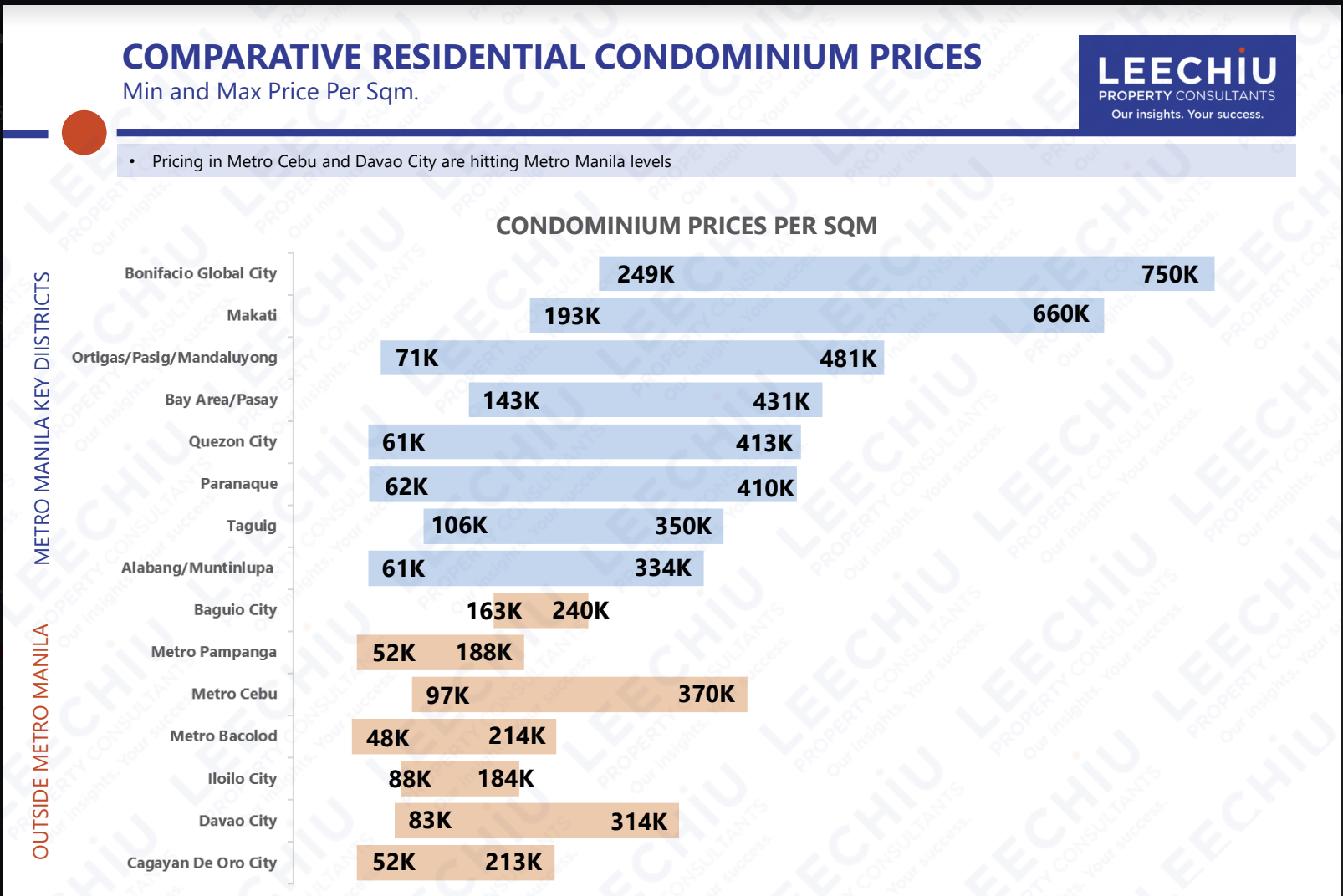 The rates are similar to those seen in Pasig City.
Condominium prices in Bonifacio Global City in Taguig City are still the most expensive, ranging from P249,000 to a whopping P750,000 per square meter.
Makati City rates range from P193,000 to P660,000 per square meter. – Rappler.com