Red tide remains the biggest threat to mussel farmers and traders in Jiabong, Samar
"Without tahong, no business will thrive in Jiabong."
Susan Peña, an agricultural technologist on fisheries, made that statement to show how the tahong or mussel industry plays a big role in the economy of Jiabong, a fifth-class municipality in the province of Samar.
Located about 11 kilometers away from Catbalogan City, Jiabong has been dubbed the tahong capital of Samar.
About 70% of the aquatic food it sells are mussels, allowing the local government to earn about P5 million a year from auxiliary services or transfer permits alone.
But the red tide phenomenon has long been a threat to tahong farmers. What has been the town's economic driver for more than two decades becomes more fragile every year.
The last two years under the COVID-19 pandemic have added to the woes of Jiabong tahong farmers.
Aside from fresh tahong, Jiabong sends out various processed products like tahong crackers, tahong balls, and lumpiang tahong.
When Jiabong was locked down at the start of the pandemic, some tahong farmers had to halt their harvest after trucking services were forced to pause operations.
Tahong farmers supply to different metro cities such as Manila, Cebu, and Davao, and even to some in the Bicol region.
In June 2020, tahong vendors were once again allowed to start selling tahong after a two-month hiatus.
Mila, 58, said she was apprehensive and did not immediately go back to selling as the threat of COVID-19 worried her.
"When we were allowed to sell again, I had second thoughts about whether or not I should go back to selling tahong, especially if you consider my age. But when I saw my fellow vendors selling, I told myself, 'Bahala na (Whatever), I'll just see where this goes," she shared in Waray.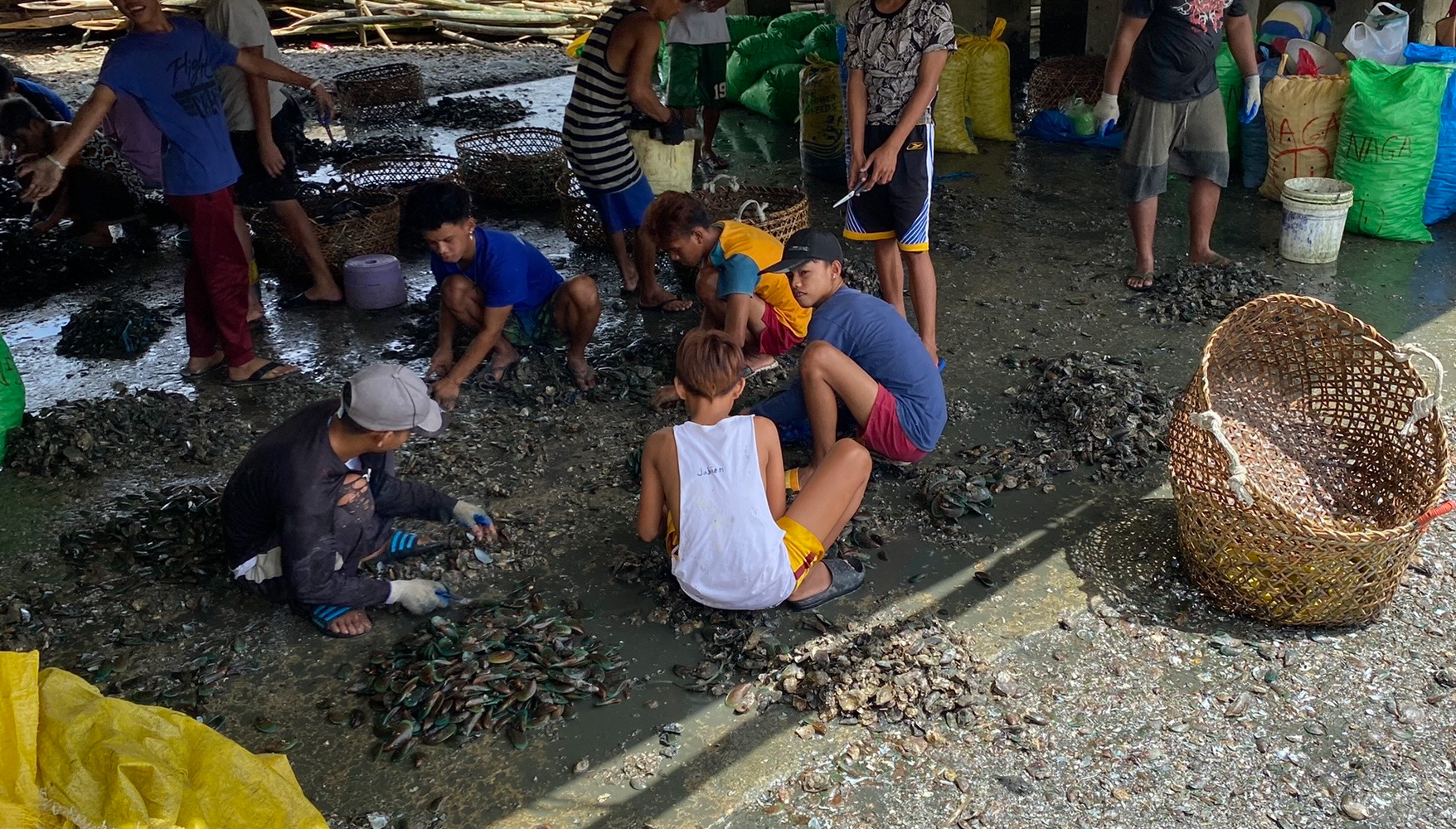 Threats of red tide
Perhaps the greatest threat to Jiabong's tahong industry are the algal blooms that cause red tide.
Although red tide does not directly affect mussel farms in the area, the proximity of Jiabong to Maqueda Bay and Irong-Irong Bay forces them to follow the guidelines of the Bureau of Fisheries and Aquatic Resources (BFAR).
Maqueda Bay and Irong-Irong Bay are often included in BFAR's shellfish bulletin on red tide. Ten other bays in Eastern Visayas are affected by the red tide toxins.
"Once Maqueda Bay is declared positive for red tide, we're automatically included because our waters are near it," Peña said.
BFAR said the pollutants running off from the uplands to the sea due to heavy rain trigger high algal concentration, according to a report from the state-run Philippine News Agency.
Laboratory examinations of shellfish meat samples are conducted from time to time to monitor the presence of these toxic organisms.
Since the pandemic began, tahong vendors in Jiabong have been told to stop selling mussels twice – first from September to December 2020 and again from May to July 2021.
The unprecedented setback forced them to take on alternative jobs like carpentry while others tried their luck in Manila, according to some tahong vendors.
While BFAR oversees market inspections to prevent paralytic shellfish poisoning (PSP), Peña said the tahong vendors still find ways to return.
"They are not allowed to sell. But small vendors still have them sold to put food on the table," she said in the vernacular.
PSP causes loss of arm and leg control, difficulty breathing, and tingling of the lips and tongue.
But Penny, a 56-year-old talaba (oyster) vendor whose stall sits next to Mila, said she still sells shellfish meat even if BFAR and local officials come to warn them.
Like tahong, talaba is also not safe to eat when there is red tide. In contrast, shrimps, crabs, fish, and squid can be eaten when washed thoroughly.
"They are always stopping us from selling each time there is red tide in Maqueda Bay. But I believe we're not really affected by the red tide. They try to reprimand us. But what are we going to eat if we don't sell at all?" Penny said in Waray.
"Sometimes, they come here to check if we're selling anything. But what we do is we hide our fresh catch. We even eat what we sell and none of us has ever been poisoned," she added. – Rappler.com
Lance Lim is a Visayas-based journalist and an awardee of the Aries Rufo Journalism Fellowship.