The proposed toll matrix for Skyway 3 ranges from P110 to P274
The proposed toll for the entire stretch of the newly opened Skyway 3 may reach up to P274, based on the petition submitted by San Miguel Corporation (SMC).
SMC asked the Toll Regulatory Board (TRB) to approve its proposed fees in a 21-page petition dated January 8.
Based on the proposed toll matrix, fees would range from P110 to P274.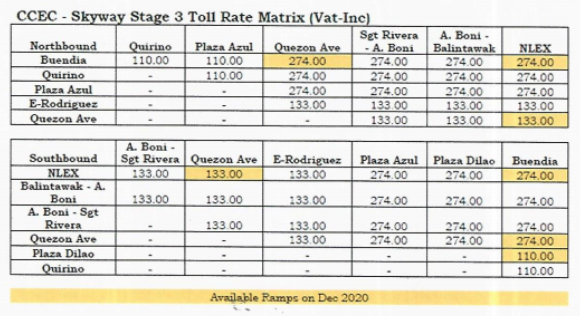 The TRB has yet to issue a decision on the matter.
According to SMC, the costs to build the 18-kilometer tollway amounted to P66.1 billion, which is 63% higher than the revised costing of P36.2 billion approved by the TRB in 2014.
"Basically, the increase in the current project cost is mainly due to the implementation of several variations in order to address ROW (right-of-way) availability, utilities relocation issues, and increase in ROW cost due to substantial delays in the implementation of the project," the petition read.
Skyway 3 partially opened last December 29. All 7 lanes were opened to the public on January 14.
The construction of Skyway 3 started in 2014, but the completion date was postponed several times due to delays and ROW issues.
Skyway 3 is among the road projects identified by the Department of Public Works and Highways as a potential solution to the traffic congestion in Metro Manila. – Rappler.com